We received many beautiful, creative and imaginative entries for our "Sharing the Love" contest, where readers told us about a time and place in history that they would enjoy visiting. Although many entries were deserving, we were only able to choose three...and here they are, in no particular order.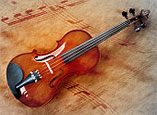 From
Sarah Ruth Dorton
...
As I walk down the hill, the sound of a fiddle draws me closer. The notes are pure, smooth, and sweet. I recognize the tune to be one of my favorites, "Redwing." I make my way down the path, balance myself on the narrow foot bridge, and cross the creek. I head for the shade of a huge cedar tree where the beautiful music is coming from. My grandfather, Lewis Stewart, greets me with a wave of his fiddle bow. "Come on up," he says, "I was just playing a few tunes while I wait for Ma to get supper on the table." I make my way up the hill towards the house and Grandpa Lewis points me to a chair to have a seat. Before I sit down I notice a newspaper in the seat of the chair; the date on the newspaper is Wednesday, July 24, 1929. Grandpa tells me to put the newspaper aside. He smiles and says, "Well, what are you waiting for? That fiddle can't be played in its case." My hands are shaky as I try to unlatch my fiddle case. Getting to meet my grandpa is exciting enough, but to play the fiddle with him is a dream come true.
*
Grandpa doesn't waste any time. He quickly saws into a tune he says he's been learning called "Arkansas Traveler." I see the joy in his eyes as he plays. Grandpa asks me if I know a new song called "Carolina Moon." I say that I do and he tells me to play the melody and he will play harmony. While we're blending together in harmony, a man walks up and sits down on the ground next to Grandpa Lewis' chair. This is my great-grandpa, Pete. He seems tired but smiles as he listens to the music. Grandpa plays a couple more fiddle tunes, encouraging me to join in. I secretly hope that supper never gets on the table, but as Grandpa ends one of his favorite tunes, "Waiting on the Robert E. Lee," a woman comes out of the house and yells that supper is ready. This is my great-grandmother, Lizzie.
Grandpa Lewis, Great-grandpa Pete and I take turns at the wash stand on the porch using a basin and pitcher of water to clean up for supper. We enter the small house through a door that leads directly into the kitchen. Before the door even opens, the smells of supper greet me. Great-grandma Lizzie has the table set and is still carrying in food from the summer kitchen where she cooks in the warmer months to keep the house from getting so hot. There is cured ham, new potatoes, fresh green beans, corn on the cob, homemade biscuits and her famous yellow tomato preserves. Great-grandpa Pete blesses the food and the supper conversation begins.
Great-grandma Lizzie says she will have to get the house cleaned up next week because she is supposed to host the Ladies' Aid meeting on Thursday. Great-grandpa Pete talks about the work that was done at the church grove in preparation for Saturday's Sunday School Celebration. The main topic of conversation is Grandpa Lewis' recent trip out to Kansas to work in the fields threshing wheat. He tells how he rode in the back of a truck all the way from Indiana to Kansas — 856 miles — and what he saw along the way. He tells about the rain that delayed their working in the fields and getting to go to a circus in the town of Larned, Kansas. Getting up from the table, Great-grandma Lizzie says she was worried sick about Lewis while he was way out west for nearly two months. She goes to the corner of the room and picks up an upside-down dish pan. Underneath is a cake. She brings the cake to the table and tells me she just baked the cake late this morning. I notice there is one piece already missing. Grandpa Lewis laughs and says, "Well, I just had to try that cake out to make sure it was good!"
**
After a hurried dessert time, Lizzie quickly clears the table and covers the food. She invites me to go with them to church and tells me that there have been special services all week. Lewis seems extra excited about tonight's meeting. He is hoping a certain girl will be there; her name is Ruth Hedden and she ends up being my grandma. He tells me he wrote her a letter earlier in the week and told her to be sure and come tonight because he was going to be there.
We walk the mile and half to the church. Along the way our party of four continues to grow as we meet with neighbors, family, and friends on their way to church as well. As we come up the hill to the little one-room, two door, simple church building I take note of the large crowd. We enter the church and look for a seat. I am amazed that the church is packed. There is a certain excitement just to be together with loved ones in God's house. I look over at Grandpa Lewis and he is smiling at Grandma Ruth as she sits at the pump organ and waits for the service to begin. A man prays and calls for everyone to stand for a time of singing. Grandma plays the intro to "When We All Get to Heaven" and I look around at the familiar faces in the pews of people I never got to meet but know and love just the same. I look at Grandpa Lewis as he begins the hymn with the congregation, "Sing the wondrous love of Jesus, sing His mercy and His grace" and I am filled with an assurance of my faith and contentment in my heart.
To some, July 24, 1929 in Elizabeth, Ind., may not seem like a very exciting day or place in history to travel back in time to. But to me, getting to meet my grandfather, Lewis Stewart, and spend the day with him and go to church with him would be perfect. You see, Grandpa Lewis died before I was born. I've heard stories all my life about his fun nature, sweet spirit and musical abilities. The era in which he and Grandma Ruth courted and fell in love was the late 1920s and early 1930s – a time much simpler indeed.
Some may look at that era and think of the modern conveniences and technologies that folks lived without. But in learning about the history of my rural Indiana community through local newspapers, church records and oral histories, I see that folks in that time had something special that we lack today. Their lives were intricately woven around their community. Evenings were spent on the porch with family, neighbors and friends. In my family's case, they were oft times making music. Church gatherings were a time to worship but also a time to socialize with neighbors in the community. I live in the same community that Grandpa and Grandma lived out their entire lives in. I live in the same house that Grandpa built after he and Grandma were married in 1931. I attend the same simple church building and sit in the same pews that they sat in each Sunday. When I join with my family in the songs of our heritage, I draw my fiddle bow across the same fiddle that Grandpa played. But times are different. I'd sure love to spend a slow day with Grandpa and sense for myself the simplicity of those days.
Notes:
*
Although Grandpa died before I was born, I have had the joy of hearing him play the fiddle through wire recordings (late 1940s and early 1950s) and reel-to-reel recordings (1960s) that he made himself.
**
It was said of Lizzie that she never brought a cake anywhere that wasn't already missing one piece. She always let Lewis have that first slice!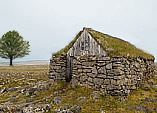 From
Peggy Rowe
...
I'm going back to the 1800s. It's a beautiful summer afternoon, as I enter the one-room soddy. It is dark, with only a candle burning in the corner. The air is hot and humid, made hotter by the fire in the fireplace. Necessary, to bake the bread needed for dinner tonight. It smells wonderful, but I turn around and go back outside. It is hot and humid here too, but cooler than in by the fire.
I am looking out across the Illinois prairie. I see a man walking tall and strong toward me, and realize it is my great-grandfather, Adison. I am so excited to see him, to be able to meet him. But, I'm wondering if he will understand that I am just visiting from 2012. Maybe I'll not tell him just yet.
As, he walks up to me, a horse and buggy draws near. Great-grandfather steps near to help a woman down from the buggy. At closer glance, remembering pictures my mother has shown me, I see it is my great-grandmother, Maude. She is holding a baby, who would be my grandmother, Etta. I am so mixed with emotions, it is hard to speak. But I gather my thoughts, and explain that I am from a faraway place. I am traveling and need a place to rest for the night. Being the kind and generous people that they are, they offer to let me stay for the night.
Maude ushers us into the grass soddy, built into the side of a small hill. She must get the bread from the oven, before it burns. She hangs a kettle of water over the fire, to bring it to a boil. Soon she adds potatoes and onion and ham to the boiling water. When all is cooked, Adison drains the water and puts it back on the fire, where Maude adds some milk and some sort of thickening. Yes, it's potato soup and warm bread for dinner. As good as my mother use to make when we were kids. I wonder where Mother got her recipe?!
The 1800's ... A great place to visit.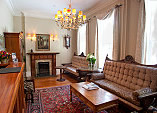 From
Darlene Williamson
...
If I could visit any time period and any place in the world, I would hands down choose the late 1800s to early 1900s, because this is known as the Victorian era. I love that time period. with all the beautiful homes and décor along with the gorgeous floral designs that came out of it. For an example a "tussie-mussie," which was one of my favorite things to create for my special clients when I was working in the florist industry.
I am still a Southern country girl in all my appearance and ways. Between running my dad's bait shop or taking care of my trucker husband, I have not had time to be having tea and scones in the gardens. I am currently living in a little 32-ft. travel trailer, because I lost my home when my husband left me a couple years ago. Do not cry for me, because when the devil thinks he can mess with a Southern Christian woman — and a redheaded one to boot — he has another thing coming! After a week of crying and going to pieces, I called out to Jesus. I did lose my beautiful home that had my Victorian touches everywhere, but that was OK, because through all of that I learned how to really trust God for EVERYTHING. One day I will have a home where I can have my heart's desire and fill it with my touches of Victorian period treasures. Until then, I will have my magazines and websites and best of all, my movies. I got off track for a moment there from what you wanted to hear, so back to the target subject.
To spend a day back in the late 1800s, I would choose Christmas Day and I would want to spend it with my great grandparents so that I could learn more about who I come from and possibly learn why I am so obsessed with all things Victorian.
I can just feel the warmth of the fire as it crackles in the fireplace and see the snow falling outside, with smells of turkey roasting and of course pumpkin and pecan pies along with all the other trimmings. Truly the best thing would be hearing the stories, along with the laughter and tears they would be sharing of their childhood days growing up. With my family at some point (even family from the past that I never knew), we would break into singing, which is a tradition even today.
For me, I truly must admit as much as I love the Victorian period, my heart would be happiest at any time or in any place on this Earth as long as I am surrounded by my family and friends, because God has truly blessed me with the best family and friends anyone could ever ask for.
May each of you be thankful for His peace, feel the true love of Christmas every day and be filled with the warmth of His peace in the New Year!