My grandma came from a long line of great cooks. Even in her 90s, she loved to make special dishes for her children, grandchildren, and great-grandchildren. All of her sisters were also known for their cooking talent. For years, they have been the magic behind the down-home gourmet delights at numerous wedding rehearsal dinners, receptions and parties for the folks in this little community we call home. It would be great misfortune to be born a member of this family and be a failure in the kitchen.
My mom is also an extraordinary cook, but it took her many years to recreate "Grandma's Dressing." It was the favorite of all the kids and grandkids at our annual Christmas feast. Time and time again, my mom tried; time and time again, we reminded her that it was "almost as good" as Grandma's. The difficulty seemed to be that Grandma's version was made up of "a little of this, a pinch of that." After years of trying, Mama finally achieved the honor of having her dressing deemed "as good as" Grandma's.
Last February, after 77 years of creating savory dishes for her husband and family, Grandma went "home" to be with the Lord, at the age of 92. Now it's my turn, ans it's a good thing that I'm as young as I am; I've got a ways to go. In the meantime, for cooks like me who need more accurate measurements than Grandma's, here's Mama's recipe for Grandma's Dressing
Grandma's Dressing
Ingredients
• 12 Slices of white bread (toasted and crumbled)
• 2 cups of baked cornbread (crumbled)
• 1 large onion (or more to taste)
• 5 well-beaten eggs
• 2 tsp rubbed sage
• 1 tsp black pepper
• ½ stick of margarine (melted)
• broth from chicken or turkey (may substitute canned chicken broth)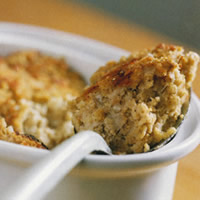 Directions
1. Mix first 7 ingredients together.
2. Add broth until mixture is the consistency of cornbread batter.
3. Bake at 425° until lightly browned.




Enjoy!