The Homecoming Friends remember and honor those special people in their lives who, using whatever gifts they were given, showed up and followed their call — whether it be on stages in front of thousands or in unknown places where few would know their names or contributions.
GLORIA GAITHER Honors

MINNIE HILL & MILDRED SHAFFER
MINNIE HILL
What I remember most about her were her lemon pies and fried chicken, her grape arbor heavy with its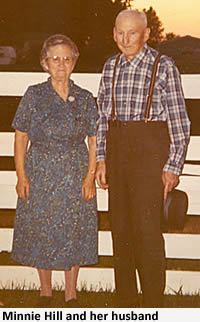 purple harvest, and the player piano, the pedals of which I could scarcely reach. And her hands…hands that loved the earth like she loved people, hands cracked into little rivers as only years of tender digging in the soil can do. Her flowers and her fruit trees, her grapevines and tomato plants responded to those hands much like the children in her class responded to her love.
She wasn't the world's greatest teacher, professionally, but what she lacked in method she abundantly made up for in tender concern. She said so much by living that even a musty basement classroom, chalk dust and stacks of old Sunday-school quarterlies were powerless to muffle her message: "God loves you. He has put you here for a reason, and life's only purpose is to find that reason and fulfill it."
We heard and were obliged to do something about it!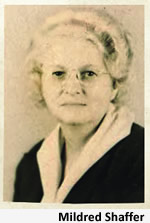 MILDRED SHAFFER
Today I got a letter from a teacher I had in the fifth grade. It was my birthday, and she never forgets things like that. She didn't remember me because I was special; in fact, I was just a regular, awkward, chubby kid who said silly things and made unnecessary noise. Other teachers would have considered me a waste of time and energy. I asked too many questions, got stuck in trees I climbed, and was a terrible tattletale, but to her I was special. So were 48 other children in grades five through eight who made up our "big kids room," the upstairs part of our two-story frame village schoolhouse.
Her working day was made up almost completely of overtime. I'm not talking about her hours (though on a typical day they ran from about 7:00 a.m. to 7:00 p.m.), but about the "beyond the call of duty" attitude with which she faced the day.
We went through the textbooks and learned the three R's all right, but there was much more: art projects (the materials for which she paid herself since there was no budget for them at our school), music and singing and rhythm band with Mrs. Shaffer at the piano. There were field trips and picnics, nature hunts and scouting. She was responsible for most of the lines of literature I ever committed to memory: long stanzas from the masters like Shakespeare, Plato, Longfellow and Whittier. And I learned songs from our yellow American Heritage songbook like "America the Beautiful," "The Star-Spangled Banner," "Grandfather's Clock," "Oh, Suzanna" and "Old Man River."
On Mondays we always answered the roll call with a quotation she'd required us to memorize, and every morning began with the Pledge of Allegiance and the verses we'd been assigned for that month from the Bible. To this day I smell chalk dust and sweeping compound when I hear the 100th Psalm or the Lord's Prayer. We took turns going with her to special things at the little white Baptist church she attended. Sometimes she took us to her farm to feed the horses, and even to teachers' meetings and the evening classes she was perennially enrolled in.
Someday she will stand before the throne of God and will hear words of praise from her righteous judge. I can almost hear her answer, "But, why? What did I ever do? I was just a teacher. I didn't even finish my degree." Then I can see a parade begin to march by as once again the roll is called one final time, names that span the decades — Tommy Jones, 5th grade, 1970; Marian Stevens, 7th grade, 1952; Sally Morgan, 6th grade, 1961; Johnny Cane, 8th grade, 1956 … on and on they will march. And the Lord shall say, "Welcome home, you good and faithful servant. You have been faithful in a few things; I shall make you ruler over many. Enter into the joy of your Lord."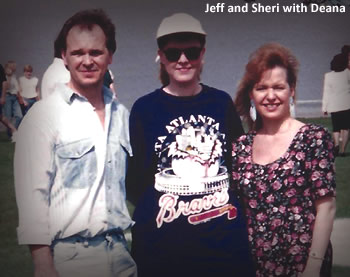 SHERI EASTER Honors
DEANA SURLES WARREN
I've known Deana Surles Warren for over 25 years. With every professional capacity in which she has worked, I have been impressed with her confidence, her dependability, her kindness, meekness and anonymity. She has never been self-serving, and never sought the spotlight. In fact, a compliment makes her blush. Her official title for the past few years has been assistant to Bill Gaither while on tour, yet anything any artist asks of her, she is willing to accommodate. Her deep-rooted love for God and family is evident in her day-to-day actions. Her modesty and conservative nature add to the maturity that you feel from her. When Deana is in charge of anything that I am a part of, I know I am in good hands. I've known her as my publicist, liaison, promoter, hostess, guest and friend. When on tour with Deana, by the time I wake up, she has already been working for several hours. When I head to my bus at night, she is still wrapping up all of the details of the day. I've trusted her with my heart and my business affairs, and she has never let me down. Everyone needs a "Deana" in their life to hold them up and be that constant force on which you can always count. I love you, sweet Deana!

SUE DODGE Honors
T.O. & RACHEL MILLER
When I was 14, my church hired a newly-married Minister of Music who changed the course of my life. His name was T.O. Miller. He led our choir in many of the old gospel favorites. He was, at the time, a part of the Venable Quartet in Little Rock, Arkansas. Shortly after they came to the church, he decided to form a trio with his wife, Rachel, and that was when my life changed its course. They asked me to join them and we began travelling on the weekends to all-day singings and many other venues as the Miller Trio. Those weekends sealed in my mind and heart what I wanted to do with my life — SING!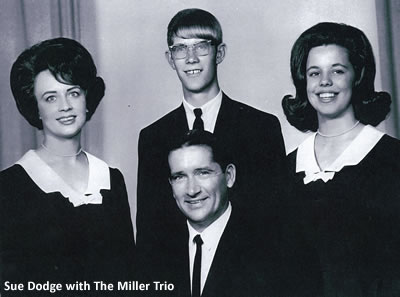 It wasn't long before the Venable Quartet asked us to share a daily television program with them and we sang together for the next five-and-a-half years until I left to join the Downings, then on to the Speers 18 months later.
T.O. taught me so much about communication to an audience, singing parts, playing gospel piano, and directing a choir. He and Rachel instilled in me the joy of singing and how to impart that excitement to an audience. Over the years, these teachings have been invaluable to my career. To this day I still play piano for our worship, direct the choir and, of course, still sing and do concerts. All of these things would have been much harder to accomplish without the Millers' teaching.
T.O. recently went to heaven, but I know that he is singing in the heavenly choir and might be accompanying them as well. Thank you my friends, T.O. and Rachel — you made a huge contribution to my life and ministry in ways you never knew. I have been blessed to do many things in the span of my musical journey — many of which I could not have done without your mentoring. I will always be grateful and love you for it!

KELLY NELON Honors
NORMA SHELBY
"One who celebrated life" would be a perfect title for my friend Norma Shelby. She was probably the most joyful person I have ever met. She was a friend of our family from even before I was born. Having her own dress shop, "Norma's," in Goldsboro, N.C., afforded her the opportunity to come to the Atlanta Apparel Mart to visit several times a year, always staying in our home. The minute she walked in the door, the room would brighten.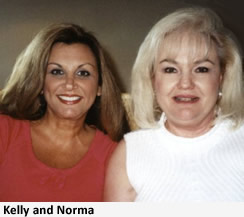 She was my mother's dearest friend and after my mother passed away, she became a lifeline for me, and a second mother. We took many vacations together and she loved me like I was her own child. From those trips I can remember how she never met a stranger and talked to everyone. One time, on a trip to the Bahamas, she struck up a conversation with a lady in the straw market. She began to ask her if she was saved and if she went to church. By the time the conversation was over, she had a church bus coming to pick us up and take us to the lady's church on Wednesday night. We went, and I had to sing
a capella
for them at Norma's request.
We probably talked four to five times a day — discussing what was going on in each of our lives, laughing at the crazy things that would happen. Always the encourager, Norma became that figure who kept telling me it was going to be OK when life was a struggle for me. The Nelons were her favorite group and she had no problem letting people know. Upon getting in her car, the CD player would start up with a Nelon song. She was there with me when my mother died and also in my home when the news came of the death of my father, Rex Nelon. She gave me the courage, love and support that just kept me going through those rough times.
Always the optimist, even when breast cancer began taking her life away, she would tell me, "Oh, I'm doing good." I knew in the last month of her life that something was wrong, because we just didn't talk as much. She was worse but wouldn't tell me. I spoke to her as the ambulance was picking her up for the hospital. I told her I loved her and she responded with, "I love you too, Baby!" I asked if I should come and she said no, but a day or so later, she told her family to have me come. By the time I could get a flight and get to the hospital, she could no longer speak. I'm not sure if, at this point, she could hear me or not, but the nurse said she could. I prayed with her and talked to her. When I began to sing to her, I saw tears coming out of her eyes. It could have been involuntary, but I choose to believe that the music of God touched her. Later that night—July 6, 2009—as I sat next to my dearest friend and second mother, she made her trip to see Jesus. I love and miss her more than I can say, but my life is so blessed and better because she was a part of it.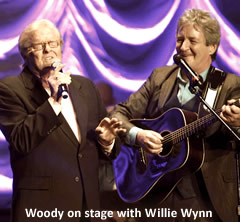 WOODY WRIGHT Honors
WILLIE WYNN
I know I sound like a broken record, but Willie Wynn gave me my first gospel music job. I met Willie when I was 14 and he was with the Oak Ridge Boys. When I saw the Oaks and the Oaks Band in their first performance in Oak Ridge, Tenn., I instantly knew what I wanted to do for a living. With their great arrangements, style and charisma, not to mention the coolest band in gospel music history, the Oak Ridge Boys had me absolutely spellbound. So when I got the call, at age 18, to play bass guitar for Willie Wynn and his new group, the Tennesseans, I jumped at the chance. To ride the bus with Willie, Elmer Cole, Dave Maddox and the rest of the guys was beyond my wildest dreams!
Then, when Willie moved me up to the baritone slot, and later to the lead singer position in the group, it was over the top! In the years to follow we would perform country and gospel music with artists I never thought I would meet, much less call friends. And those friends and connections led to a plethora of music business possibilities and realities. Willie Wynn and Elmer Cole gave me a chance to play in the band and sing in the choir! Those early years, for me, were the beginning of more than 35 years of living a childhood dream. Thanks Willie, Elmer and all the folks along the path who opened the doors to give an East Tennessee dreamer great opportunities to see those dreams come true!

BUDDY GREENE Honors
DR. DORSEY
I grew up in the era when every neighborhood pharmacy had a soda fountain. Our neighborhood pharmacy in Macon, Ga., was called Dorsey's Drugstore — named after the head pharmacist, Dr. James Dorsey. I was there practically every day with the 10 or 15 cents I had in my pocket to get a cherry cola or a milkshake or whatever I could afford. One day, shortly after the Beatles had played their debut American appearance on "Ed Sullivan," I took my newly acquired ukulele and with the three or four songs I had learned, sauntered into Dorsey's, sat down at the fountain and waited for someone to ask, "Can you play that thing?" Well, it didn't take long and before that unsuspecting customer could think twice about her request, I jumped to my feet and began playing, "I Wanna Hold Your Hand." A crowd quickly gathered, I sang the rest of my three-song repertoire and Dr. Dorsey yelled from behind the counter, "Give that boy a milkshake on the house!" It was the first of many performances to come. I even started bringing neighborhood friends to play with me, until finally Dr. Dorsey said we could share our talents with some of the other local businesses like the grocery store or the barbershop! We eventually became a bona fide band, calling ourselves Buddy's Buddies, and I have, in one way or another, been performing for audiences ever since. Dr. Dorsey was kind and generous and had a great sense of humor. Rather than seeing me as a kid getting in the way of his business day — which is what I was doing — he saw this as a great opportunity to encourage a kid and his dream. He moved to Nashville later in life and I looked him up about eight years ago. We got together and had a reunion and it was really sweet. He recently passed away, but he is one of those people to whom I'll always be indebted.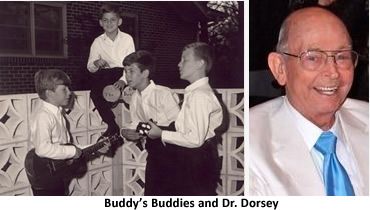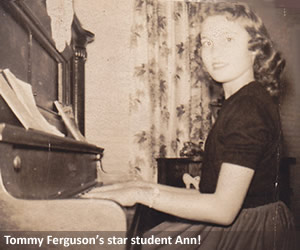 ANN DOWNING Honors
TOMMY FERGUSON
Mr. Tommy Ferguson was one of the most gentle, kind men I've ever known. A farmer who lived a few miles from our family farm, he was also a singing-school teacher. He taught the first singing school that I ever attended, at 5 years of age, before I could read, for the most part.
As I look back over my "music life," I have to credit Mr. Tommy for believing in me in his quiet way. During those summer singing schools that he taught at a local church, he'd often pick me up to ride to the church and let me play the scales for him as he taught the basics of reading music. Of course, this was the shape-note method.
I so appreciated him taking personal interest in me as a young girl who wanted so to sing more than anything...but I think more than anything, the fact that he felt I was trustworthy still lives in my heart. He was so patient with a dreamer who needed someone to believe with her that a young "cotton picker" just may have what it takes to perhaps sing around the world one day.
Many thanks to you, Mr. Tommy, in heaven now!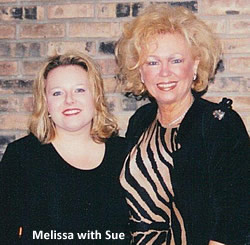 MELISSA BRADY Honors

SUE BUCHANAN
They say we don't always remember what someone says, we just remember how they make us feel and, as I think of Sue Buchanan, I know it must be true. I met Sue for the first time while singing with my family in the Upper Peninsula of Michigan, in the boonies, where the bears still roam. My family and I sang, then Sue spoke, telling her story, "I'm Alive and the Doctor's Dead" and in just a few minutes, I became a fan! As soon as it was over, I had to talk with her and get every piece of product on her table. She was gracious and kind and, although I can't tell you what she said word for word, I can tell you this — she made me feel special. Every syllable was filled with encouragement and, to this day, every conversation I have with her makes me feel like I can conquer the world.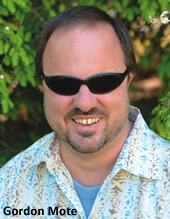 GORDON MOTE Honors
PAUL EDMONDSON
He started teaching me music in third grade and taught me all the way through high school. His name is Paul Edmondson, but we called him Mr. Ed. I learned a lot from him musically, but mostly I learned from him how to live.
He really was a mentor to me. I wanted to do everything like he did because he was such a great example. He didn't just teach us about music, although the choir we had in high school won every competition we entered. He built the choir from the ground up—we didn't even have a choir when he first came there and he was hired to build one. It still remains one of the top choral programs in the state of Alabama. It's strong and so many performers and music educators come out of it, but also people who just love to sing. Mr. Ed did cool arrangements of songs on the radio, and that's what made us want to do it. You know, when you're a teenager you want to sing what's on the radio!
He showed me, and all of us, how to love a wife. He didn't make any bones about how much he loved his wife. He taught us how to put God first, because he always put God first. We prayed every day before class. He was a very sincere Christian, but he knew how to have fun. He was one of the funniest guys that I knew and he loved kids. If a kid had a problem, they knew they could go to Mr. Ed and talk to him about stuff they were going through. He was young and cool and wanted to be a part of our lives. He loved everybody equally, whether you were a superstar singer and somebody he really counted on, or whether you were someone less visible. He just taught me about life. I remember telling him that I wanted to be a teacher and teach a school choir or a school band like he did, and he said, "No, you don't. Don't be an educator. You need to go perform. You need to get out and perform because you've got something special, and the world needs to hear it." He said I
could
teach and I'd have a great program because I was a hard worker. But he also said people would write stuff on the board and do stuff behind my back and I would never know it! So he kind of talked me out of being a teacher, but the reason I wanted to be a teacher was because I just thought he was the best.
Maybe because I'd always been able to do things pretty easily — starting to play when I was 3 years old — I don't know that I would have had the work ethic and the music part of it had it not been for Mr. Ed. I have a feeling that so much of my drive to be the best, do my best and always be prepared, came from him. And you know, not many people know who he is. They know in our little town. He's never gonna see his name in lights, but he did his gig to the best of his ability, and he's turned out a lot of really talented people. He didn't just make me feel special and important — he made
everybody
feel that way.

JIM BRADY Honors
GERALD WOLFE
I was 16, living just south of Houston, when I met Gerald Wolfe for the first time. I'd heard that the Cathedrals would be coming to the J&J Music Conference at the Galleria Hotel. They had just hired a new singer/piano player and, as a huge Cathedrals fan, I not only wanted to go to the concert, I wanted to meet the new guy. I begged my parents to take me and, thankfully, they said yes.
That night, Gerald won the hearts of the audience as he sang and played, holding nothing back. I watched in admiration as he handled the stage with ease, and I immediately became a fan. I've remained a fan all these years, from his days with the Cathedrals, through his solo career, and now, with Greater Vision.
From that first meeting to this day, Gerald has been a great encouragement to me, and one day, while working together in the studio, he handed me a limited edition, re-release of one of Greater Vision's first recordings. He said, "You were 16 when we first met, so here's #16." It's that kind of thoughtfulness that makes him such a great friend.
He's one of those guys who makes time for the important things — like family and friends — and he's sure made a difference in a lot of lives, including mine.

LILY ISAACS Honors
BILL GAITHER
When asked this question about who has impacted and inspired my life the most, aside from my family, I would have to say...Bill Gaither! I don't say this because of his career or his stature, but simply because of his big heart. He has been a friend of mine for many years. He is the most selfless person I know. He is a team player and cares for people. So many times, he has made comments to encourage me and make me feel a part of our musical family as a Gaither Homecoming artist. It's so easy to feel like you get lost in the shuffle of life and ministry, but Bill always has a way of making you feel important. We've been blessed to record several Isaacs projects with Bill. These are long, hard days in a recording studio with no one around but our family, the engineer and Bill. I've watched him cry when a song touches his heart, and truly get excited when a song moves him! He always says, "Lily, you sing this part so all of you can be on this song." I know he is not an unsung hero and certainly not in the background, but many people don't know him in this capacity. He is a passionate soul who cares about his artists and the thousands of people who come to the shows. Yes, I have to say Bill Gaither is my hero! He has taught me so much and I truly admire him.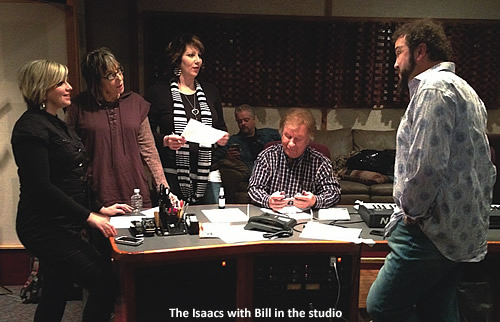 SOLVEIG LEITHAUG Honors
JON VILLY & SOLBJØRG SANDVIK
My dear inspiring friends Jon Villy and Solbjørg Sandvik from my home island of Holsnøy by Bergen, Norway, stand out to me as examples of people who embodied Christ to me growing up. This couple never had children of their own but they showed up, hosted events, directed the island youth choir, the local Christian brass band and so much more.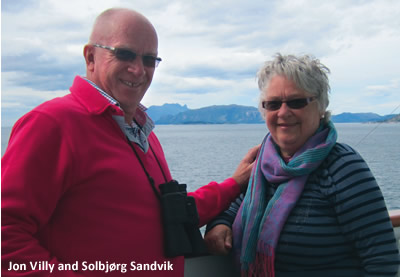 Solbjørg and her husband were leaders for our island's Christian youth choir for many years. I have always enjoyed singing in choirs, and this is where I had my first chance to be part of a choir. Oh, how we sang! And oh, how much fun we had both at rehearsals and singing together at some service or event. Thanks to these two, and a wonderful group of kids and young adults, I remember vividly that I couldn't wait to be at the age that would allow me to be a part of whatever they directed — fourth grade in the junior brass band; age 13 for the youth choir, and so on. I began playing the cornet at the age of 10 until I got so into the giggling years, I actually quit so as not to be a burden to the brass band!
Jon Villy always knew how to make us kids relax and laugh, and when I was in upper elementary grade levels, Solbjørg tailored a Sunday School Bible study in their home for a few of us girls who had outgrown the "little kids" church. This bridged an age gap where no other ministry was directed at that time. I loved her reading out loud. I remember especially a book about a kid named Ivan who was part of the persecuted church. Solbjørg taught simple lessons on love for God, and read about other cultures, opening our eyes to the world around us. Many years later I penned a song inspired by this, "Salt and Light," which I recorded on my second album.
Their humble leadership combined with good-hearted humor and kindness set an atmosphere where all of us kids felt seen, valued and included. I honor them for all the hours they have sown of their free time to the children and youth in our community.