Beloved former child superstar
Shirley Temple Black
, born April 23, 1928, has passed away at the age of 85. She died of natural causes in her Woodside, Calif., home, surrounded by family and caregivers.
As a dimpled youngster with blond ringlets, Shirley sang and danced her way into the hearts of fans in 1930s-era films such as
Bright Eyes
,
Stand Up and Cheer!
,
Curly Top, The Littlest Rebel
and
The Little Princess
. Audience members struggling through the Great Depression could not get enough of the smiling, tap-dancing sweetheart. She received a miniature Academy Award at age 6, and her hand and footprints are immortalized in the cement of Hollywood's Grauman's Chinese Theatre.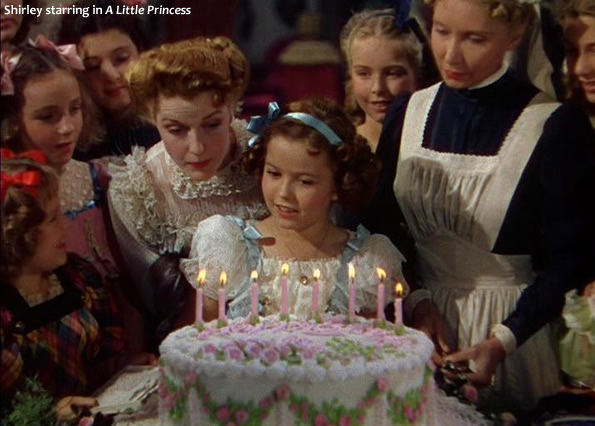 After a short-lived marriage in her youth, Shirley married Charles Black in December, 1950. They were married for 54 years until his death in August of 2005.
Following her acting career and the birth of her three children, Shirley pursued her growing interest in politics. In 1969, she was appointed representative to the 24th United Nations General Assembly. From 1974-76, she served as the United States Ambassador to Ghana, and later as the United States Ambassador to Czechoslovakia. She was also appointed as the first female Chief of Protocol of the United States.
In 1972, Shirley was diagnosed with breast cancer and underwent a modified radical mastectomy. She became one of the first prominent women to speak openly about her experience with the disease, announcing it via radio, television and through an article with
McCall's
magazine in 1973.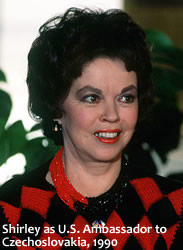 Throughout her adult life, Shirley served on the boards of numerous organization and enterprises, including The Walt Disney Company, Del Monte, the United Nations Association, the National Wildlife Federation and many others.
In later years, she lived in northern California and penned a 1988 autobiography,
Child Star.
Shirley is survived by her three children, Linda, Charlie and Lori.
Photo Source: Public Domain via Wikimedia Commons