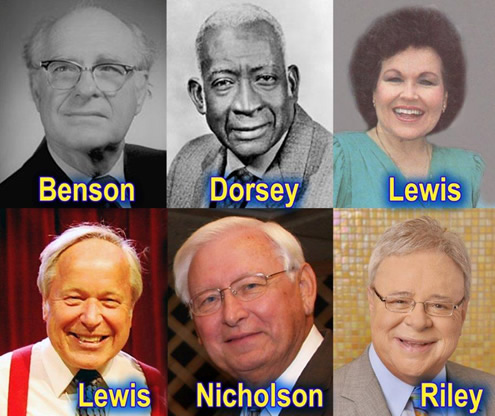 The
Southern Gospel Music Association
(SGMA) recently announced their "Class of 2013" inductees to the
SGMA Hall of Fame
. Polly Lewis Copsey, "Little" Roy Lewis, Duane Nicholson and Tim Riley will receive this honor, as well as deceased inductees John T. Benson, Jr. and Thomas A. Dorsey.
Polly Lewis Copsey
, the mother of Sheri Easter, traveled with the Lewis Family until 2009, when the group officially retired. Her brother and fellow inductee,
"Little" Roy Lewis
, was also a member of the Lewis Family group and now travels with "The Little Roy and Lizzy Show."
Duane Nicholson
is a former member of the Dove-Award-winning group, the Couriers, and he performs currently with fellow retired members Dave Kyllonen and Neil Enloe as the group "Dave, Duane and Neil."
Tim Riley
's booming bass has been heard in gospel quartets since the early 1960s. He has sung with the Dixie Echoes and the Southmen Quartet, and he is a current member of Gold City.
John T. Benson Jr
. took over management of the Benson Music Company in the early 1930s when his father passed away, and he also founded Heartwarming Records and Impact Records. He was also a founding member and the first treasurer for the Gospel Music Association.
Thomas A. Dorsey
was a blues and gospel pianist known as the "father of black gospel music." He founded the first black gospel publishing house--Dorsey House of Music--and penned classic songs including "Precious Lord, Take My Hand" and "Peace in the Valley."
The 2013 Induction Ceremony will be Oct. 2 at Dollywood in Pigeon Forge, Tennessee. Tickets for the event are on sale and available from the SGMA office by calling 865-908-4040.