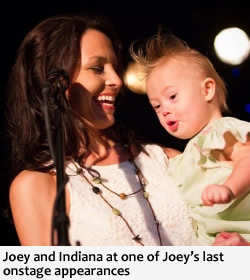 As Thanksgiving approaches, hopefully we will all take a few moments to appreciate the blessings in our lives. For
Joey Feek
, those blessings are extra precious right now. Though her body may be overtaken by cancer, her spirit still rejoices at God's goodness.
Her husband Rory wrote this week of receiving a photo texted by one of their neighbors. The neighbor's daughter, who was born with Loeys-Dietz syndrome and has spent her young life in and out of hospitals, was triumphantly riding a horse at the Center for Courageous Kids, a camp in Kentucky for children with special needs. Referring to Joey and Rory's precious toddler, Indiana, who was born with Down Syndrome, the text read, "Scout can't wait until Indiana joins her at camp."
As Joey looked at the photo, she closed her eyes and began sobbing, writes Rory.
I wasn't sure what had happened – what the pain was that she was feeling – so I tried to put my arms around her and asked, "what's wrong," and then through her tears, she said the words….

…the ones I knew she felt, but she had never said before.

…the words that are the hardest, most-difficult part of all that she, and we, are going through:

"I want to raise our baby," she cried, and her tears fell harder… "I want to be the one to teach her."

She was inconsolable.
Not knowing what to do, Rory simply held his wife as she cried. Then, in the midst of the pain, a magical moment.
...Over my shoulder, through the window she saw it…

Snow.

It was snowing. Huge white flakes were falling from above.

And a small smile came across her face. Then a bigger one.

"I didn't think I'd get to see snow again." And she looked at me, then raised her eyes up at sky and said, "If this is the last snow I ever see, thank you Jesus… thank you."

Like manna from Heaven. God sent us just what we needed … just when we needed it. He always does.

There will be other snows that will come. Some might be bigger and last longer. But none will mean more than this one.
Visit
thislifeilive.com
to read the full blog post and see additional updates.