Sitting down with Solveig Leithaug
over hot tea and gingersnaps at a coffee shop near Nashville, it's easy to glimpse the light in her eyes and her smile illuminating the room. The word joy jumps to mind. Irrepressible joy. It spills from her face like the first burst of warm sunshine after a storm.
Yet after talking for a few minutes — and delving into deep waters of her life's journey — it also becomes clear that the light, the smile and the joy have been tempered by the effects of her own personal storm.
The gifted, Dove Award-winning artist (whose name is pronounced
SOL-vey LIGHT-houg
) is known to Homecoming friends for her Gaither concert and video appearances featuring sweet vocals, rich lyrics, skillful guitar and masterful piano, performing songs such as "Leaning On the Everlasting Arms" (on 2007's
How Great Thou Art
DVD) and her original pieces "I Pray For Norway" and "Everything Has Its Season" (the latter on 2013's
Women of Homecoming Volume 1
DVD).
Less known are the trials she has endured — struggles from which she has emerged with the help of much grace and love to find that God has never stopped singing over her.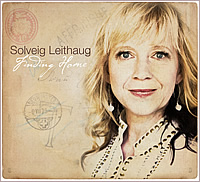 One result of her path to healing is a new album,
Finding Home
. Her 18th release since 1985, the record features "real-life stories" that Solveig hopes show "how wonderful God is — our anchor through all of life's storms.
"I can honestly say that I can see His goodness in every season of my life," she reflects. "These are songs that mirror my life as it is today — songs of hope, of worship, of prayer, songs that deal with sorrow, relationships, family. It's an honest reflection of God's strong arm to save and to help. He's only a whisper away. He is there through the good and the bad."
Solveig experienced the good during what she calls "a fantastic childhood" in southwestern Norway, on an island near the harbor town of Bergen, home to famed classical composer Edvard Grieg.
The youngest of five children born to Peder, a composer/organist/music teacher turned professional painter — from age 50 to his passing at 87, he registered 7,000 sales—and Helga, a "feisty and funny" lover of poetry who came of age on an old-world farm, Solveig seemed destined to make her creative mark. (Her forebears also included fiddle players, blacksmiths and a grandmother who wore a long woolen skirt while free-heel skiing.) Three of Solveig's siblings and many extended relatives have become professional musicians.
Her upbringing also was marked by faith in Christ, "a natural part of the fabric of our home." At age 13, Solveig made a decision to follow Jesus. From early on, she was drawn to music. "I would practice on the guitar for hours, until the tips of my fingers were hard as nails. I loved playing and writing and singing."
In the summer of 1984, Solveig, then 18, attended the Christian Artists Seminar at the De Bron Centre in Dalfsen, the Netherlands. Given an unexpected chance to perform because of a cancellation, she borrowed a guitar and played several original songs, with translations from Norwegian into English scrawled on an overhead projector sheet. The spunky teen wowed the audience.
"That broke things open for me throughout Europe," Solveig says. "I started touring internationally in my last year of high school and also recorded my first Norwegian album,
Askepott
(
Cinderella
)."
Also as a result of that performance, Cam Floria invited her to perform at the 1985 Christian Artists Music Seminar in Estes Park, Colorado. Solveig recently came across a program from the event and noticed that the Gaither Vocal Band had performed the same evening. "But I never met Bill and Gloria until 20 years later!"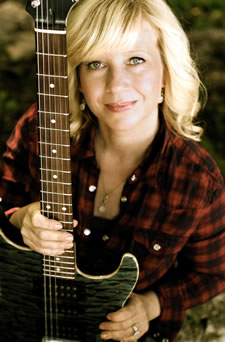 The whirlwind she had entered spun into an international contract with Word Records.
Her first major U.S. tour as a solo artist was with the Imperials in 1986. (Russ Taff wasn't part of that tour, but in 2005, Solveig toured Norway with Russ along with Lynda Randle, who introduced her to Bill and Gloria.)
As she continued to tour and make music, in 1989 Solveig wed and began a family that would grow to include three children: David, now 21; Kari, 19; and John, 13. During this season, while recording and performing as Solveig Henderson, she also shifted her focus somewhat to include facilitating outreach events with her husband in gang hotbeds, homeless shelters and prisons.
After 17 years, however, the marriage disintegrated, leading to a painful divorce in which the judge awarded sole custody of the children to Solveig. While understandably choosing not to go into further details, she says she agrees with what a trusted ministry leader told her in the aftermath: "There are times when divorce is a gift."
Through the growth of her music career and seven appearances at the Estes Park seminar, Solveig had become friends with Jim and Janice Chaffee. Jim directed the seminar and operated an artist-management company. Sadly, Janice was diagnosed with cancer in 2004, and she went home to be with the Lord in February 2007.
In 2008, Solveig met with Jim to discuss making a record in Nashville. "He is someone with vision who can see the finished product before others can," she says. "When I didn't know there was a record in me, he saw it and pulled it out of me."
Jim became executive producer of that album (Christmas Peace), and the friendship blossomed. "We ended up falling in love while making the record," Solveig says. "By the time we were in the studio, we knew we wanted to be together."
Five years after the duo wed on May 30, 2009, God has brought their blended family—including Solveig's three children and Jim's two sons — to a bright "other side."
"We all came to this situation with broken hearts," Solveig says. "Something happens when you understand sorrow. Even though each situation was different,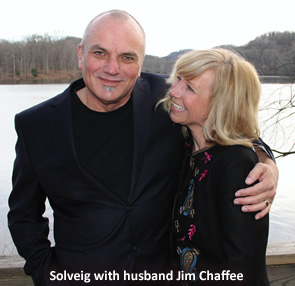 we began with a tone of empathy and grace toward each other."
Solveig appreciates the balance that Jim brings to her life. "He is stable, laid-back, easygoing. He's a fantastic cook who makes all of the dinners while I get to bake the desserts. We have friends over for meals a lot."
Today, as she contemplates her continuing music-and-life journey, Solveig feels more settled, more at home, and more joyous. "Your heart needs to land a little bit when you go through changes," she says. "I feel that now I have something to say again, and I am so grateful to have the opportunity to share it."
Does God Sing in Norwegian?
When Solveig thinks of God singing, her parents come to mind first. "My father just passed away a year ago, and he was my most important voice of encouragement, along with my mom.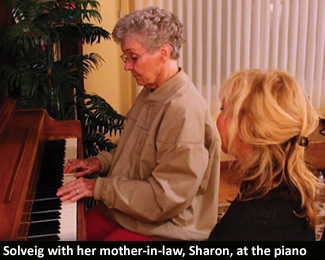 There are words they said that have stayed with me. In some ways, the new album is a tribute to them, because the legacy they left me — the love for God, family, His people and His church across all denominational lines — continues to fuel me.
"On our birthdays, our parents would always call us, no matter where we were, and sing a duet of 'Happy Birthday' on the phone. It was as if they were rejoicing over us with singing. God does that, not because we're perfect, but because we're His creation. We are here for a purpose, a destiny, and He loves us. We're His kids."