"Some Children See Him"
Some children see him
Lily white
The baby Jesus
Born this night
Some children see him
Lily white
With tresses soft
And fair.

Some children see him
Bronzed and brown
The Lord of heav'n
To Earth come down
Some children see him
Bronzed and brown
With dark
And heavy hair.

Some children see him
Almond-eyed
This Savior whom
We kneel beside
Some children see him
Almond-eyed
With skin
Of yellow hue.

Some children see him
Dark as they
Sweet Mary's son
To whom we pray
Some children see him
Dark as they
And, ah
They love him, too.

The children
In each diff'rent place
Will see
The baby Jesus' face
Like theirs
But bright
With heav'nly grace
And filled
With holy light.

O lay aside
Each earthly thing
And with thy heart
As offering
Come worship now
The infant king
'Tis love
That's born tonight.
Words by Wihla Hutson / Music by Alfred Burt / Copyright 1954 (renewed) and 1957 (renewed)

~~~~~~~~~~~~~~~~~~~~~~~~~~~~~~~~~~~~~~~~~~~~~~~~~~~~~~~~~~~~~~~~~~~~~~~~~~~
The famous "Burt Carols" began as a family tradition started by Alfred Burt's father, the Reverend Bates Burt, an Episcopalian pastor, rst in Marquette, Mich., on beautiful Lake Superior and then in Pontiac. Each year the family would compose a carol, some with original lyrics, some using a text, to send as a Christmas card.
Beginning in 1926, Bates Burt continued this tradition until 1942, when he assigned it to his son, Alfred Burt, who was becoming a quite viable musician in his own right. Graduate of University of Michigan, the young composer was given a text by Father Andrew, an English Catholic priest, that the senior Burt had found in a small book of carols and asked Al to set to music. From then on Al composed the music for the Christmas card carol, often to lyrics written by his father.
The musical talents of Alfred Burt expanded to include conducting and playing in some well-known jazz and concert bands of the time with trumpet as his major instrument, though he also played and composed on the piano. In 1945 Al married a singing operation room technician he had met while serving with the Army Air Force Band. Al's mother was ill with cancer, and the bridal party shared the festivities by going to her hospital room. She died two weeks later.
After Al was discharged from the Army, he and his new wife Anne, now discharged from the Navy, toured together for 15 months with a band, then returned to the family's favorite summer place in Marquette, Mich., to spend time with Al's father before going to New York to teach at the American Theater Wing School.
The family carol for 1947, "Nigh Bethlehem" would be the last one shared with Father Burt. Early in 1948 he suffered a fatal heart attack. Al and Ann decided to keep up the family tradition and the 1948 carol was Al's composition to an old English rune that he and his uncle Rev. John Burt had seen on a wall in the Dean's of ce of the Virginia Theological Seminary where he was a student.
Al joined the Alvino Ray Orchestra in 1949, and Anne went home to Pontiac to await the birth of their first child. A long-term friend of the family who was organist at the Pontiac Episcopal Church where Al's father had been vicar, Wihla Hutson, had seen Al grow up and watched with great admiration as he developed as a musician. She had spent many a night with the family when the winter weather kept her from making the drive home and was like one of the family. Al and Anne asked her if she would put the ideas they had for that year's Christmas card into poetry.
Anne was full of anticipation for the soon-coming birth of her child and talked with Wihla about the new life inside her. When Wihla asked what she had in mind for the yearly Christmas carol, she immediately said, "A lullaby!" She took their conversation home and wrote that year's carol text, "Sleep, Baby Mine." But even before that verse was written, Wihla was overwhelmed by another part of their discussion that was so powerful she actually pulled off the road to write down the words that would eventually become one of the best-loved and most-sung of the Burt Carols: "Some Children See Him."
This text came from the part of their conversation that had pointed out the purity of the way children embrace the baby Jesus, seeing Him as being just like them. This innocent acceptance of a fellow child actually is full of meaning for the rest of us, as children seem to know that God came to be like them so that they could be like Him.
As our world has become more global and our experiences more diverse, this carol, written before the birth of baby Dianne, has truly come into its own. As is often the case, insights of children hold profound truths that are eclipsed by our adult sophistication. "Some Children See Him" has become the carol that speaks to us in this complicated world of the purity of faith and the immensity of God-with-us.
The Burt carols have become treasures of American Christmas literature, recorded by such artists as John Williams and the Boston Pops, Perry Como, Nat King Cole, Natalie Cole, Manhattan Transfer, George Winston, Andy Williams, James Taylor, Kenny Loggins, Aaron Neville and Simon & Garfunkel, to name a few.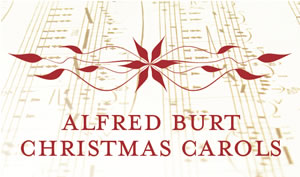 "Ah, Bleak and Chill the Wintry Wind"

"All On A Christmas Morning (Oh Who Are These That Throng the Way)"

"Carol Of The Mother (Sleep, Baby Mine)"

"Caroling, Caroling"

"Christ In The Stranger's Guise"

"Christmas Cometh Caroling"

"Come Dear Children"

"Jesu Parvule (Poor Little Jesus)"

"Nigh Bethlehem (Nigh Bethl'em on a Wintry Night)"

"O Hearken Ye"

"Some Children See Him"

"The Star Carol"

"This is Christmas (Bright, Bright the Holly Berries)"

"We'll Dress the House"

"What are the Signs? (Carol in War Time)"