Southern Gospel Music legend
Richard Fay "Buck" Rambo
was recently honored by friends and family to mark the date of his birth, which was the 15th of September. A host of people gathered to celebrate Rambo's life under a clear September sky near Nashville. Rambo passed into eternity in February. "Buck," as he was known, had fought a brave battle with cancer.
The event hosted by Mae Rambo, Buck's widow, was marked with an unveiling of the marker placed at his grave. The Sneed Family of Glasgow, Kentucky, shared special memories with Seth Sneed, along with his sister Amanda and husband Caleb Cowan, singing "Far Side Banks of Jordan." The song was one of Rambo's personal favorites.
Rambo's career was recognized with numerous GRAMMY® and Dove Award nominations for his work with the original group, The Gospel Echoes, and later with The Singing Rambos.
The Gospel Music Hall of Fame began with Rambo as a founding member. He was also a board member for the Gospel Music Association and in the '60s was a member of the Board of Directors for the National Quartet Convention.
Today the legend continues through the group Rambo-McGuire featuring Buck's daughter Reba and her husband Dony McGuire, along with their daughter, Destiny. Their music is a testament of Gospel music from the past that looks toward the future.
Buck Rambo is survived by wife, Mae Rambo, and his daughter, Reba Rambo McGuire, as well as grandchildren, Destiny Rambo McGuire and Israel Anthem McGuire.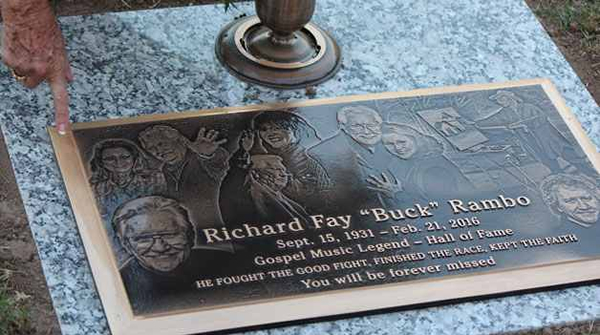 Source: Alpha Source Media Group