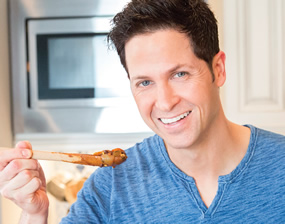 GVB's Favorite Chef Shares a Favorite from His New Cookbook,
Wescipes
!
I've loved cooking and great food for as long as I can remember. I love collecting great recipes, whether they're from family, friends, or strangers! I remember helping my mom in the kitchen when I was a kid. I guess this love of cooking got its start then. But it really blossomed about a year after Andrea and I were married, almost 18 years ago. I gradually pushed her out of the kitchen and I've been there ever since!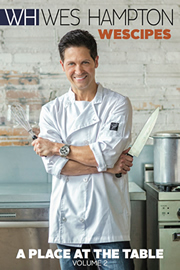 There is a well-known Mexican restaurant in Birmingham that we've visited quite a bit through the years. They have a fantastic chicken tortilla soup. This is my knock-off recipe of that soup. It's very light and healthy (minus the cheese), but you would never know from the taste!
Southwest Chicken Soup
Ingredients
• 1 quart chicken stock
• 1 quart water
• 1-2 pounds boneless, skinless chicken thighs
• 1 zucchini, sliced
• 1 yellow squash, sliced
• 1 large carrot, peeled and diced into 1-inch pieces
• ½ head cabbage, roughly chopped
• 1 large Yukon gold or red potato, diced
• 1 sweet onion, roughly chopped
• 4 garlic cloves, minced
• 1 stalk celery, cut into ½-inch pieces
• 1 can sweet corn, drained
• ⅓ cup chopped cilantro (plus more to serve)
• ½ small can tomato paste
• 1 can fire-roasted diced tomatoes
• 1 teaspoon chipotle chili powder
• 3 tablespoon chicken base
• 2 tablespoon garlic powder
• 1 teaspoon kosher salt
• 1 tablespoon ground cumin
• ½ teaspoon black pepper

Optional: sliced avocado and shredded sharp cheddar, for serving

Directions
1. In a large Dutch oven or two-gallon pot, bring water,* chicken stock, salt, black pepper and chicken thighs to a boil. Reduce heat to medium-low and cover, simmering for one and a half hours or until chicken is very tender. Make sure liquid does not boil over ... it's happened to me too many times!
2.Turn off heat and remove chicken to a large plate to cool. Once cool enough, remove any fat and discard. Shred chicken with your hands and set aside. Strain chicken stock and add back to the pot.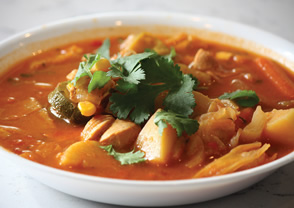 3. To the chicken stock, add the chicken base, celery, garlic, onion, carrot, tomato paste, roasted tomatoes and seasonings. Bring to a low simmer, covered, and let cook for 30 minutes. Add the chicken, corn, squash, zucchini, potatoes, cilantro and cabbage, and simmer, uncovered, an additional 30 minutes or until all vegetables are tender. Simmering uncovered will allow the liquid to condense, concentrating the flavor. If too much liquid is evaporating, add a cup of hot water.
Adjust salt and seasonings to taste.
4. When serving, top with cheese, then sliced avocado and chopped cilantro.
*** If you prefer a creamy soup, add 2 cups of half and half and reduce water by 2 cups.
Enjoy!
Wescipes
is now available at
weshampton.com
and at Wes' table at Gaither concerts.