What happens when you let your young granddaughters listen to rough mixes of your songs? They name your album for you. At least that's what happened to Sue Dodge. The well-known soprano was stuck on what to call her new CD. While driving in the car with her grandchildren, she started reciting several options.
"When I said 'Faithful,' Sydney, age 11, said, 'That's it, Nana!' Pausing for a moment, she added, 'Because He is.' To which Madeline, age 8, replied, 'Yes, He is!' That was the confirmation I needed to seal the title," the multi-Dove Award winner explains.
While Sue's past recordings have reflected personal trials and triumphs the singer was enduring at the time,
Faithful
is a testament to the character of God. "This time, I wanted to tell in song the faithfulness of God that I had experienced and impart the joy of the journey that is available if we trust in the Lord," she says.
The album was tracked at Watershed Studios in Nashville, Tenn., but Sue recorded all of her vocals at her favorite studio, Summit Studios in Morristown, Tenn., with producer Roger Talley (Jake Hess, the Collingsworth Family), one-third of beloved family trio the Talleys. "Every artist needs someone like Roger who knows them and does not try to make them over, but brings out the best in them. He is so good at that," Sue shares. "Roger is always pushing me to do a little more and get fresh sounds and feels, not to mention his fabulous arranging ability."
Roger and his daughter, Lauren, along with Ladye Love and Reggie Smith, also contributed background vocals on the album. The new batch of songs spotlights the various unchanging facets of God's innate nature—His goodness, deliverance and strength. From the cheery, up-tempo "I've Got to Praise Him" to the powerful "Great Is Thy Faithfulness Medley," fans will find plenty of singable tracks that will both delight and inspire.
While Sue maintains it's hard to choose just one song that stands out as her favorite, the former beauty pageant winner says the jaunty "Soon and Very Soon" has proven to be a track that has translated well live. "People will just smile and start spontaneously singing when I start the first line of the song," she says.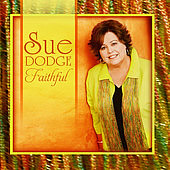 Faithful
is a reminder to every listener that God's love is the one constant in life that never changes. "He promises He will be with us through good times and bad. He will deliver us from danger. He will give us strength and the hope of eternal life," Sue emphasizes. "God is who He said He would be, and to His children He makes promises that He always keeps."
For more info, visit
suedodge.com
.