The journeys of four Homecoming Friends — Connie Hopper, Lily Isaacs, Janet Paschal and Sheri Easter — who each fought — and won — their battles with breast cancer.
According to the most recent information available from the American Cancer Society and the National Cancer Institute, about one out of eight women will receive that dreaded phone call — the one that often follows the recent exam and tests. The call that seems to stop time and forever change their lives and the lives of those around them as they hear the words, "I'm sorry. You have breast cancer."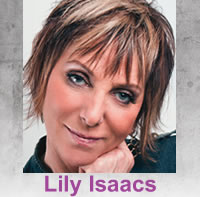 THE CALL

Standing in her kitchen on a Friday night in 1983, making fish sticks and Tater Tots with her children, Lily Isaacs answered the phone to find her tumor was malignant. Trembling, she dropped the phone, and her husband finished the call.
THE DIAGNOSIS

She had just gone through two major back surgeries, the removal of nine discs, halo traction for two weeks and a month-long hospitalization, so she was already in excruciating pain when she found her lump. They did a biopsy and put her in the hospital for further testing in spite of the large back brace she was already wearing.
"The first thing that went through my mind was that I had gone through all this back surgery to correct my pain and that I was going to die anyway and that I was not going to live to raise my children," she recalls. "That was my biggest breakdown."
THE TREATMENT

Lily describes 1983 as walking through a nightmare. Her main objective at the time was to live to raise her children and she didn't care how she would be disfigured, so she opted for a mastectomy to avoid post-surgeries and treatments. Fortunately the lymph nodes were clear, and the tumor hadn't begun to spread, so she did not have to go through any chemotherapy at the time.
THE CARETAKERS

"The biggest thing my husband gave me was the confidence that it didn't matter whether I had one breast or two or none. He loved me for who I was," says Lily. "His assurance that all that mattered to him was that I lived was important to me because of the drastic decision I had made for the mastectomy."
THE ENCOURAGEMENT AND STRENGTH GAINED

Psalm 46:10, "Be still and know that I am God," kept coming to Lily. "I have a tendency to want to try to fix everything, but there are so many things in life that we can't control," she says. "Most of the time, you just have to be still, be patient and know that God is in charge because there is nothing that you are going to be able to do about it to fix it — not a thing."
"I feel much closer to the Lord having gone through something like this," says Lily. "Any time you have surgery and it disfigures you, it's always a constant reminder of what you've been through. At times I felt so removed from God. I felt so forsaken that I was ashamed about the way I felt. I remember praying, 'Lord, where are you? Why don't you come to me right now? Why am I going through this? I've served you for so many years.' I went through a process of grieving to get through that. I realized that in my lowest spot when I felt like I was all alone, He was not with me; He was carrying me and gave me that peace beyond understanding."
THE RECOMMENDATIONS

Lily, who is not only screened regularly for breast cancer but has other screenings as well, advises to do self-examinations and keep up with tests very meticulously. She suggests men and women watch what they eat, exercise, get sleep and have any problem checked out immediately because early detection is the best cure with many diseases.
THE OUTREACHES

Perhaps one of the most recent outcomes of Lily's story is that in 2011, country music artist Martina McBride released a song called "I'm Gonna Love You Through It," which was written about Lily by her daughter Sonya Isaacs Yeary; Sonya's husband, Jimmy Yeary and writer Ben Hayslip. "Every time I hear it, it breaks my heart because it was such a real emotion for me," Lily describes. "I'm honored that they were able to share this with so many people that are caregivers for those going through something like this because without a good support team, you just can't make it."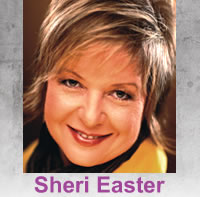 THE CALL
In 2008, Sheri Easter was on the road singing. As she talked to the doctor from the front of her bus, she kept her composure. When she hung up, she just started crying.
THE DIAGNOSIS

Sheri had just done a promo for breast cancer awareness when she found a lump. She thought it was odd because she had always done self-exams and was very conscientious about it, especially since Janet [Paschal] was going through cancer. She always questioned if she would know the difference, but she knew immediately and scheduled a mammogram.
Sheri was elated to get a clear mammogram, but when Janet recommended she not trust that alone, she knew she needed to get back to the doctor's office when she had time. Sometime later, she followed up after talking to someone who had gone from a clear mammogram to a double mastectomy in only two weeks.
Although it is the best early detection tool recommended right now, Sheri found out that in women under 50, mammograms are only 50 percent accurate. In instances where they can identify a lump, some doctors now follow up with a sonogram and a biopsy. Sheri got a clear mammogram, but it was really breast cancer. Hers was among the 15 percent that was dangerous.
THE TREATMENT

Sheri completely trusted her medical team, and she decided that whatever options they gave her, she would always take the most aggressive treatments — which included a mastectomy and reconstruction — because she had a 2-year-old depending on her and did not want to take any chances.
"Some are quick to recommend chemo," explains Sheri. "Every story is different. I can't find anything that makes it a guarantee because there seem to be no 'for sures.' I continued to exercise all the way through it. I wasn't running marathons, but I walked and did things to keep my body active. I never got sick from the chemo or had to have one shot of anything to increase the production of my blood cells. I never had a mouth sore, never had any of the things that are very common with chemo."
THE REACTION

Sheri, who only missed one weekend of concerts and a portion of a Gaither Homecoming performance despite six surgeries and six rounds of chemo, had enough hair that she didn't feel uncomfortable around her family. She would wear a ball cap at times off stage, and on stage she would wear a wig; but she was frequently surprised when passing in front of mirrors at who she saw, because she looked so sickly. Makeup worked miracles; but with thinning hair plus eyebrows and eyelashes completely gone, she felt like a sick, swollen cancer patient.
"The hardest part for me was for about a year-and-a-half to three years, I didn't like myself physically; and I was trying to feel like a woman again," says Sheri. "The worst thing about breast cancer is it attacks your femininity, and you start feeling sorry for yourself because you have experienced such a huge loss. My self-esteem physically took quite a hit that year. You have to find a way to accept yourself as you are. The reconstruction made a huge difference in how I felt in my clothing."
THE CARETAKERS
Sheri remembers all of the attention her children and daughter-in-law gave her; and Jeff was beside her every moment after that first doctor's appointment, sitting with her through every doctor visit and chemo treatment, taking care of her on the road, never letting her down.
THE ENCOURAGEMENT AND STRENGTH GAINED

One of the greatest helps to Sheri's battle was the 2-year-old girl she had when she was diagnosed. Maura would say, "Mama, get out of bed" or "Mama, you're not sick again today," and Sheri just got up and kept fighting. She says that her faith and trust in God were keys to overcoming for her and that if she has ever heard God's voice, it was while going through breast cancer.
"C.S. Lewis said, 'God whispers to us in our pleasures, speaks to us in our conscience, but shouts in our pain,'" she quotes, "and I clearly heard the voice of God during the whole course of breast cancer. It was amazing how I felt His leadership before me."
"I am a completely different person now," says Sheri. "It goes back to that 'eyes wide open' way you live. Your perspective changes and you know how to appreciate the good things. If you've ever been through anything significant in your life, you know how to appreciate it; and you don't waste it. The things that used to bother me and the things that used to be a priority — they don't matter as much anymore, like my need to keep the house cleaned and get everything done on my list. I don't think we ever grow out of Type A, but I'm not quite so caught up in it."
THE RECOMMENDATIONS

Sheri is now going to a wellness center, flooding her body with good vitamins and exercising faithfully because exercise has proven to reduce the risk of cancer due to the oxygen that floods the body. She is doing everything she can to be cancer-free, knowing that her life is in God's hands either way.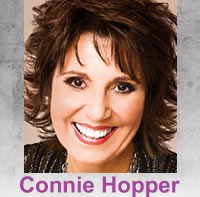 THE CALL

In 1979, after a biopsy that didn't go well, Connie Hopper went into surgery, not knowing if she would wake up having had a mastectomy.
"It was like running into a brick wall doing 500 miles per hour," Connie remembers. "I associated the word cancer with death because most of the people whom I knew had it didn't survive."
THE DIAGNOSIS

At just 39 with two little boys, Connie had been constantly fatigued and wasn't sure why. While doing a self-exam, she thought she found a lump. Finding her doctor out of town and being very busy at the time, she decided not to bother with it. Not able to find the place again later, she thought she had simply made a mistake, but she continued to feel worse. She found it again; this time there was no question.
THE TREATMENT
Because the options were more limited at the time, the surgeon operated on Connie to do another biopsy. She agreed that if he found it to be malignant, he would go ahead and do the mastectomy. When she woke up from the surgery, she found that he had gone through with the mastectomy on one side and that she had one of the fastest-growing kinds of cancer. She had some diseased nodes, but not enough at that time to put her into treatments. There were some complications during surgery and she had to have a lot of blood; but she says now — 33 years later — that God gave her peace.
THE REACTION

"A few weeks before I was with a lady at an altar who was going in for some type of surgery," Connie recalls, "and she was afraid. I remember quoting scriptures to her, but the very next week I found that I was going to be facing this. I realized that if you haven't been where somebody is, you don't really understand where they are.
"I had fear. I really did," Connie admits. "Nobody in my family had cancer. I prayed for the right doctor; I prayed for the right surgeon. I remember my sister spent the night with me the first night I was there, and she said that I spoke out loud and said, 'I'm not afraid anymore.' When I woke up the next day, all that fear that I had experienced over the months was gone. God had really done something for me."
"I can remember the first time I took a shower in the hospital and I cried and cried," recalls Connie. "It is such a loss. At that time, however, the way I looked wasn't the most important thing to me, so I didn't sit around thinking about it. The fact that God had brought me through that and that I could help somebody else along the way and encourage them was what it was all about. I just got well and hit the road again."
THE CARETAKERS

Connie recalls that Claude didn't look at the fact that she might not survive and that it never seemed to cross his mind at all. She remembers him as the encourager, motivator and rock with a positive outlook. "People everywhere prayed," says Connie. "Vestal prayed for me. I had a lot of encouragement from people who we sang to, and friends in the industry called me."
Connie has no doubts now that God heals, and she found that in God's presence, everything else diminishes. She also learned to be careful to not say the wrong thing to somebody who is going through something. "I've learned that when you are talking to someone who has some type of disease that is life-threatening or whatever, you don't tell them about what 'Uncle Joe' and 'Aunt Mary' had," she explains. "You don't plant seeds that are not positive."
THE RECOMMENDATIONS
"I encourage others going through this to fill up their hearts and minds with scriptures about faith," admonishes Connie. "I thought I was strong in faith, but when I got the news it was like I couldn't pray for myself, so I'd quote scriptures and the Lord gave me a peace that surpasses all understanding."
THE OUTREACHES

Connie worked for a cancer society for a while as part of the
Rich to Recovery
program. Both Sheri and Connie have penned books, describing their journeys.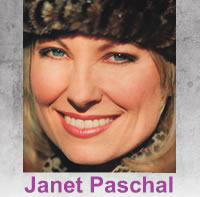 THE CALL

Janet Paschal knew the lump she found in 2004 felt different. Following a mammogram that appeared normal, she still knew there was something there, so they did an ultrasound. On January 7, the doctors called back with the news she had feared.
"I think I was just numb at first and in disbelief," she says. "It's like everything was surreal for a few days because my world was morphing into something I didn't know anything about. I was just on autopilot."
THE DIAGNOSIS

Janet, who had no history of breast cancer in her family, knew the doctors were acting differently following her visits, and she knew this felt like nothing she had ever felt before. It fit the characteristics of breast cancer, but she held out hope that it was going to be OK because "it doesn't happen to you — it happens to other people, but not to you."
THE TREATMENT

Janet had chemotherapy followed by a simple lumpectomy, but when the doctor removed the tumor, he discovered that it still contained living cancer cells. The chemo had not worked. So she went through a second round of different chemo treatments, including seven weeks of radiation.
"I did not question it," says Janet. "In fact, my question was, 'Why not me?' I knew statistically our family was way behind because we didn't have it; at the time, in 2005, one in seven women were diagnosed, so we were way behind percentage-wise. It was like we were due; life kicks in and things just happen to everybody."
She was feeling fragile, however, her first day at Duke Medical Center, when she and her husband John followed the oncology signs to the treatment center. She was stopped suddenly by a nurse who asked to pray for her, so they prayed right there. "The Lord specifically sent total strangers to me," she recalls. "He was finding ways to let me know that He was in the mix."
THE REACTION
Janet lost her hair twice because she had two different rounds of chemo. "I never have another bad hair day after losing my hair twice," she says. "I used to complain about my hair all the time, but now I never do — ever."
Janet canceled all of her dates. Her type was aggressive and was growing rapidly and spreading quickly, so the doctors didn't have a lot of success with her initial treatments. She had been told her type was a death sentence. However, the medical community released findings and treatments for her specific type of cancer one month before she needed it — discoveries described as the biggest finds for breast cancer research in decades. For this, Janet is ever grateful.
THE CARETAKERS
Janet says that John was with her, continuously doing anything needed. She describes him as a help emotionally and pragmatically.
THE ENCOURAGEMENT AND STRENGTH GAINED
She also says the road of cancer is not easy but that it is doable, especially the chemotherapy which she describes as being in a league all its own. She encourages others facing it to take it one step at a time and hang in there because there is an end in sight. Knowing that in three months her treatment would end helped her to keep going.
Janet found comfort in Isaiah 43: "When you pass through the waters, I'll be with you; when you pass through the rivers, they won't sweep over you and when you walk through the fire, you will not be burned because you are precious and honored in my sight and because I love you."
"I've walked with the Lord all my life," she reflects, "but when I got the call, the rubber met the road, and I discovered that in the marrow of my bones I believed in God. I believed He was who He said He was; I believed He felt toward me like He said He did; I believed He watched over me and took care of me. As much as I thought I believed it, you don't really know until you are cast into that place. Then what's really inside surfaces.
"I discovered that I had a faith of steel, and it was such a relief; so it was almost worth it just to discover that," she explains. "The side effect is that the sun shines a little brighter or the flowers smell a little sweeter; and life actually, I think, becomes sweeter after the process. I think I now understand when Paul said, 'to live is Christ and to die is gain.' When someone who loves you more than you can think or imagine is taking care of you and holding you and hearing you and charting your course, then what in the world do we have to worry about?"
THE OUTREACHES

Janet, who has annual checkups, has done several events for Susan G. Komen and for the American Cancer Society. She partnered with the Susan G. Komen Foundation for her hymns recording, so part of the proceeds from that release still goes to cancer research. Janet also hosts an annual walk for breast cancer at the National Quartet Convention.