Don't you love the stories behind our beloved hymns? The lyric of "Sweet Hour of Prayer" came from William W. Walford (1772-1850), an obscure, blind lay preacher who served in the hamlet of Coleshill, Warwickshire, England. He owned a small trinket shop in the village where he sold shoehorns and other intricate items he had whittled, fashioned and polished from bones. Walford memorized many chapters of the Bible, quoting them verbatim in his sermons; some folks thought he had memorized the entire Bible. William also composed poetic lines of verse … and he prayed.
The story goes that a Congregational minister and friend, Thomas Salmon, stopped by Walford's shop one day in 1842. Walford asked if Salmon would write down his new poem, "Sweet Hour of Prayer." Three years later, Salmon was in the U.S. and showed the poem to the editor of the New York Observer, who printed it in the Sept. 13, 1845 issue. About 15 years later, William B. Bradbury (1816-1868), a composer from New York, wrote the tune that is usually associated with this song. Bradbury also composed the music for other popular hymns, including "Jesus Loves Me," "He Leadeth Me," "Just As I Am" and "Savior Like a Shepherd Lead Us."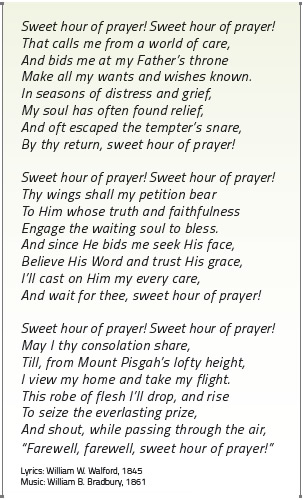 Sadly, Walford died before Bradbury composed the music for his lyric, but I'm certain he was listening from heaven the first time it was sung on earth.
The song-story resonates with me in a powerful way. Mama Dottie Rambo's grandfather, my great-grandfather Isaiah, was also a blind minister/evangelist who memorized much of the Bible. He hitchhiked to his meetings, guided by a white cane and what he called, "the voice who whispers." Although he passed away when Mama was 9, the moments she experienced, along with stories told of him, are legendary. Grandpa was a large man with a deep resonating, booming voice that was perfectly fashioned for preaching at brush arbors and churches, long before sound systems were readily available. This normally gentle, soft-spoken family man became someone else altogether when he stepped behind the sacred desk and began to minister the Holy Word. "He preached like a man from another world," Mama said.
When Grandpa stayed at his daughter Elizabeth's home, young Dottie would sneak into his room, quietly curling up at the foot of the bed. He never once acknowledged her presence, so she tried to stay still as a stone; she knew eventually he would start his every-night ritual. "Good evenin' Lord!" he'd begin. "Hasn't this been a mighty fine day?" His prayers were like intimate conversations between two old friends. He would start at the Gate of Thanksgiving, offering up grateful words, then humming hymns and often reciting psalms. He would mention every child, grandchild and family member by name, focusing on specific gifts he perceived in them and also their immediate needs. He lifted up friends, pastors, leaders, saints and scallywags. Mama said she never could stay awake long enough to hear him finish a prayer.
Mama wrote a song about Grandpa years ago: "Tho' My Eyes Are Blind My Heart Can See." Perhaps that's what Grandpa and W.W. Walford had in common ... they may have been blind, but they had seeing hearts, listening spirits, and a passion for divine communion with their Savior in prayer.