So what happens when you mix a little bit of Sue Dodge with a little bit of Vestal Goodman? I'll tell you. You get a music lovin', good food eatin', God fearin' recipe for an incredible family!
(Pictured right: Sue Dodge and Tara Dodge Goodman)

It doesn't take a genius to recognize that a love for good music runs deep in the veins of this Dodge/Goodman family. How could it not? Travis and I both were "raised backstage," being brought up with an "All Access" pass to some of the greatest music and singing the world has ever heard!
And I am sure you can imagine that along with that good music came a lot of good food too! Paula Deen couldn't hold a candle to the cooking that came out of the kitchens of our mothers and grandmothers. Let me just say, you don't ever want to turn down an invitation to sit at the Dodge or Goodman table!
Psalm 61:5 says, "You have given me the heritage of those who fear Your name." Truer words have never been spoken about the remarkable heritage that Travis and I have been blessed with— add the good music, the good food and the great love to this scripture and you get…well, this very blessed family.
So we hope you enjoy this Mother's Day gift from our family to yours: two versions (one Goodman and one Dodge) of the famous Coconut Cake!
Sour Cream Coconut Cake
(Chenault/Dodge Recipe)
Ingredients
• 1 butter recipe cake mix
• 2 cups sugar
• 1 (16-ounce) carton sour cream
• 12 ounces frozen coconut, thawed
• 1½ cups Cool Whip

Directions
Prepare cake mix as directed and bake in two round cake pans that are lightly greased and floured. Cool and split both cakes to make four equal layers. Combine sugar, sour cream and coconut in a bowl. Mix until blended well. Cover and chill for 1 hour.
When ready to frost cake, reserve 1 cup of sour cream mixture and set aside. Put remaining mixture between cake layers. Gently combine the reserved sour cream mixture with the Cool Whip and spread on top and sides of cake. Seal cake in an airtight container; refrigerate 2 to 3 days before serving.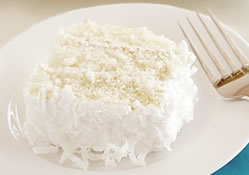 Fresh Coconut Cake
(Goodman Family Recipe)
Ingredients
Cake:
• 1 white cake mix with pudding in the mix
• 1½ cups coconut milk from fresh coconuts
• 6 packages fresh frozen coconut (thawed)
7 Minute Frosting:
• 3 egg whites
• ½ cup light corn syrup
• 1 cup sugar
• ½ teaspoon cream of tartar
Directions
FOR THE CAKE...
Prepare cake as directed and bake in three 9-inch layer cake pans that are lightly greased and floured. Bake at 350°F for 25 to 30 minutes. After baked and cooled, split cakes with a thread, to make 6 equal layers. Spread icing on each layer and top each layer with fresh coconut. After all cake layers have been assembled, poke holes into the cake and pour coconut milk over the top. Refrigerate any leftover cake.
FOR THE FROSTING...
Place all ingredients in the top part of a double boiler and leave it aside. Bring 2 cups of water to a low boil in the bottom of the boiler. Then add the top part and beat ingredients with hand mixer on high for 7 minutes, until peaks form.
Click for more great recipes from Homecoming artists!