We would like to congratulate Homecoming artist
TaRanda Greene
and IMC Concerts president
Landon Beene
, who recently announced their engagement. The two have been friends for more than 15 years, and they began dating early in 2014.
The proposal took place in California, on April 8, which is also Landon's birthday. He shares, "During a walk down to the beach where we first fell in love, I had a guitarist lined up to be at the beach with his girlfriend at the appropriate time. As the sun set and we were walking by, I asked him to play something for us. After a verse of some song I don't remember, he started playing our song, at which point I got on one knee. It was the perfect most romantic setting."
TaRanda adds, "It
was
absolutely perfect — after I found out the guitarist wasn't stalking us. He was following us up and down the beach! Little did I know he was supposed to."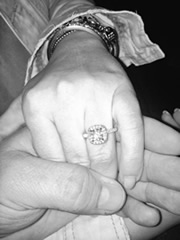 When asked how they knew they wanted to marry each other, Landon responds, "TaRanda knows how to make me feel loved and needed. She makes my soul smile just by looking at her. I have never known someone so passionate about everything she does. Every day, she makes me a better person."
TaRanda jokes, "He bought me a pair of shoes. I knew then he was the one!" Then she grows more serious. "Landon helped me realize that hurt doesn't have to last and my heart can beat again. He's such a patient and gracious man with so much love to give. Thank God for second chances. And thank God my blue-eyed darling fell in love with me. I'm completely smitten with this amazing man. He brought me back to life."
The couple is planning a small, private wedding in California, but they say they'll be sure to post pictures. According to Landon, the ceremony will likely take place in spring of 2016, since "TaRanda says she needs that much time to find the right shoes and dress."