Charles Spurgeon once said,
"Carve your name on hearts, not on marble."
Over the past decade, we've weathered the loss of many Homecoming Friends whose names are indelibly carved in our hearts and minds. Though saying goodbye is always painful, our comfort comes in knowing that it's temporary. Until then, we look forward to a jubilant reunion in Heaven's choir!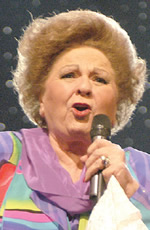 Vestal Goodman
(1929-2003)
Vestal was a powerhouse combination of a big voice, big hair, a big smile and an even bigger heart. Her energetic performance of "I Wouldn't Take Nothing for My Journey Now," sung while waving the ever-present white hanky (which Mark Lowry claimed contained "the anointing"), will stay etched in our memory, as will her love for others and her devotion to her Savior. Vestal and her husband Howard "Happy" Goodman were Southern Gospel icons for more than 50 years who lived their faith out loud, blessing countless lives along the way.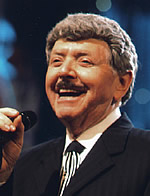 Jake Hess
(1927-2004)
The youngest of 12 children in a rural family, Jake Hess was an original, as described by granddaughter Emily. "He is often imitated, but will never be duplicated." Known for his unique vocal style, enthusiasm and sense of humor, this beloved pioneer of gospel music was a loving husband, father and friend whose character remained strong as his body grew weaker. Never one to complain, Jake lived in a state of gratitude. And in heaven now, Jake truly is, as Bill Gaither emotionally remarked during his dear friend's homegoing service, "nothin' but fine."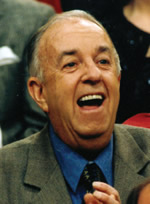 George Younce
(1930-2005)
Bill Gaither said of George Younce that he was "one of the best human beings I've ever known. He was a man of substance and integrity." During their 45-year friendship, the Gaithers came to know George as a very generous family man who loved to laugh and had a wonderful way of spreading joy. He was also a very talented singer with a melodic, deep voice, who dearly loved the music he sang with the Cathedrals and on the Homecoming stage. One day, George, we'll all "see you at the house!"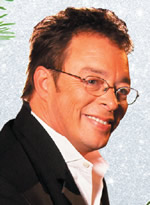 Anthony Burger
(1961-2006)
Struck down in the prime of his life at age 44, the supremely gifted Anthony Burger left us too soon. At his funeral, Bill Gaither described Anthony's work ethic, servant's heart and brilliant talent, adding that the word "genius," though often overused, was absolutely accurate in this case. His wife LuAnn remembers him as a humble, loving man who made it a high priority to meet fans, sign autographs and talk to people before and after the concerts. His skillfully flying fingers and gentle spirit will long be remembered by those who knew him.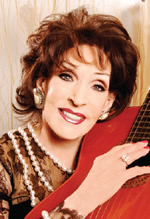 Dottie Rambo
(1934-2008)
To say that Dottie Rambo was a talented songwriter is a gross understatement; her musical legacy includes over 2,500 published songs sung by artists such as Elvis Presley, Whitney Houston, Johnny Cash and Sandi Patty. Dolly Parton once said that Dottie was "a special and precious person" and "one of the most incredible writers of our time … or anybody's time." Like many hymn writers of old, Dottie's faith-stirring lyrics sprang forth despite a great deal of physical and emotional adversity in her life, and we are so blessed that she answered God's call to share her heart's message through song.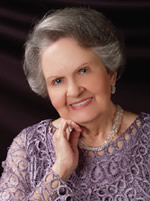 Eva Mae LeFevre
(1917-2009)
Eva Mae LeFevre was a delightful blend of wit and class who sang and played piano for over 85 years. Bill Gaither loved to banter with her on stage, and she loved to try to embarrass him. Known for her warmth, her smooth alto voice, her lightning piano style and her trademark pearls, Eva Mae was a true "steel magnolia" whom J.D. Sumner once called "the first lady to change the world of gospel music." Through life's ups and downs, Eva Mae's passion and determination never faltered; she continued to sing and touch the hearts of thousands.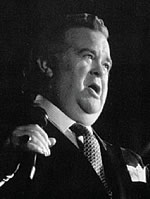 Doug Oldham
(1931-2010)
Doug Oldham's story was one of redemption, and he never forgot that. His openness about his own failures and Jesus' goodness, communicated through his rich, powerful singing voice, made him very effective in ministering to others, who responded to his warm, authentic spirit. He was the first person to sing the Gaithers' iconic song, "He Touched Me," and listeners knew he meant it. Gloria Gaither said of the close relationship she and Bill shared with the Oldhams, "Doug and Laura Lee have been a big part of our lives. It is a chapter that will not close."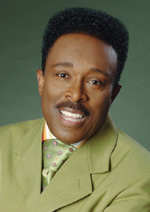 Jessy Dixon
(1938-2011)
Jessy Dixon was a Homecoming video favorite for his high-energy, soul-stirring performances, as well as the 200-plus songs he wrote, including "I Am Redeemed," which held a top ten position on the gospel charts for more than five years. He had great success in gospel music and other genres, performing all over the world with everyone from Paul Simon to Ray Charles to Dottie West, and having his songs recorded by such names as Natalie Cole, Mahalia Jackson, Cher, Amy Grant and others. But as Jessy put it, "The greatest joy of my life is to bask in the love of the One whom this Gospel is all about."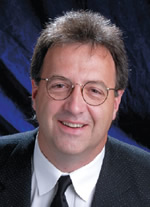 Stephen Hill
(1956-2012)
The sudden death of Stephen Hill came as a great shock in August of 2012. This "gentle giant" of a man is remembered for his soulful tenor voice, skillfully penned songs, his devotion to his family and faith, and a zany sense of humor. Stephen was an in-demand Nashville session singer who became a Homecoming video regular after Ben Speer introduced Bill Gaither to his "blue-eyed soul" vocal style. Woody Wright said of Stephen, "His talent was heaven-sent, and I am a much better person having had the opportunity to call him my singing partner and friend."
And We'll Always Remember…

James "Pop" Lewis (1905-2004)
Jack Toney (1933-2004)
Wally Varner (1926-2004)
Doug Riley (1970-2006)
Jimmy Jones (1921-2006)
Roger Bennett (1959-2007)
Jim Hamill (1934-2007)
Ruth Bell Graham (1920-2007)
Tony Greene (1968-2010)
Charles Colson (1931-2012)
Calvin Miller (1936-2012)