It seems like only yesterday that I was packing up my car and heading down the highway to Columbus, Ga., to conduct my very first interview for my very first
Homecoming Magazine
column — with Mr. Jake Hess. We spent a lovely afternoon in the living room of his daughter's beautiful home, having a leisurely, wide-ranging conversation that was so enjoyable I almost forgot that I was supposed to be working. I remember driving away that day and catching a glimpse of Jake in my rear-view mirror, his slightly stooped body framed in the doorway, his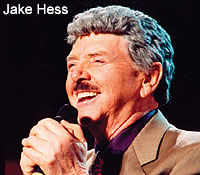 legendary grey wig glinting in the sunlight. I felt so blessed, so lucky to have had the chance to sit down, ask questions, listen and laugh with such a beloved gospel music icon. I couldn't wait to get home and start writing it all down — I couldn't wait to tell all of you about it!
That's what writing this column has always felt like: I get to go have coffee or talk on the phone with talented, interesting artists, they tell me their stories, and then I get to come share them with you. Many of these artists are longtime friends, and many of them I have never met in person, but at the end of every interview I always feel as though I know them on a little more personal level — and I want you to know them, too! Sometimes I lift entire paragraphs verbatim out of the transcripts of our recorded interview, so that I am presenting their words, their emotions and their speech patterns, not my impression or interpretation of them. My goal is that after reading this column, if you ever met the featured artist in person, it would feel as if you're meeting a friend. Here are some of my favorite memories over the last 10 years:
~~~~~~~~~~~~~~~~~~~~~~~~~~~~~~~~~~~~~~~~~~~~~~~~~~~~~~~~~~~~~~~~~~~~~~~~~~~~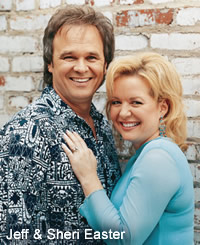 One of the sweetest, most romantic moments occurred several years ago when I was interviewing Jeff and Sheri Easter. They were telling me the story of the night they met, and Jeff was laughing as he recalled quite seriously asking Michael English if Sheri was a movie star, because she was so beautiful. That same night, after buying an autographed 8x10 picture of the Lewis Family, Jeff carefully cut Sheri's face out of the photo and tucked it into his wallet. He then talked his way onto the Lewis Family bus and spent the evening getting to know (and trying to impress) Sheri, until "they finally had to run me off." That little picture of Sheri got taped onto his mirror in the room he shared with Michael on the Singing Americans' bus, and Jeff endured endless teasing about it — "Man, you don't stand a chance with her; she is WAY out of your league!" At this point in the story, Jeff grinned and reached into his back pocket, pulled out his wallet and triumphantly showed me a tiny, faded, ragged-edged picture of a heart-breakingly young Sheri. "I've carried this with me for over 20 years," he said with great satisfaction. And Sheri leaned over and kissed him.
~~~~~~~~~~~~~~~~~~~~~~~~~~~~~~~~~~~~~~~~~~~~~~~~~~~~~~~~~~~~~~~~~~~~~~~~~~~~
This one didn't make my column, but I thought it was so funny! From the transcript of my interview with Mary Tom Speer: "My brother Brock used to tell this story about when I was real little. He'd say, 'One time, Mary Tom got behind the pulpit and pulled off all her clothes and came walking right out to where we were singing.' The whole crowd would always laugh and clap when he told that, and then my brother Ben would lean over and say, 'She was 18 years old at the time…' I'd about kill him!"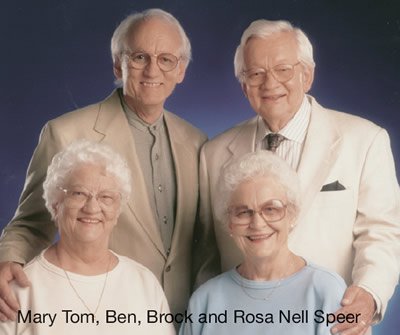 ~~~~~~~~~~~~~~~~~~~~~~~~~~~~~~~~~~~~~~~~~~~~~~~~~~~~~~~~~~~~~~~~~~~~~~~~~~~~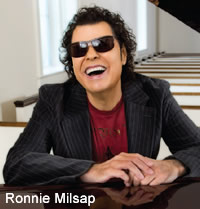 One of the saddest stories I heard was from country superstar Ronnie Milsap. Though born blind with congenital glaucoma, his left eye still had a small amount of "light vision," and he was able to detect direct sunlight. After being abandoned by his mentally unstable mother who considered his condition to be God's punishment, he was eventually enrolled at a school for the blind. Though he excelled at his studies there, the house parents were often unspeakably cruel behind closed doors. In March of 1957, Ronnie spoke up in defense of a student who had dared to talk back to the violent house father, who then turned his wrath on Ronnie. He said, "I took the hardest blow to the face I had ever experienced — my head hit the floor a split second after the strike." The force of it loosened his eye socket and tragically, his "good eye" was then completely blind and deteriorated to the point that it eventually had to be surgically removed.
~~~~~~~~~~~~~~~~~~~~~~~~~~~~~~~~~~~~~~~~~~~~~~~~~~~~~~~~~~~~~~~~~~~~~~~~~~~~
Here's a quote from sunny blonde Karen Peck, on her tendency to be just a wee bit chatty: "Somebody will be saying something on the bus, and I'll be all helpful and jump in and give my thoughts on it, and after a while I realize Susan's gotten real quiet and Rickey is just kind of looking out the window. So I'll say, 'I lost you, didn't I?' And Susan will say, 'You lost us about 10 minutes ago.'"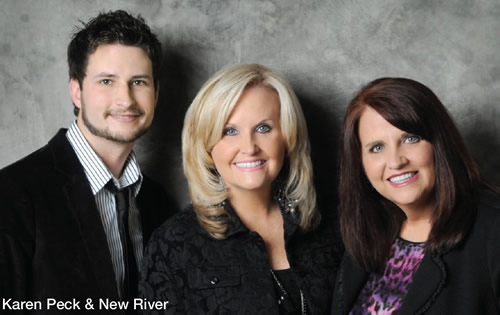 ~~~~~~~~~~~~~~~~~~~~~~~~~~~~~~~~~~~~~~~~~~~~~~~~~~~~~~~~~~~~~~~~~~~~~~~~~~~~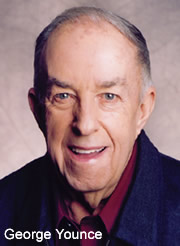 One moment I'll never forget was after I had just spent a wonderful couple of hours with George Younce. This was the last interview he ever did, and his daughters were understandably very protective of his fragile health, so it was not an easy thing to set up. After two days of waiting around at the National Quartet Convention to see if he was going to be up to it, I finally got the go-ahead from the family. It was an amazing interview — George regaled me with stories, spoke movingly of his faith and even sang me a song. When it was over, I was so excited that I rushed straight back to my hotel room and settled in with my computer to write. As I pushed the Play button on my tape recorder, I heard myself say, "Testing, 1, 2" and then George's familiar voice said, "Here, let me move this over a little closer to me." Then there was a loud CLICK … and silence. To my horror, I realized that George had accidentally shut off the recorder when he pulled it towards him, and the entire interview was lost!
Honestly? I cried.
Thankfully, I was able to arrange a quick make-up interview a couple of days later, but the magic of the "one that got away" was irreplaceable. I still kick myself over that one!
Again and again over the last 10 years, you wonderful
Homecoming Magazine
readers have let me know that you enjoy this little corner of the magazine, and I appreciate that more than I can tell you. So stay tuned… There are lots of fascinating artists I haven't talked to yet, and there are many more stories to tell!