I want to thank you for the generous gesture of featuring my new CD,
Finding Home
, in the March/April issue. We've had a lot of great response to the article, and I want you to know I deeply appreciate this opportunity.
Jim and I had a music video produced for the song "When She Plays," which includes a brief postlude of my mother-in-law, Sharon, playing "He Touched Me" on the piano. Gloria's encouragement last June at the Songwriters Intensive was crucial to my writing for the record and to give me inspiration that I needed to move forward with the making of the CD. To include Sharon's playing of the song "He Touched Me" fell as a natural choice, although we had recorded over 30 minutes of her playing hymn after hymn.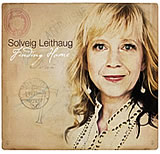 My understanding is that there are many, many families touched by Alzheimer's also within the Homecoming community. I hope the song and now also video can help pay tribute to both the ill and their caretakers, as well as bring some comfort and peace.
Blessings!
— SOLVEIG