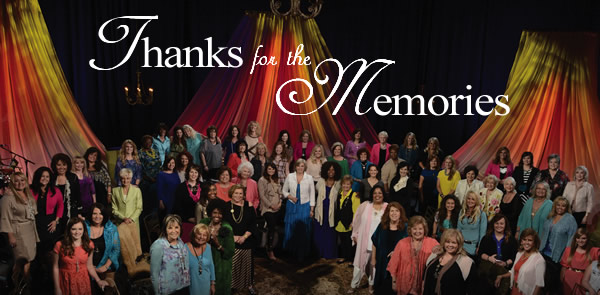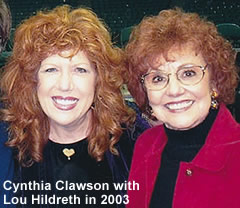 Lou Wills Hildreth
Seated all around me on the set of the taping were friends who have shared this gospel music journey for many years. The thrill of being in Nashville for Bill and Gloria Gaither's tribute to these women was beyond words. Bill was the consummate, delightful host, and there was never a doubt concerning the influence of Gloria on the planning of this marvelous event — her elegant touch was everywhere. She has been a strong influence in my life from the first time I met her in Nashville during the '70s. We have been together at many Gaither tapings, and I knew from the glow on her face that this one was truly special! Gloria was radiant as we joined the legends and younger artists singing songs of worship and encouragement. An overwhelming sense of blessing, contentment and love surrounded all of us. My heart was touched deeply by hearing Sandi Patty sing and seeing her exuberant support for the other artists. She led us in a standing ovation for Amy Grant. It was extremely satisfying to see and hear Cynthia Clawson, a dear Texas colleague. I also spent precious time with one of my dearest friends, LaBreeska Hemphill, and chatted with Evie about our shared 2005 induction into the GMA Hall of Fame. May God pour out His blessings on each person involved in making this beautiful masterpiece. I remain eternally grateful to Bill and Gloria Gaither for our years of friendship and shared passion for the music and message of the gospel.
Evie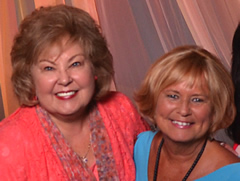 Our day of taping was the best "sorority gathering with God's singing girls" ever — old and new friends, singing but also sharing on a deep level with each other all day long. The old songs were fabulous, accompanied with smiles, as well as with tears of fond memories. But I especially loved the new songs from Sandi, Amy and others. It's wonderful to look back and recall, but it's even better to look ahead and expect God to keep doing His work in and through us, His sorority girls! What a privilege we have to represent Him from behind a mike, but more importantly, in life.
Bonnie Keen
When Tori and I wrote "The Women I Come From," we wanted to write an homage to the strong women in our lives and to remind our daughters of their spiritual heritage. It's a terrific honor and thrill to have the song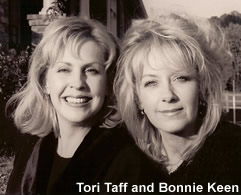 shared anew on the
Women Of Homecoming
DVD! My red-haired great-great-great-grandmother must be sporting a lovely, large smile.
I had to make a point of not looking at Madi Rose Taff sitting by Tori when singing "The Women I Come From." Madi is my godchild. I remember singing this with her on a swing when she could barely talk. Wowza. Too sweet.
One of my favorite funny memories from the taping has to be Bill Gaither's face. He seemed so nervous. It kept making me laugh to watch how carefully he was wording instructions. He kept looking around the set like we were an unknown, holy breed of creatures — inviting reverence and a little bit of awe. He was so cute!
Tanya Goodman Sykes
As I looked around the room that day, I saw Connie Hopper, the gentle encourager, and Cynthia Clawson, whose hauntingly beautiful vocals inspire me. There was Gloria Gaither, who can pen a phrase that pierces my heart like no other; Evie, whose every move and inflection I studied endlessly as a teenager; and my best friend, Joy Gardner, who has prayed with me and for me and loved me through many years of hurt and happiness. These women have all shaped, inspired and changed me.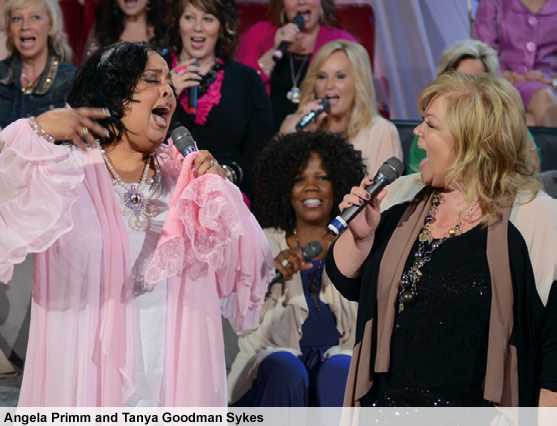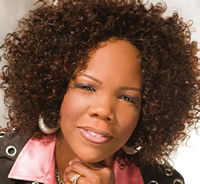 Lynda Randle
At the taping, I was so moved when Evie got up to sing "Born Again," "Give Them All to Jesus," and a few of her other classics. I kept thinking about the first time this little "chocolate kid from the 'hood" saw her sing at the Kennedy Center in Washington, D.C., where I grew up. I was just a little girl, maybe 10 or 12 years old, and I remember watching this beautiful, blond-haired, blue-eyed "vanilla" woman sing those songs. It was the highlight of my very young life at the time! I was so inspired and so thrilled, and I never dreamed in a million years that someday I'd get to do what she was doing, let alone meet her, and over time have the privilege of sharing the many platforms I've been blessed to share with her. Evie — you still rock! Thanks for the memories!
Debra Talley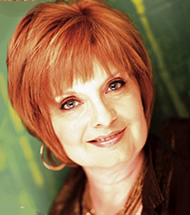 I was looking forward to the taping and seeing all the "girls!" I never expected to have the experience that I did. My chair on the top riser fell backward with me in it. My head hit the concrete and I sustained a concussion. It briefly stopped the session, as paramedics came to check me out. The Gaither production staff and Bill and Gloria were so concerned and kind.
Since I was obviously shaken and not feeling very well, they sent us to a nearby hotel so I could rest. The hotel was near a hospital in case I should need more attention during the night. We pulled up to the hotel door where Lauren had checked in and she was trying to get her poor old mom in and settled. I was wearing dark glasses because the light was bothering me. My head hurt and I was extremely dizzy. Lauren helped me through the front door, guiding me all the way through the lobby to the elevator. I would bob and weave a bit as she would try to steady me. We got in the elevator and she told me to just hold on to a railing until she got her bag in. A young man got on the elevator just as we pushed the button. The elevator started up and I noticed he was looking at me. Just as the doors were about to open, he said, "Ma'am, I know just how you feel. Been there. You'll feel better in the morning!" I was stunned! He thought I was drunk! My throbbing head couldn't keep me from laughing. Lauren and I laughed all the way to the room. I'm sure he could hear us laughing as the door closed, making us sound like we were both drunk! The accident was unfortunate, but at least I got a funny story out of it. I'll tell you this — I never expected to be at a Gaither taping and lose my testimony all in one day!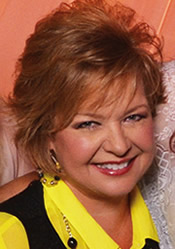 Sheri Easter
I've known Amy Grant for over 30 years, actually longer than I've known my husband. She spent a few of her early years in Augusta, Ga., just 35 minutes from my hometown of Lincolnton. Her sweet husband, Vince Gill, recorded a duet with me on our
Life is Great and
Gettin' Better
project several years ago. We've been at many events together, but never had a lot of time to talk. I was so blessed to get to spend some quality moments with her during the
Women of Homecoming
taping. She performed a song and it really meant a lot to me. I commented that I appreciated the line that referred to letting go of trying to hide your scars from the world because of my port scar from when I had chemotherapy during my battle with breast cancer over five years ago. She thanked me and shared, "Wow, and I thought I wrote it about emotional scars!" I love it when a song lyric speaks many different messages. I was blessed by her performance and also by her conversation.
Melissa Brady
As I walked into the room for the taping, the first thing I noticed was the set. It was gorgeous! I then went to find my seat and noticed I was seated with Kim Lord and Bonnie Keen. Since Kim is a good friend, and I've always loved Bonnie's group, First Call, I was happy with my spot! (And I have to admit, when I met Bonnie, I had to work hard at not acting like a crazed fan.)
As we sang, I looked around the room and saw Connie Hopper, Debra Talley, Karen Peck, Kelly Nelon and Sandi Patty, and I realized, musically, these are the women I come from!
As a teenager, I wanted to sing and be just like those great women, and I'm thankful to have been a part of the taping, not just because I had a seat at the best concert in town, but because it came full circle for me as I got to worship with my favorite singers of all time.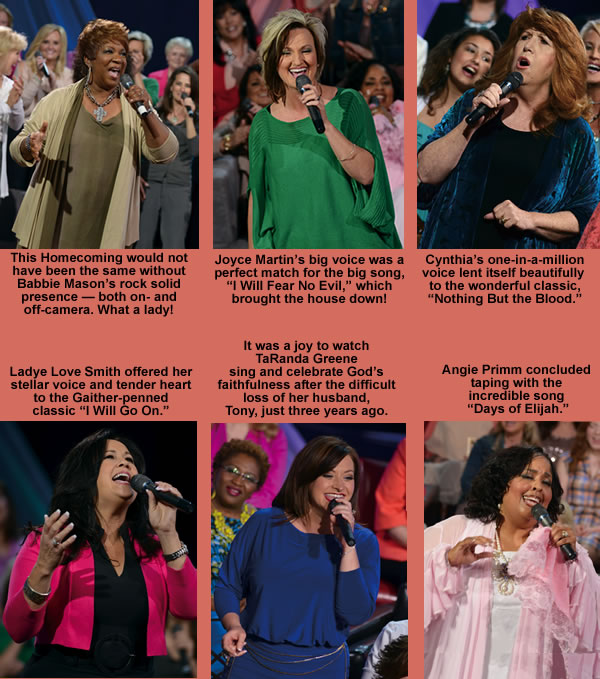 WHO WAS THERE!
Charlene Adams
Anne Beiler
Kelly Bowling
Hope Bowling
(Kelly's daughter)

Melissa Brady
Becky Isaacs-Bowman
Jakobi Bowman
Cynthia Clawson
Toni Clay
Lisa Daggs
Heather Ruppe Day
Sarah DeLane
Sue Dodge
Ann Downing
Sheri Easter
Morgan Easter
Gloria Gaither
Joy Gardner
Dionne Dismuke
(Joy's daughter)

Kristyn Getty
Jamie Grace
Natalie Grant
Amy Grant
TaRanda Greene
Janet Haas
(Hayes Family)

Lucy Hayes
(Hayes Family)

Sharon Hodges
(Hayes Family)

LaBreeska Hemphill
Solveig Leithaug
Kari Julianna
(Solveig's daughter)

Judy Martin-Hess
Lou Hildreth
Connie Hopper
Kim Hopper
Lily Isaacs
Sonya Isaacs-Yeary
Susan Peck Jackson
Jeanne Johnson
Nicole Johnson
Evie Karlsson
Bonnie Keen
Lillie Knauls
Amy Lambert
Kim Lord
Babbie Mason
Gale Mayes
Destiny McGuire
Reba Rambo-McGuire
Valerie Ruppe Medkiff
Kimberly Mote
Kelly Nelon
Janet Paschal
Sandi Patty
Karen Peck
Kari Gooch
(Karen's daughter)

Candy Pfeifer
Mary Jane Carter
(The Pfeifers)

Angela Primm
Lynda Randle
Patience Randle
Charlotte Ritchie
Amy Rouse
Joyce Martin-Sanders
Ladye Love Smith
Allison Speer
Faye Speer
Suzan Speer
Becca Stevens
Christy Sutherland
Tanya Sykes Goodman
Tori Taff
Madi Rose Taff
Debra Talley
Lauren Talley-Alvey
Amber Thompson
Autumn Thompson