When it comes to the genre of reality television, the undisputed pioneer is Mark Burnett, who has created a cadre of hugely popular, average-Joe TV shows ranging from
Survivor
and
The Voice
to
Shark Tank
,
The Apprentice
and
Are You Smarter Than A 5th Grader?
How successful has the multiple Emmy and People's Choice award-winning executive producer been in recent years? Here is one indication: Throughout 2012, his programs held the #1 ratings spot on four (at times five) of the seven U.S. prime-time nights for all 52 weeks.
And when it comes to the genre of, well, divinity television, one of the undisputed pioneers is Roma Downey. The screen-and-stage actress, author and producer is probably best known for her illuminating portrayal of Monica, a gentle, Irish-accented "messenger sent by God" into the midst of messy, fictional but true-to-life situations on the widely acclaimed 1990s TV series,
Touched By An Angel
. As many as 20 million weekly viewers tuned into the series' 200 episodes when they originally aired from 1994 to 2003, and Downey garnered several Emmy nominations and other accolades throughout its run.
So it should come as no shock that when Burnett and Downey — who, by the way, happen to be husband and wife (they wed in 2007, with the ceremony officiated by Downey's former "Angel" co-star, Della Reese) — collaborate on a television project, the result is bound to blend reality with divinity in powerful ways.
Enter
THE BIBLE
, a sweeping, 10-hour miniseries co-executive-produced by this dynamic duo, set to begin airing March 3 on the History Channel. The five-part series presents numerous biblical accounts, from Genesis to Revelation, in vivid, gritty, often breathtaking detail. Shot in exotic locations and incorporating next-generation CGI to make the supernatural appear as real as when it occurred centuries ago,
THE BIBLE
is poised to introduce the truths of Scripture to cable-TV audiences who have grown accustomed to top-tier productions in today's high-definition world.
Gloria Gaither recently caught up with Burnett and Downey for an in-depth conversation about their new docudrama. She came away with a number of fascinating details about the production, including a dynamic musical connection to some of your favorite Homecoming artists; the vision that guided their casting choices; the providential circumstances that led to a collaboration with the composer and vocalist behind the Academy Award-winning fi lm Gladiator; and several chill-down-the-spine moments during fi lming of "The Bible" that bore the unmistakable stamp of heavenly intervention.
Reality? Check. Divinity? Check. A tantalizing combination in Mark Burnett and Roma Downey? Double-check. For the full scoop, read on…
— Phil Newman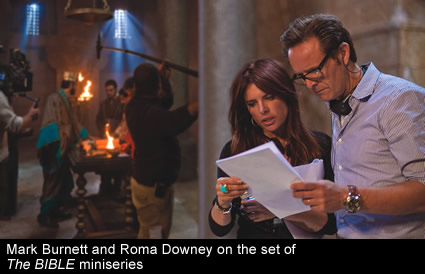 GLORIA GAITHER:
Mark and Roma, it's so nice to speak with you today. I know you're especially busy these days as you're getting the word out about this incredible miniseries,
THE BIBLE
. Can you tell our Homecoming readers when it will air?
ROMA DOWNEY:
Yes, it airs on the History Channel, beginning the 3rd of March. It's a 10-hour miniseries which will run on Sunday nights over five weeks, with the final episode on Easter Sunday. That episode contains the crucifixion, the resurrection, the ascension, the conversion of Paul and then Patmos with John.
GLORIA:
I cannot wait! It sounds wonderful, and the reports I've gotten say that it's done really well. So I'm excited for you and looking forward to seeing it.
ROMA:
Thanks! We want everyone to know about it. People can find out more by visiting our Facebook page [facebook.com/bibleseries], on Twitter and on our beautiful website, bibleseries.tv.
GLORIA:
Yes, and some of the images from it I've seen are just beautiful.
ROMA:
The footage turned out even better than we hoped it would, and we think it will take the gospel to those in the community who may never have opened the book or had a chance to step inside a church. But they'll have an opportunity to see this on TV, and we'll shine a light where the light never shined before.
GLORIA:
That's pretty exciting. You ended up filming it in Morocco?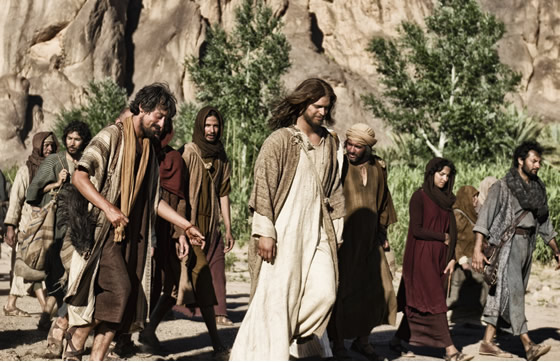 ROMA:
That's right. We were in Morocco from February until July of last year. We got there when it was still quite cold, and by the time we wrapped, it was already boiling hot. But we were able to achieve many looks — beautiful landscapes, deserts, ancient casbahs, magnificent sunsets and so on, and pull from a pool of actors for all the extras — a cast of thousands. We had a fantastic crew who gave attention to every detail. They did really wonderful work. It's a very high-quality production that looks like it's a hundred-million-dollar movie.
GLORIA:
I can tell you how excited I am about this, and and as you may know, we have just published the
Homecoming Bible
. I'm not sure how much you know about the Homecoming phenomenon and
Homecoming Magazine
, but the whole thing started with Bill wanting to say "thank you" to some of the people who brought him to the party as a young farm kid in Indiana — who got him interested in music, and then ultimately, in the Lord. So, he wanted to go back and say thank you to some of those people, and what started out as a three-minute cut for TV ended up being a huge video series of probably 200 videos now, and of 90-minute pieces that are edited and put on TV. Out of that came the Homecoming concerts, with these artists traveling together. So we ended up doing the
Homecoming Bible
, in which many of these artists give real, live, visceral pieces of how the Bible hit the road for them in their lives and it also includes hymns, gospel songs, a few Gaither songs and the stories behind them. So this timing couldn't be better, since our whole audience is really tuned right now into making the Bible come alive.
MARK BURNETT:
Oh, that's great…
GLORIA:
So the timing is just perfect, and we are so excited to finally get you in the pages of
Homecoming
! You know, Bill and I just celebrated our 50th anniversary, and we've spent our lives working together. I want to ask if you guys are still married after this project!
ROMA:
(Laughs)
Yes, we're very grateful that we're still speaking to each other.
GLORIA:
Because I know how intense these creative collaborations are…
ROMA:
Actually, it's been great fun. We've been able to share our talents and our experience in storytelling to bring this wonderful project to life on the screen.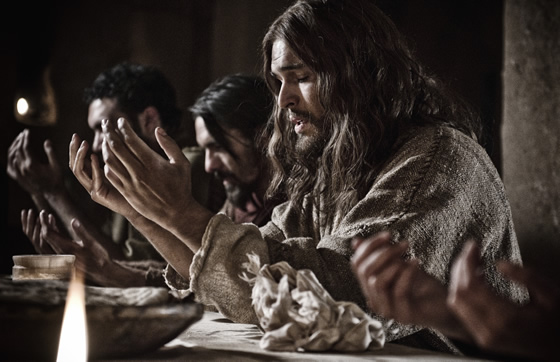 GLORIA:
It's really neat that you've brought your gifts in different fields in film and communication, together for this project. So many things have been done on the Bible, and it seems like the characters in the biblical narrative are like plastic saints. How did you keep this visceral and real so we believe it?
MARK:
Our main goal was humanizing this story and putting one's self in the shoes of these characters. For example, the disciples didn't truly understand who Jesus was. He kept doing more and more miracles and getting more and more questions. Thomas continued doubting, and Judas was about to betray Him. It's a bunch of friends on an incredible journey with the Lord, going through tough times and not always understanding what it is that Jesus is saying. So from the disciples' point of view, that's one aspect, and from King David's point of view, another. These are very flawed characters. You've got one perfect character in the entire Bible, and that's Jesus.
GLORIA:
You're right!
MARK:
Everyone else is flawed — it's like us. And we thought it was very important that we cast characters with dialogue that you believe and can recognize, and I think that we have done that very successfully. In the story of Abraham and Sarah, Lot and Lot's wife, Isaac and Ishmael, and the struggle between Sarah, emotionally, and Hagar—the jealousy and the fact that Sarah tried to speed up God's plan to fulfill God's promise of children, when she should have waited. And how that comes back to her as she starts seeing Ishmael as a child. These are real, human emotions; this is not a fairy story. This is the truth, and we portray the Bible as the truth in a way that you can feel it — you can feel the pain. And this is not plastic at all, and I think as Christians, it's incumbent upon us to produce great work. Because the big criticism is that whenever there are biblical films or TV shows, they're often poorly made and poorly financed, and I'm sure they're doing the best they can do. We wanted to do more, and I think you'll see that very clearly in what we've done with this.
GLORIA:
I think it has a lot to do with the casting, too. Talk to me a little bit about how you find characters that can really convince us that they are made of dust like us.
(Laughs)
ROMA:
Well, we had one casting director out of London, which is where our production office is based, and we pored lovingly but laboriously over endless audition tapes. We had a visual, at least in our minds, of what the characters would look like, feeling it was important that we find people who looked like they might belong in that time. The most singular, challenging and important piece of casting, of course, was always going to be the part of Jesus, and we were just a few months away from beginning principal photography, and we still had not clinched the role. So somewhat anxious, we put it out there in prayer to our community, through email and so on, asking that everyone would join us in prayer as we were looking for Jesus. And it all then happened very quickly, through a series of "coincidences," which we, of course, just believe were the answers to prayer. He showed up, and there was a beautiful moment when the casting agent called and said, "Oh, unfortunately, he's not in town," to me on the telephone, thinking I was in London. Of course, I was in Los Angeles. He said, "He's not in London, he's in Los Angeles."
(Laughs)
I thought, "That's just great, because that's right where we are."
GLORIA:
And he was a Portuguese actor?
ROMA:
Yes, Diogo Morgado, and he combined exactly the qualities that we were looking for — his strength and gentleness and humanity, and he stepped into the role, becoming the Lion and Lamb, and gave us just a beautifully nuanced performance. I think for generations to come, it will be hard to imagine anybody else in this role after you see Diogo's interpretation of the Lord. And you know, it came with this huge responsibility for him, but he stepped in there carefully and came up with a beautiful performance. Gloria, I don't know if you know that I, myself, stepped into the role of Mary, the mother of Christ…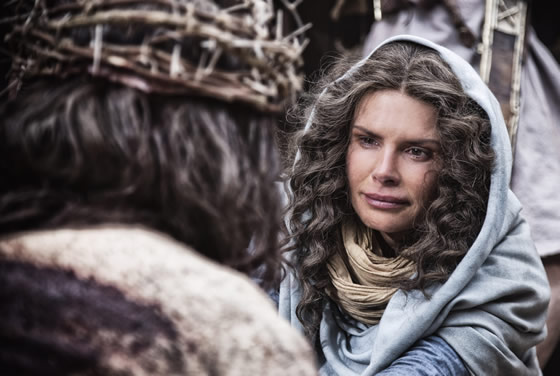 GLORIA:
Yes, I did know that, and how did you make that decision? Did you always want to do that from the beginning?
ROMA:
No, I headed off not intending to do it at all, with my producer's hat firmly on my head, and it was Mark who really finally convinced me to do it. We had already cast the actress to play younger Mary—a lovely young English actress stepped into the part—and we picked up the story with Mary many years later, so obviously, the same actress couldn't play it. We needed to find somebody who looked like they could be the same actress. Of the actresses we considered, no one really quite fit the role, so I took it. I've loved Jesus my whole life, and I'm so privileged.
GLORIA:
I want to ask, being in the music world, how you found the person for the musical score?
MARK:
We'd been friends with Hans Zimmer in the business for a while and did one previous project with him. As we were listening to
Gladiator
, the movie, we realized that music would be a fantastic type of sound for
The BIBLE
. So we approached Hans Zimmer, and we were so fortunate when he said yes. And we said we wanted to find a voice — a female voice — for what was largely a male story, as he had done with Lisa Gerrard, who collaborated with Hans on
Gladiator
. Hans said, "Here's Lisa's number; call her, ask her." So we called Lisa — and she's a devout Christian — and we spoke to her, and she agreed to provide her voice. And we ended up with an incredible music score—and in fact, there will be a soundtrack CD released as well. It's some of the best film score music I've ever heard.
GLORIA:
Good, I'm excited to hear that, because I think people don't think about how much the music has to do with the impact of a great film, so one of my first questions was, "Who would write the music for this?"
MARK:
It's great — Hans Zimmer expressed knowing the music of the church and he's one of the world's greatest fi lm composers. And he wrote a lot of the pieces.
ROMA:
Hans said after he composed the score for Moses crossing the Red Sea, that he's actually gotten to do this twice, since he also created the score for the animated movie,
The Prince of Egypt
. He was delighted, saying that a composer wouldn't normally get that chance once, and he's now had the privilege of doing it a second time! The piece of music that he's created for us is just magnificent—really, really beautiful. And it really opens up the heart.
MARK:
There's a piece of music which repeats a number of times, and at one point it repeats during the crucifixion. It's a 12-minute continuous piece of music which is epic; it's absolutely fantastic. It's hard to find a piece of music that would make you feel hope at such a point. Obviously, it's an awful thing to witness, but it's a murder — a crucifixion — which has a hopeful end to it. And to write a piece of music like that, like a requiem, with an uplifting part to it? Hans Zimmer did that.
ROMA:
The album we're releasing will have that musical score so people will be able to have that and listen to it and be touched by that.
GLORIA:
That'll be wonderful. I heard you also used a song by two of our Homecoming artists who travel with us — Mark Lowry and Buddy Greene's "Mary, Did You Know?"
MARK:
Yes, yes! Roma had the idea for "Mary, Did You Know?" when she was in Morocco, and we were so grateful to have the ability to use the song. And at Christmas, we released it with some footage from the nativity scenes with Cee Lo Green singing it. He also had had it on his Christmas album. It's fantastic. It's a brilliant song…
ROMA:
And we always loved their versions of it as well. It's a beautiful song, and joins itself to the lyrics so beautifully. We were grateful to everybody who participated and allowed this to happen.
GLORIA:
That's one of those songs that God picked … nobody was more surprised, I think, than Mark and Buddy. We knew it was a very lovely song, but how that has been picked everywhere from opera to country…
ROMA:
I heard!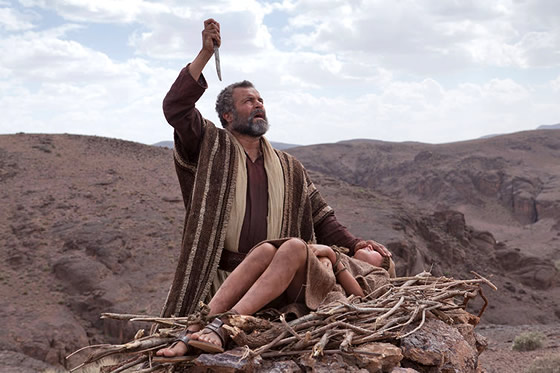 GLORIA:
I'm so excited about the series coming out, and I want to ask you one more thing. As you look back on the whole filming experience, what was, for you, the most impacting moment? And I know things are filmed in pieces, and you don't always get an emotional impact, especially when you're doing film, but was there something that was magic for you in the filming process?
ROMA:
We were shooting a scene with Nicodemus when he was curious to learn more about Jesus, and he sets out in the middle of the night to meet privately and quietly and secretly with Jesus, and we set the scene around a campfire. And he's asking questions of Jesus, and Jesus tells him that in order to know the kingdom, you have to be born again. And then as Jesus says, "it's like the wind and it blows where it wishes," there was suddenly this wind that kicked in, as if we'd turned on a wind machine or a fan. It was just the most extraordinary, almost supernatural moment, and the wind lifted the hair of Jesus and blew the robe of Nicodemus. The two actors had the presence of mind just to stay in character and continue with the scene. All of us gathered over at the monitor, and just felt chills run up and down, as if the Holy Spirit Himself showed up and said, "Here I am." It was just really an extraordinary moment. And you can see that on the screen.
GLORIA:
Amazing. Is there a moment for you, Mark?
MARK:
I'll always remember that moment very clearly—it was true, the Holy Spirit had come onto the set. And again, throughout this there were many, many Jesus moments. Also, when you see the Noah's ark sequence, and you see Abraham and Sarah, and the anguish over not having a child, and how Sarah tries to speed up God's promise by convincing Abraham that he should sleep with Hagar, which obviously the offspring became Ishmael, and the pain she went through over that. It just makes it very, very human. I remember shooting that night, the scene of Abraham and Sarah and it happened to be the largest moon in decades … a giant, giant moon, the closest that the moon had been to Earth. And the moon had come up right behind Abraham's tent, right in the lens of the camera. And it was a special night; it was so human. And I feel that people are going to talk about this scene. People have read the Bible, they know God, but they haven't thought about it in those terms… it brings it more to life.
GLORIA:
And that is exactly why I'm so excited for this to come out. We'll be praying that this will have a huge impact worldwide and make the Bible come alive, and that people will read it and see it and experience it. Thank you so much!