(Pictured right: Mike and Judy Meagher)
I was born in Anderson, Ind., and grew up in "Gaither Country." Our family sang and enjoyed the gospel music and the old hymns. I have autographed copies of the Gaither children's books which included the old 45 records. My son used to love to go fishing with his dad, so God could talk to him, as in
God Loves to Talk to Boys While They're Fishing
. My grandchildren are now enjoying the same books.
It made perfect sense that the Lord would again connect my husband, Mike, and me to the Gaithers through the "Gaither Gospel Hour" which I found, quite by accident, last summer. We have also enjoyed listening to Lynda Randle, the Gaither Vocal Band, David Phelps and all the rest of the groups on our DVDs and CDs, and we've been blessed by the articles and stories in Homecoming Magazine.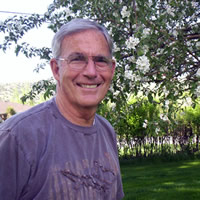 I was a caregiver to Mike for the last six years of his life before he went to be with the Lord in March; he had dementia and Alzheimer's, with open heart surgery before that. The only way I could comfortably leave him was when our neighbor came, and I set Mike up with a Gaither DVD. He would immediately start clapping and singing. When I returned home, the tape would still be playing, and I would sit beside him and finish the tape, both of us singing until the end. Then Mike would tell me he had been to the greatest concert ever — and he did believe he was there! He LOVED Guy Penrod and every time I played a tape and Guy started singing, Mike would yell into the kitchen excitedly, "Judy, my guy is on!" Mike, being from Texas and Montana, resembled Guy in features, coloring, height, bushy eyebrows and all. Mike also drove an old green truck, wore boots and huge belt buckles and loved country and gospel music.
The Lord was beside us both — ALL the way. A favorite quote of ours that was used at his Celebration of Life is this: "Take comfort in knowing that at last I am free and when we meet in heaven, I will once again be me."
— JUDY MEAGHER
Green Valley, Arizona