It has been quite a year for the Booth Brothers! Any vocal group would love to have the kind of year this male trio has enjoyed. With a long list of industry awards in 2013 alone, including a GMA Dove Award nomination, seven Singing News Fan Awards, four National Quartet Music Awards and four Absolutely Gospel Music Awards, they are feeling the love from both audiences and the industry.
And everyone who knows them is happy for them. These guys have worked hard for years. Decades, actually! They have previously received Grammy and Dove Award nominations. But with this past year came a serendipitous, full-circle kind of experience that propelled them all the way back to their roots.
Brothers Michael and Ronnie Booth grew up singing Gaither-penned classics. And, under a different roof in a different state, group member Jim Brady also grew up singing those same songs. In 2013, they recorded a collection of their Gaither favorites titled
A Tribute to the Songs of Bill & Gloria Gaither
. Then, shortly thereafter, they went into the studio with Bill to record
The Best of the Booth Brothers
for DVD and CD. The DVD featured the group's best Homecoming moments from the past decade-and-a-half, interspersed with interview footage of Bill reminiscing with Michael, Ronnie and Jim about life, faith and their years of making memories and music together.
Who would've thought back in 1974, when Ronnie was 9 years old and sang his first Gaither song ("Because He Lives") with his brother and dad, that the Booth Brothers would be making recordings and DVDs with Bill Gaither a few decades later? Life has a funny way of bringing us full circle.
Michael can't recall a time when he didn't know the songs of Bill and Gloria. In fact, he and Ronnie were so immersed in gospel music growing up, they didn't always know who wrote some of those old favorites until more recently. Michael says, "I have repeated a question many, many times that goes like this: 'Bill and Gloria wrote that, too?!' We have thoroughly enjoyed singing their songs. We didn't use elaborate arrangements. These songs have been recorded every way possible over the years, so musically our number-one goal was to stay out of the way and let the songs sing for themselves."
Jim Brady fondly recalls his own early years learning his first Gaither songs: "I have great memories from when I was a young boy, singing with my family and adding my part to "I'm So Glad I'm a Part of the Family of God."
Perhaps, like us, you find it interesting that Jim was singing parts as a tiny little kid. But how else could those three-part Booth Brothers harmonies flow so effortlessly now? They've been singing harmony as long as any of them can remember!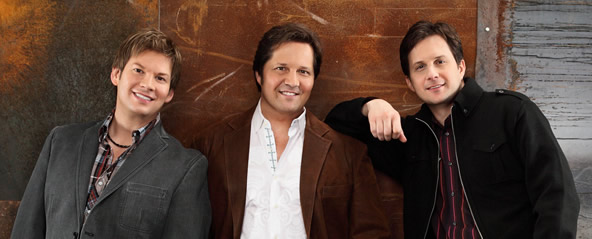 On January 21,
The Best of the Booth Brothers
CD will release in stores for the first time. This CD features the trio's bestloved Homecoming performances over the past 15 years or so. So, we asked each of them what their personal favorite of all those Homecoming moments might be. They each have a different answer.
Jim Brady says, "There are many sweet moments but I'd have to say getting to sing "Since Jesus Came," a song that I wrote, on the
Tent Revival Homecoming
DVD at the Billy Graham Library was an exciting moment for me. The song has a section that's reminiscent of a Gatlin Brothers sound, and the Gatlins were sitting right there! It was a full-circle moment for me, too, because I spent many summers growing up singing in tent revivals."
Michael's favorite moment was also during the Tent Revival Homecoming taping. "It would have to be singing 'In Christ Alone' at the
Tent Revival Homecoming
. The atmosphere was so thick with respect to the Gospel and the Billy Graham Evangelistic team. To sing a lyric with such an absolute truth that is so full of grace, in that place, was truly a moment to remember."
Ronnie's favorite Homecoming moment goes several years back to their very first Homecoming video appearance: "For me, it was singing 'Still Feeling Fine' on the
Freedom Band
video. It opened the world to us. I knew, when we received the call a few days before that, it was the biggest opportunity ever presented to us at that time."
The theme for this issue of Homecoming is focused around the song "I Played in the Band," which is one of the songs the Booth Brothers included in their 2013 CD, A Tribute to the Songs of Bill & Gloria Gaither. And, while there were plenty of other songs they could have included on that recording, this one had to be there— and with good reason.
Michael keenly remembers the phone call he got from Bill about this song. "Bill emailed 'I Played in the Band' to me after first telling me on the phone that he and Larry Gatlin had written a new song. During that conversation I heard a familiar theme from Bill about his passion for the body of Christ working together and that every member is important."
Michael continues, "I have seen this firsthand on the Homecoming tour through the years. There has never been a division between the singers, band, sound and lighting crew, catering crew, or any other team member. We eat together and we all hang out together. We are all dependent upon one another so that the ultimate job can be accomplished...lifting up Christ through music. 'I Played in the Band' is applicable to any congregation or ministry. Some of the most fulfilling moments in my life have been the times when good work for the Kingdom has been accomplished by a group of people who know God used us all in spite of ourselves. Those moments are a display of God's grace working through His people, allowing us the amazing privilege to be used by Him collectively. Some play in the band, some clean the restroom, some are home caregivers, some are prayer warriors. All are important and all contribute!"
Ronnie concludes, "After working with Bill and Gloria, they really do have a burden to share the message that everyone matters in the body of Christ. If you teach a Sunday School class to little children, you matter! If you sing in the choir, you matter! If you are the janitor at the church, you matter! There is no small part in the body of Christ. Everyone matters."