Fans who follow the harmonious trifecta know that at the beginning of 2015, Paul Lancaster joined lead singer Ronnie Booth and tenor Michael Booth to become the group's third voice after Jim Brady left to launch the Jim Brady Trio along with his wife Melissa and Tim Parton.
The shift has gone smoothly, in large part because Lancaster is no stranger to Southern Gospel or to the Booth Brothers themselves. Over the years the versatile vocalist has performed with the Booths, the Nelons, Karen Peck & New River and many others — and has quickly become an integral member of his new group, Michael Booth says.
"Paul filled in for Ronnie for a few months several years ago, and we knew should the need ever arise, it would be natural for Paul to step right in," he says. "First, we wanted someone who loves God, loves their family, and loves the people we sing to. Paul met all of those qualities. Second, we wanted someone who could maintain the overall sound of the trio, and Paul has done that and more."
Lauding Lancaster as "a singer's singer," Michael says he has adapted seamlessly to the vocal "idiosyncrasies that Ronnie and I have. People everywhere are saying they can't believe he only joined us a few months ago."
Meshing is critical in a group like the Booth Brothers, whose tight harmonies are among the trademarks that have marked most of its 40-plus albums over the years. Those smoothly synced vocals are on display throughout the current project, but especially on the cuts "Faith Keeps Walking," "Happy Rhythm" and the choruses of "Wildflower" and "Still."
It's all part of the group's desire "to blend our voices so that three become one," Michael says. "That's why we were so fortunate to secure Paul. He knows what it takes to sound seamless together: tone placements, pronunciations of words, articulating consonants the same way — small details like that can make all the difference."
An eclectic collection
The new album is somewhat "schizophrenic," Michael notes, mixing tinges of country, traditional gospel, country and even jazz — a reflection of the diverse offerings the group includes in its concerts.
"We always look for what the live program needs and how to keep it lively and interesting," he says. "From that, we find the material to include on our albums."
While Ronnie is featured on much of the album, Lancaster takes the lead on three songs: "Faith Keeps Walking," "Touch of the Master's Hand" and "Jesus Saves."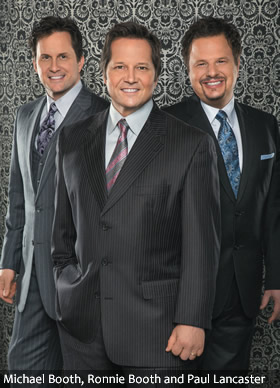 As for the tunes Michael counts among his favorites, one is Mosie Lister's 1953 classic "Happy Rhythm," which, while typically sung as a quartet piece, shines here as a "Mills Brothers/Manhattan Transfer/ swing-jazz trio," says Michael, thanks to producer Jason Webb's jazz acumen.
Michael Booth is quick to credit Webb for his production chops on the project, along with the late Lari Goss, who brought his deft touch to the soaring anthem "I Am the Word" and to the equally stirring "Jesus Saves."
Another standout is "Touch of the Master's Hand," the famed parable about a discarded violin sold at auction and the hidden worth of a soul in God's care. "We love, love,
love
that song," Michael says. Having cut a version with Brady, the group re-recorded it featuring Lancaster after he joined the group. "I ask that people who feel unusable, undesirable in your relationship with God, listen very closely to these words. They paint a beautiful picture of redemption and the value of a life in God's sight."
Flower Power
Easily the most personally poignant song on the record is "Wildflower (Vicki's Song)," which was inspired by the journey of Michael's wife, Vicki, from the rejection of an earthly father to the restorative love of her Heavenly Father. (The story is told more fully in Vicki's new book,
The Wildflower
.)
The pain she experienced as a child "had a huge impact on Vicki's perception of God," Michael says. "She could identify with Jesus but not so well with the Father." The flower metaphor emerged from counseling in which Vicki was told, "Boys and girls are supposed to grow up as roses: intentional, nurtured, guarded and bragged on. You are a wildflower who grew up in a field seemingly all alone. But you were never alone. The Heavenly Father has personally nurtured your growth and cared for you along the way."
Award-winning songwriter Rebecca J. Peck wrote "Wildflower" after meeting with Vicki and Michael at a Cracker Barrel one day and listening as Vicki unfolded her life experiences — leading to the crafting of a touching ode to God's fatherly affection and the hope of healing through His love.
Grace for the Race
While the album's contents might reflect multiple styles and influences, there is one broad, overarching message, Michael says. It boils down to receiving the grace necessary to come home from wherever we might have wandered—not just tiptoeing in with our heads hung in shame, but celebrating the extravagance with which our Heavenly Father welcomes us home.
If that sounds a bit like the parable of the prodigal son and the forgiving father (Luke 15:11-32), that's exactly what the Booth Brothers had in mind.
"We all know that story — the prodigal came home not expecting much, but his father ran to him and welcomed him with open arms," Michael says. "With this music, we want to encourage people not just to come home but to go on in the house and enjoy the elation of the Father's love. There's a celebration waiting, thrown by a Father who has so much love for us that He can't help but express it."
The theme also ties back to Zephaniah 3:17, which promises that the Lord "will rejoice over you with singing."
"God sings over us and celebrates us," Michael says. "That is grace. Grace can be a dangerous thing in the Christian life, because we don't necessarily feel the clear boundaries we do with legalism. We can abuse grace, and that's not our message at all. God does discipline us when necessary, but He does it perfectly."
Instead, the group's hope is that listeners will embrace these grace-laden songs in the context of a comprehensive relationship with God. "The most miserable people on the planet are Christians who don't understand the grace under which we can live in Christ," Michael says. "When we can accept and extend grace and enjoy that reality, it is so freeing. When we face temptation, while any reason not to sin is helpful, I find it more motivating to resist because of love and respect to honor the Father than out of dread of His wrath."
A Place To Remain
As the group mulled over which song to make the title track, they chose "Still" simply because "we really love that song," Michael says.
The message it holds is not complicated; it's a straightforward reminder of basic truths for living in a tumultuous world, as evidenced in the chorus:
"Still / God is on His throne/the Bible is His word / the Gospel changes lives / and every prayer is heard / His plans could never fail / Not even one detail / His purpose will prevail / He was, He is, He will / Still."
"We need to remember that God is consistent," Michael says. "We are not, and the world is not, but God is. There's a place to go, a 'house,' with a constantly loving, secure Father, while the rest of the world is in total chaos. We truly can be still and know that He is God."