Like Southern sun tea, developing its mellow flavor over time as it changes from pale gold to deep amber, the story of the Booth Brothers began a while before the group's inception, as all three men were steeped in gospel harmonies during their early years. Ron Booth Sr., the father of Ronnie and Michael, blazed the trail, performing in groups including the Rebels Quartet. The boys traveled with their father for eight years beginning in 1990, performing as the Booth Brothers. When Ron Sr. retired from the stage in 1998, the search began for a replacement. When Jim Brady came along in 2002, it was a perfect fit. Jim had been performing since the age of 5, traveling with his parents and seven siblings. They called themselves the Brady Family, but were affectionately known as "God's Brady Bunch." Jim began writing songs as a teen, and his creations have been recorded by a multitude of artists including Ivan Parker, the Hoppers, the Martins, Charlotte Ritchie, Karen Peck & New River, Jeff & Sheri Easter, Gold City, the Talleys, Legacy Five and, of course, the Booth Brothers.
The words talented, accomplished and hardworking all accurately describe the Booth Brothers, but there is one word that really hits the nail on the head—genuine. All of the guys are forthright in expressing a love for music, gratitude for their fans and their calling to share the gospel. Michael explains, "The longer we do this, the more we realize how it impacts people and how God uses it. It's a great honor, that God would use us like that, to basically love on somebody—it's very motivating." And the fans feel the connection, often sharing personal stories that reflect loss, pain, marital or financial trouble. The guys take these stories to heart, carefully choosing the songs they sing and the words they speak. Jim shares, "It's exciting when we sing a song and someone comes up and says 'That's exactly what I needed today, to help me get through the next day.' What motivates us is trying to write and sing songs that are not just fun or a cool groove, but something that will really penetrate hearts and meet people where they are. That's gratifying for us."
The group is excited about their newest album,
The Booth Brothers — A Tribute to the Songs of Bill and Gloria Gaither
, a collection of Gaither songs. Selecting just 10 or 12 songs from the enormous repertoire (over 700 songs to date) was not easy, says Ronnie. "We started with a lot of classics, like 'He Touched Me' and 'I Believe in a Hill Called Mount Calvary.' The truth is, you can do three or four volumes of their songs, easily, and they would all be great CDs. They just get it … they understand how to connect with people and what people really need."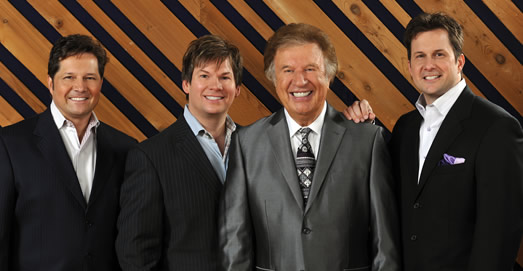 The guys are putting their own spin on the well-known titles by using mostly simple, stripped-down arrangements and focusing on tight harmony. "The approach of this particular album," Michael says, "is not to try to be the Vocal Band. In all reality, nobody can sing a power ballad like the Vocal Band can, so there's no reason to prove that we can't!"
Two new songs will be added to the mix, written by Bill Gaither and Larry Gatlin. A master songwriter himself, Jim was excited to see the two legends combine forces. "We've all been Gatlin Brothers fans, and it was so cool for Bill to get excited about this album — not only because we're singing his classics, but also to hear Larry Gatlin sing two brand-new, awesome songs. The demo has Larry singing and the two of them talking as writers, so it gives us a kind of insight into that room, when the songs were written. We've grown up listening to these guys, and now we're getting to sing some of their new tunes … that's pretty cool!"
All three men recognize the wisdom in studying mentors who have paved the way. Their appearance on multiple Homecoming tours and videos gave them a front seat to observe the Gaither operation. What they learned during those years? "Oh goodness," says Michael, "how much time do you have?" He makes it clear that his wish is not to offer flattery or elevate anyone too high, but says, "It's wise to look at a person who is that effective for so long, then step back and ask why. I took note of every move that Bill and Gloria made during the day or on stage. How do you deal with all these people? What the singers want, what the audience wants, the amount of time everybody is on stage, how they deal with the crew … balancing all that stuff. So it was an opportunity to learn how to do it right. And as an emcee, if anyone has influenced me, it's been Bill. I don't try to act like him, but I've observed his timing—how he calls for certain songs after certain moments and how he balances the dynamics and tempos." Jim shares his perspective on Bill's talent as a director. "Bill basically starts and ends very much alike, but he leaves it open in the middle, to improvise if needed. The amazing thing is that when you watch him every night, it's like he's making a movie. His dynamics are perfect. He knows how he wants the program to end, so everything up to that point is all pointing toward the ending." Ronnie, too, is grateful for lessons learned on Homecoming tours. "Nobody in gospel music has created more of a win/win than Bill and Gloria Gaither. He wants you to win, and in return, he wins; that's the way they work. If we've done anything right, we were smart enough to realize what was being offered to us. Free education — getting paid for your education. Best education you can get!"
The Booth Brothers' own show has evolved over the years, and they have increasingly become more intentional about sharing the gospel message. Michael takes his role of emcee seriously and works to hone his communication skills. "In our program, the last few years, I've started implementing the gospel and explaining it. It's a work in progress — what I used to do in 12 or 15 minutes, I've learned to do in about five. Bill Gaither is always telling us to 'condense, condense, condense' when we're talking, because the fewer words you use, the more concise and precise you are. People need two things: they need salvation, and they need hope. So we offer the gospel, quickly but effectively, and then throughout the program, we try to offer application, because again, going back to the Gaithers, Bill would say, 'We've got to build a bridge to their Monday morning.' And hope is what people need for Monday morning. So, that is our whole mindset and goal throughout the program; it's very purposeful."
Throughout the years, the group has collected an astonishing number of accolades and awards. Each member has won multiple awards for vocals, Jim has been honored many times for songwriting, and the group as a whole has been recognized with Diamond Awards, Singing News Fan Awards, Absolutely Gospel Awards, Grammy and Dove nominations…the list goes on and on. When asked for the secret to their success, Michael doesn't hesitate. "It's pretty much because of me." After the laughter dies down, he becomes serious. "Years ago, I went to see Wayne Watson perform. There were 7,000 people there that night, and I waited and waited. He came out and spent time with me, and his manager was trying to get him to go. Wayne said, 'Just wait,' and he turned to me and said, 'You're why I'm here.' And it clicked … from that point on, I realized that this was how I needed to treat people. Because from that moment on, his music meant more—now it was more personal, like 'This guy cares.' I think if there's one thing you can say about the awards and all that stuff, I hope it would be that people are just saying 'thank you for loving us.'"
Ronnie agrees, "The Lord doesn't give an artist an audience to feed his ego. The audience was given to us to serve. Jesus said 'In this world, you will have trouble,' so you're singing to people who are going through stuff, as Gloria says all the time. So, love on them — serve the Lord by serving those people, and all these other things fall right into place." Jim sums it up, adding, "I think the bottom line is, when you're winning the awards, it's great. When you're not, the three of us are going to climb back on the bus every weekend and do what we've done our whole lives, because the song is in us. We would sing no matter where we were. We just love to sing great songs about our great and wonderful Savior."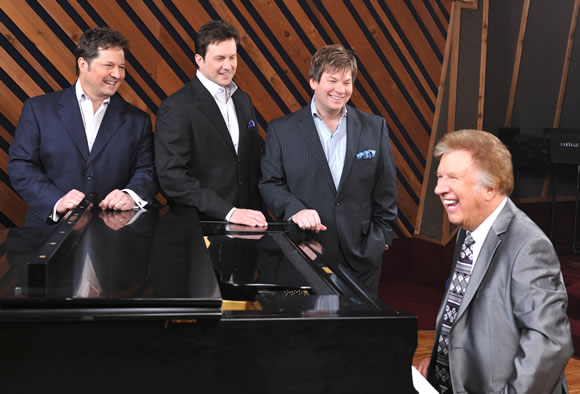 So what's on The Booth Brothers' playlist?
Michael:
A lot! Currently, the Imperials, Janet Paschal, Kenny Rogers, Gatlin Brothers, Peter Cetera, Restless Heart, Ricky Skaggs, Statler Bros…and, of course, Bill Gaither's solo album! (Is he gonna read this?)
Jim:
We like everything, if it's done well. I love the Eagles — they're a must! Gaither Vocal Band — huge influence — I've got all their stuff. Michael Bublé, Barry Manilow. I've downloaded an old record of Frank Sinatra, because I love his phrasing, and I love the music from the big band era. I listen to everything from Rascal Flatts to Stevie Wonder to Journey to Peter Cetera. Great songs and great production are timeless. That's why the Eagles are still played on the radio 30 years later — their songs are timeless.
Michael:
You don't have to reinvent the wheel — just sing great songs. Lionel Richie said once, "People just want to hear 'I love you,'" so a good love song for your wife or about God's love and grace — people just want to hear that.
Ronnie:
Some of our greatest influences have been the Gatlin Brothers, the Statler Brothers, the Oak Ridge Boys, Restless Heart and the Gaither Vocal Band. Every one of those guys has been so sweet to us and so encouraging. As to the rest of my playlist, I'm all over the map. My iPod has everything from George Benson to Glen Campbell to Bruno Mars. If it's done well and if it's wholesome, I'm for it. We learn good ideas from other people's creativity. We just feed off each other, and there's more creativity. Huge fan of the Eagles, huge fan of Restless Heart—great harmony groups. I still find myself gravitating back toward those days. I do listen to current stuff, but my first love is to go back to those days, because I learned so much when I was so young and impressionable. And, of course, there's all the great singing in gospel music — the Rebels Quartet, the Stamps and so forth. We still love listening to them.
Click for more articles featuring Homecoming tour artists the Booth Brothers!