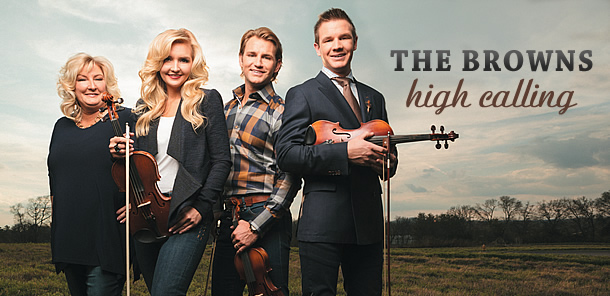 The Brown family should write a book on time management. What they pack into a week is unbelievable. When called on the road for a brief phone chat, Shelly, the mom, reported that Keith, the dad, was back home in LeMars, Iowa, planting soybeans. Normally, Keith is on the road with the family doing dual duty as bus driver and sound man, but the Browns are also a for-real farming family.
Mom Shelly is a songwriter/singer and former educator with a friendly, down to earth demeanor. Michaela, the daughter, is a musician/songwriter/singer and … chef! Not just a good cook — a trained chef who attended Le Cordon Bleu in Paris right after high school. Michaela already has her own cookbook,
From the Stage to the Stove
, and writes a blog of the same name (
stagetothestove.com
).
On his LinkedIn page, Adam Brown lists these vocations: singing, farming, and real estate. Adam married Jennifer about a year ago. Jen travels with the family, manages the product table and, according to Shelly, provides an extra set of "ears" in the audience for feedback.
Andrew, the youngest, is 19, and loves "hanging out with friends, horseback riding, and five-dollar golf on Monday nights," says Shelly. A recent Facebook post recounted a bus breakdown on a busy interstate, but happily announced: "The boys fixed it themselves! And not a beat was missed for that night's concert!"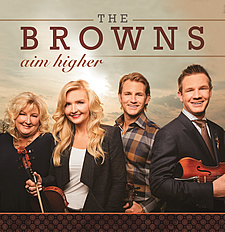 And when it comes to music, nothing is missed on their latest release. Evidently no one bothered to tell the Browns that the formula for success is to figure out the style of music with which you're comfortable, identify your target audience and stick with it. It's pretty clear the Browns will not be put in a box, because they do it all — classical, bluegrass, Southern Gospel, Celtic. This is a family of amazing singers and musicians who just love good music.
Aim Higher
is a wealth of foot-tapping, leg-slapping, smile-making songs.
The title cut "Aim Higher" was inspired by a conversation with Bill Gaither. Shelly remembers, "Last year we were asked to sing at Gloria's Christmas Tea at the Gaither Studio Cafe in Alexandria.During that time, our family was able to spend some time with Bill. We shared cups of coffee while we asked question after question. Two words stood out to us from his kind words …"Aim higher." Each year our family chooses a theme for the New Year and when it came time to pick we knew exactly what the theme for 2015 would be."
The song "Aim Higher" was co-written with Joel Lindsey and features Adam on the lead vocal. Other gems on the project include a new rendition of the Speers' "Didn't It Rain," featuring the venerable Gordon Mote on keyboard and Hammond B-3 and a funky take (with banjo!) on the classic, "The Touch of the Master's Hand" with Michaela taking the lead. You have to hear this to believe just how well it works.
The Browns also do a cover of gospel rock favorite Third Day's "Soul on Fire" in their own unique way. Each cut on the album is an adventure in "expecting the unexpected!"
The album closes with their popular "Für Elise Medley." Shelly describes their arrangement as "an old classic with a pop/rock twist." It's Beethoven, Browns-style! — a fitting finish to a project that celebrates the old, the new and everything in between.
And as the title cut urges:
Don't be content with lesser things. Aim higher, dream bigger, dig deeper, love more…
the Brown family is content to do just that as they continue to pray, play and stay together on their musical journey.