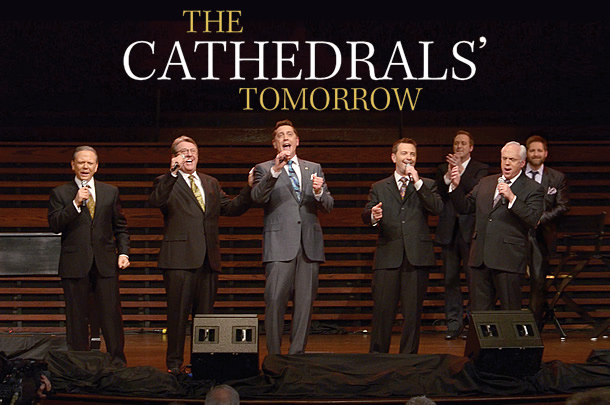 Before New York's
Madison Square Garden
(which is round), before Houston's
or Philadelphia's Spectrum, Anaheim's Melodyland Theater, Garden Grove's Crystal Cathedral — even before Disney's EPCOT or Seattle's Space NeedleSputnik into earth orbit, and while America was lacing up to run the Space Race, a preacher named Rex flew a 32-ton cross above the 5,400 seats in his audacious, circular Cathedral of Tomorrow. It wouldn't be the last time the Arkansas-born Rex Humbard would make history in that leafy Akron suburb.

While American school kids were learning how to duck-and-cover under their desks, Humbard's congregants met under that big cross with NASA satellites overhead beaming out television signals hither and yon. During the '60s and '70s youngsters could get up early Sunday mornings to catch a spectacular, glitzy church service featuring electric guitars, sleek wireless microphones and top recording artists. is was cutting-edge, groundbreaking stuff — at its pinnacle being over some 600 television stations. And yet for all the power and influence of the futuristic Cathedral of Tomorrow broadcasts, a case can be made that the most lasting legacy of those breakthrough years has been the church's house band: the Cathedral Quartet.

Tenor Danny Coker, baritone Bobby Clark and lead Glen Payne had all been members of the Weatherfords, a post-WWII California family group that once toured under the Stamps umbrella. Relocating to Akron by way of Fort Wayne, Indiana, the group had cut a record with Chet Atkins on RCA, and had often performed in the glow of Cuyahoga Falls' 4,700-bulb airborne cross. But when Earl and Lily Weatherford decided in 1963 to move back to the West Coast, it was without Danny, Bobby and Glen — who had become the Cathedral Trio. And the next year they were joined by yet another Weatherfords alum, bass George Younce, thus creating the Cathedral Quartet.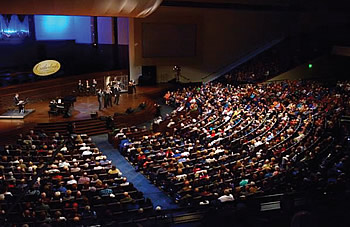 There are gospel groups — mostly family-based ones — with longer histories, with more yesterdays. But you would be hard-pressed to find any that have had a wider influence or greater impact. For the founding members of a "professional" group to rack up a 35- and 36-year run, a run that both started and ended at the very top of the industry, is surely unprecedented. A little perspective on the Cathedrals' longevity: Of the five headliners (Fowler, Funderburk, Haase, Trammell and Wolfe) in the upcoming "Cathedrals Family Reunion" tour — men who actually performed alongside Glen and George — only one of them had even been born when the frisbee-shaped cathedral broke ground in northeastern Ohio.

And it wasn't Ernie Haase, a young man growing up in next-door Indiana, who would eventually become the Cathedrals' last tenor and George Younce's son-in-law. "Why did they have such a long run of mass appeal?" Haase surmises. "Y'know, as a boy I was that guy, that super-fan, drawn like a magnet ... like a moth to the flame of the Cathedrals. I really think it was as simple as people just believed them. As an emcee, there was something about George that made people feel like they'd experienced a sit-down dinner with the group."

But being handed a platform of fame and recognition isn't an automatic passport into the hearts of audiences. The American gospel landscape is littered with forgotten performers who had a streak in the spotlight. The Cathedrals' unbroken run at the top probably had something to do with Glen and George already being in their late 30s upon taking to the stage in Akron. ey were 20-year-plus veterans of groups like the Homeland Harmony Quartet, Florida Boys, Stamps-Baxter Quartet and, of course, a group declared by some to have been the most talented lineup ever to sing gospel music, the Weatherfords.

The confluence of television and talent in those days (late '50s and early '60s) has often been noted in golf. Ohio boy Jack Nicklaus and Pennsylvania-born Arnold Palmer were another duo that took advantage of that technological novelty in the Space Age. But, as with singers, they had to perform. If you don't deliver the goods, the camera will find somebody who can.

Still, their platform was pretty significant, as Scott Fowler attests: "My most vivid memory from the Cathedrals was singing 'Jesus Saves' for 70,000 people in Cleveland, Ohio, at the Billy Graham crusade." That's a pretty big crowd, even for gospel music's top group. But Fowler also attributes the long run to some personal traits of his two benefactors: "Glen and George were very unselfish, and they were great teachers." Fowler and Haase were the last two non-founding singers in the history of the legendary group, and both men continue to speak of lessons learned — not only during their time in the group, but even before they'd joined. "Something about Glen and George was so personable. Before I ever had met them, or even shook their hands at a concert, I just felt like I already knew them."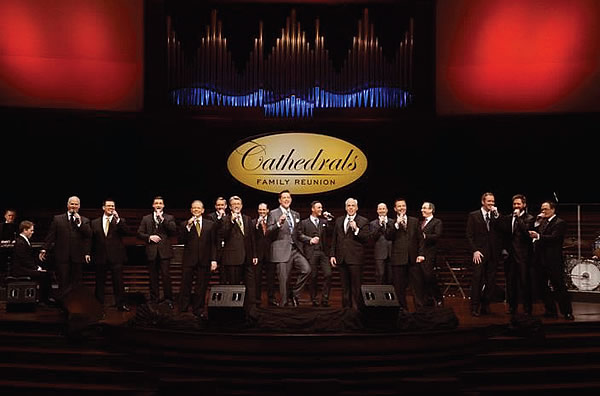 But for all the analysis and reminiscence, the obvious foundation in the gospel field — the defining characteristic of all who finish the race — must be, can only be, faithfulness. Echoing the Apostle Paul's summation to young Timothy, after Glen and George had told Scott and Ernie that 1999 would be the group's last year, they titled their final studio CD Faithful. They had indeed fought a good fight, and won their race, having for the better part of a half-century kept the faith.

What's remarkable about this group that disbanded 15 years ago even having a tomorrow is that nobody thinks it's in the least bit remarkable. The Cathedrals' tomorrow is a DVD of a reunion concert. The Cathedrals' tomorrow is a live CD from that event. And the Cathedrals' tomorrow is a year-long tour proclaiming the gospel of Jesus Christ with joy and in tears; with testimony and in harmony — and all with an eye on that grandest homecoming of all.

Tomorrow.


Visit CathedralsFamilyReunion.com