On October 27, 1980, my husband Paul and I were overjoyed at the birth of our son. John Drake Phillips weighed in at 8 pounds, 10 ounces and was born with a black eye—our "heavyweight fighter" we joked. Ironically, in just a few days our little champion faced a fight for his very life.

Baby John awoke the morning of his two-week birthday in distress. He was whimpering like a sick puppy. I cradled him in my arms and tried to get him to nurse, without success. He refused to open his eyes and continued his high-pitched whine. I rushed him to the doctor and he was admitted to the hospital. My husband and I were in shock. What happened? How did our healthy newborn get so sick?
After several tests, a pediatrician met with us. He was very somber as he gave the grim diagnosis: bacterial spinal meningitis. John could die. Over the next 12 days, my husband and I prayed and hovered over his crib.
As the fever continued to rage in John's limp body, I stood by his bed and whispered, "Don't give up, baby. Don't give up." My spirit cried out to his, "Keep fighting, John. We love you so much."
The next morning a nurse asked me if I would like to watch a television program that would lift my spirit. I nodded my head while she surfed through some channels until she located "The 700 Club." After she left the room I prayed, "Lord, give us a sign that John is going to live." I glanced over at the television and a gospel group was singing "Because He Lives."

How sweet to hold a newborn baby.
And feel the pride and joy he gives.
But greater still the calm assurance,
This child can face uncertain days,

Because He lives.
Because He lives I can face tomorrow.
Because He lives all fear is gone.
Because I know He holds the future,
And life is worth the living just because He lives.

Tears trickled down my cheeks. As they sang, the manifest presence of God swept into the hopeless room and faith devoured fear. As if the musicians were physically in the room with me, one of the singers stopped the song and said she had a word from the Lord for some young mother watching the program.
"There's a newborn baby boy who is very sick in the hospital." I sat there stunned as she continued, "The doctors have informed you that your little boy might not live, but God wants you to know this sickness is not unto death. Your baby is going to live."

I rushed to John's crib and felt his forehead. He still had a high fever. I prayed again, "Lord, I believe You sent that Word to me today. I want to thank You for healing our baby boy." In the middle of the night, John's fever broke.

Early the next morning John's doctor said, "John had an extremely high fever for several days. He is going to live, but because of the fever he might have brain damage."

Amazingly, my heart stayed peaceful at the announcement. No fear or what ifs terrorized my soul. I had experienced a visit from Heaven, and I knew God healed John. Five days later we took our baby boy home completely whole.

We still reminisce about the day Jesus passed by and healed John. We are convinced, without God's supernatural touch, our little boy wouldn't have had a fighting chance—even though he was born with a black eye.
Twenty-seven years later….
In April of 2008, my husband Paul was informed his 55-year-old kidneys were only functioning at nine percent. He was referred to a team of nephrologists at the renowned Mayo Clinic in Rochester, Minnesota. After a thorough examination, He was diagnosed with End Stage Renal Failure, and was given two options. He could prepare for dialysis or bypass dialysis completely and begin the kidney transplant process. After discussing the pros and cons of each lifesaving procedure, he opted for an organ transplant. After a few days of intense testing, he was informed his name was on the National Kidney Registry. The doctors warned him; however, it may take up to four years, before a kidney from a cadaver would be available. He was running out of time and we knew his diseased kidneys wouldn't last but a few more months. His only hope was a living donor.

Our four children were aware time was running out. They called the Mayo Clinic and volunteered to be tested. My husband struggled with accepting one of his offspring's kidneys. The mental anguish and what ifs were much worse for him than the kidney disease. He worried if the disease was hereditary. What if one of the children gave one of their kidneys and then years down the road they faced kidney disease? The doctors assured us the living donor must endure and pass some stringent testing before they would even be accepted as an organ donor. Their expertise gave us enough peace of mind to proceed.
It was 27-year-old John, who was chosen as our family's M.V.D.—" Most Valuable Donor." The surgery date was scheduled on June 12th, 2008, at the Methodist Hospital in Rochester. It was just three days before Father's Day.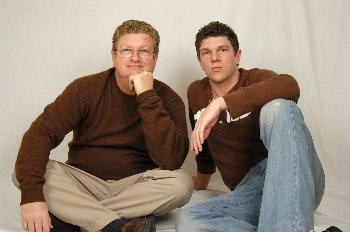 [Paul Phillips and his son, John]
The night before surgery, a flood of memories swept over us. Hot tears stung our eyes as we took several sentimental journeys. The one memory which kept playing over and over in our mind's eye was the day God answered our prayers and healed our newborn son.
It was a full circle moment for us. What if God hadn't answered our prayers and John hadn't survived? We were still having some what if moments, but they were no longer filled with fear and negativity. What if John's life was spared years ago so he could help save his daddy's life now? We were convinced our son donating one of his kidneys to his father was part of John's divine destiny. We believed John, as a newborn, was given a second chance at life and now John, as an adult, was able to give his father a second chance at life.
My husband choked. "He fought for his life as an infant and now our little 'prizefighter' is in the ring again fighting for my life." Paul pulled a pen and tablet from his briefcase and wrote a note to our son.
Dear John,
Life can take many twists and turns. Isn't it interesting that 27 years ago your
mother and I gave life to you? And when it looked like we might be losing you,
God gave you back to us. Now, God is using you to give life to me. Because of
your unselfish gift, my life will be extended. I love you, John, and I will never
forget your sacrifice. Thank you. Never forget that I will always have a part
of you in me.
Dad

It has been almost four years since the kidney transplant. Paul is stronger than he was before the surgery and John is back in the gym bench-pressing 320.
We have experienced the miraculous healing touch of our heavenly Father and we have also been the recipients of God guiding the doctors' hands to save and extend life.
God's timeless truths march on. We can testify to His faithfulness and lift our voices in praise.
Because He lives I can face tomorrow.
Because He lives all fear is gone.
Because I know He holds the future.
And life is worth the living, just because He lives.