Phil Collingsworth is a really smart guy.
The brains behind the Ohio-based Collingsworth Family music ministry is a graduate of the University of Cincinnati, former Director of the Music Department, former Dean of Enrollment Management at two different Bible colleges and for several years a top regional manager for insurance giant Met Life. While that would be more than enough to fill most resumés, it doesn't include his stint as Music Minister at a large Florida church, or building a family-based company up to a customer list of 45,000 households.
And yet it turns out that this smart fella is more than just a brainiac—he's had a heart to spread the gospel using his God-given talents and some not-so-secret weapons: pianist/arranger/wife Kim, along with their three beautiful daughters and heart-throb handsome son. If you've heard or seen them together, you know that decision by Phil was a no-brainer.
But last year, in the fall of 2010, as the Collingsworths' hometown Cincinnati Reds erased a decade of losing seasons to finally make the National League playoffs, that exceptional brain inside Phil's head was literally being squeezed to death. A rogue artery at the base of his skull had wrapped itself around a nerve stem and was beginning to paralyze the right side of his face.
"I'm 42 years old, and I really haven't had much catastrophe in my life." Kim Collingsworth is recounting a tumultuous time with her husband and family: "During that six-month span, there were days it was so black when you wake up, you think 'Am I gonna get through this day?'" Indeed, how does a wife and mother respond when her firstborn asks that Daddy postpone surgery until after her wedding? Ouch. But in fact, Phil and Kim's two oldest daughters, Brooklyn and Courtney, had both just gotten engaged, and Brooklyn's wedding date was December 10th. So major brain surgery for father, husband, businessman, singer, minister Phil Collingsworth was scheduled for December 14th—an operation with a possible side-effect of hearing loss, assuming he survived.
Kim continues: "I'd never been through anything that made me say 'Oh...I'm scared about tomorrow!' For years, we'd been singing songs like "Fear Not Tomorrow" and "I Can Trust Jesus"—and I believed them, but I had never walked them."
Where Kim had walked, 24 years earlier, was down the aisle to marry Phil. They began making music together right away, and not just on piano and trumpet. Daughter Brooklyn arrived in 1989, followed in 1991 by Courtney, then Phillip in 1994 and finally in 1998, they were joined by a little red-haired girl named Olivia. Through the first 14 years of marriage, music was part of the Collingsworths' professional lives at various educational institutions, part of their ministry at church, part of their family's home life and—increasingly—part of a burgeoning career as featured performers.
"The primary focus in those years was Kim and I as a duet." Phil traces back through the '80s and '90s. "Kim's sister Becky would join from time to time to sing trios, but she couldn't travel with us much, so Brooklyn jumped in and learned her first trio parts. She began to sing with us in public at the age of 7."
Uh-oh, how are you going to keep the other kids out of the spotlight now? Phil says the Collingsworth Family made the leap into full-time music ministry on January 1, 2000: "By that time all of the children were singing with us all of the time—even Olivia who wasn't even 3 years old yet." And you just knew the baby of the family would be the first of the kids to make a solo CD (
Then And Now
).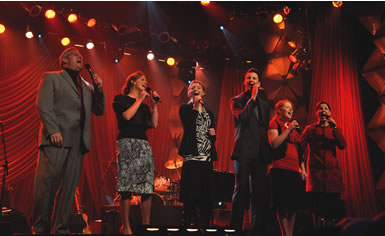 As sweet as the music was that Kim and hubby had been making, when her daughters' voices matured, the Ladies Collingsworth revealed a genetically-formed sound that can only be called breathtaking. Family singing groups are not uncommon in gospel music, but when these four female voices combine on "Ever Gentle, Ever Sweet" or "When God Whispers," it is a sound that may—or may not—be heard in American popular music once in a generation. The Andrews Sisters, the Carpenters, Wilson Phillips...it's been a long time since audiences have basked in blended tones like those heard from Olivia, Courtney, Brooklyn and Kim.
But those voices also created a technical challenge for smart-guy Phil Collingsworth, executive producer: his girls all sing low. Really low. Kim's daughters inherited their mother's vocal register—which gives them a rich, resonant sound. But Phil knew it meant the family's charts and arrangements would have to be keyed so he and son Phillip could "notch up and handle the higher parts." Dad recaps the vocal spectrum: "Kim is a very low alto, even lower than Courtney—next up is Olivia, with Brooklyn singing highest of all the girls. Phillip is a high baritone."
When your dad has a degree in trumpet performance and music education, your mom is a concert pianist and both parents have run college-level music programs, odds are you're going to learn an instrument. So when Brooklyn was 7 and Courtney 6, they took up the violin. Together.
At the same time. "So...I guess we've been playing together for almost 14 years now." Courtney sounds shocked at that number, even though she's just done the math in her head. But reverie isn't on the menu, and she moves on down the family line: "Phillip has taken several years of guitar lessons and he's quite good. But he is shy about playing on stage—I don't know why. I told him that before the next year is out we're going to get him to play on stage." Courtney takes a breath. "And my little sister has started to play the piano—Mom is helping her."
"They put on a variety show, bar none, in gospel music." Ernie Haase is talking about the Collingsworth Family. "They have a wholesome quality about them; not put on or superficial—just real down-to-earth people with a supernatural talent." Haase chuckles when recounting the best way to describe the family to people who don't yet know them: "I tell folks old enough to remember
The Sound Of Music
that the Collingsworths are the Von Trapp Family on steroids. They're that good."
Haase and producer Wayne Haun recently launched StowTown Records and were on the lookout for artists. "Wayne had produced a couple of the Collingsworths' independent records in recent years. He came to me and said 'I think these guys are ready to peak. The kids are mature, the parents have the business all lined up—they're steady, good people with great talent.'" And so it was that StowTown signed the Collingsworth Family as their first "outside" artist. It was late summer 2010—the Cincinnati Reds were above .500 for the season, but Phil Collingsworth wasn't feeling quite right.
Haase recalls learning about the brain stem problem after the contract was signed. "We all knew this was a serious thing. But I believe [the signing] happened at a good time, because, from a business standpoint there was somebody championing their cause. We weren't only praying for him as a brother, but as a company too. We were standing behind him and his family."
So there's Kim with her two older daughters planning two weddings and she's homeschooling her two younger kids—and of course the Collingsworth Family is still touring and working hard to prepare a new album for their new label. All this as her husband, the leader of the band, struggles through his own body attacking his brain and paralyzing his face. Talk about facing uncertain days...
"I really felt people praying for us. I was getting through every day, but I didn't know how I was doing it. I felt strength that I never had before." Kim pauses, thinking once again about the lyrics of all those songs she sings to all those people all the time. Those songs "really started coming and resting on my front porch. You know... our ministry's in jeopardy...we're all fearful for Phil...and yet we'd get up and sing. And you know what? Those songs became personal."
And you know what else? God kept Phil healthy enough to walk Brooklyn down the aisle December 10th, giving her away to William Blair. And God guided those surgeons four days later to unwrap that artery and save Phil's brain. And God restored Phil's health in time to walk Courtney down to Michael Metz at the altar in June of this year. That's what.
So today Phil Collingsworth laughs easily. And why shouldn't he? The Collingsworth Family now has their new CD,
Part of the Family
, coming out on a new label, a new booking agency and a whole new outlook on life—which happens to be the same outlook he had before his brain started making waves last year.
"We're starting year number 12 and it feels like we're just entering the excitement- building stage. We just sang in Sweden, we were in Alberta, Saskatchewan and Manitoba this year, and next spring we're singing all up the coast of California and on into British Columbia..." Phil just won't stop: "...and these are all brand-new opportunities...and next year 60 percent of our concerts will be in places we've never been before."
So the brains behind the Collingsworth Family is planning and dreaming and working and enjoying every chance to sing the gospel with that petite piano player God gave him 25 years ago. And he's including the kids they've been blessed with as well. How smart is that?
For more articles featuring the Collingsworth Family, click here.