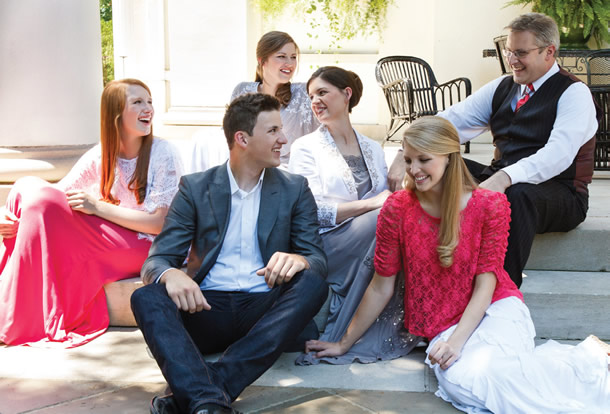 This fall the Collingsworth Family will release not one, but two live projects thanks to one unforgettable night in Spartanburg, South Carolina. The family treated a packed audience of more than 2,300 at Spartanburg's Memorial Auditorium to nearly five hours of music. The result is footage that will be used in two brand-new DVDs this fall.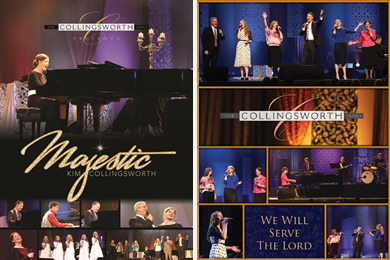 Kim will release her second instrumental album,
Majestic
(Stowtown Records) — a combination CD/DVD — September 23, 2014. (Her 2008 piano-based instrumental debut, Kim Collingsworth — Personal, received widespread praise.) Meanwhile, a new full-length DVD,
We Will Serve the Lord
, from the entire Collingsworth clan, will be available in October.
"The energy in the auditorium that evening was almost tangible," shares Phil Collingsworth Sr. "[The audience] was on their feet over and over throughout the evening, sticking with us for hours of filming."
Kim's portion of the evening was filmed first, with three grand pianos lining the stage. The skilled pianist played an array of familiar tunes fans will instantly recognize. Moreover, a host of friends and family joined Kim on stage for multiple one-of-a-kind performances. Guests included her 16-yearold blind nephew, Jesse Keep; five nieces who sang "Somewhere Over the Rainbow" and daughters Brooklyn and Courtney who added violin to the Disney favorite "Once Upon a Dream." In addition, friends Stan Whitmire and Tim Parton joined Kim on the other two pianos, creating instances Phil describes as "breathtaking" when all three played together.
"[Kim] was only 3 years old when she first fell in love with the instrument, and that love affair continues sure and strong to this day," Phil says. "Audiences everywhere greatly appreciate the God-given talent she has been given."
In a particularly emotional moment, Kim welcomed her younger brother, Brian, and his wife on stage. Brian has been a patient at Walter Reed Medical Center in Washington, D.C. for the past two years since sustaining a brain injury during his military service.
"[Kim] was very, very creative in bringing new, highly technical arrangements to the table, as well as adding in many interesting moments for her guests to shine," Phil adds.
The entire family congregated on stage for the second act, performing their 2013 release,
The Lord Is Good
, in its entirety. In addition, the Collingsworth Family also debuted three previously unreleased instrumental tracks, including Phil Sr.'s own trumpet-filled rendition of the classic "Until Then," arranged by Lari Goss and written by Stuart Hamblen.
With both releases, the Collingsworth patriarch desires for the enthusiasm and excitement permeating the evening of the taping to be felt by fans as they watch the two DVD products. "We hope we were able to put down on film the pathos and emotion in the room and allow the viewer to be pulled into a worship experience with us," Phil remarks. "If we can successfully cross the human barrier of typical resistance to the unfamiliar and allow the music and the spiritual experience to sink deep in their souls, we have fulfilled our dream with these two projects."
FOR MORE INFO, VISIT THECOLLINGSWORTHFAMILY.COM
Click here to see more articles featuring The Collingsworth Family