The Crabb Family releases a collection of songs spanning an impressive musical history.
With 14 Dove Awards, numerous Singing News Awards, three GRAMMY nominations, and more than 500,000 CDs and DVDs sold, it's obvious the Crabb Family has made its mark on gospel music. However, the legacy extends way beyond the accolades the tight-knit family has achieved since their debut in 1996 when patriarchs Gerald and Kathy Crabb were still singing with their kids. Their songs have touched the lives of countless individuals and continue to impact people each week with their specials on the Gaither Television Network and other cable channels. No doubt one of the most respected acts in gospel music, the Crabb Family releases
Icon
with the Gaither Music Group this spring.
The album is a fitting mixture of foot-stomping numbers coupled with sincere, chill-inducing ballads that remind longtime fans of the immense talent within this family and introduce new listeners to the diversity that's defi ned the Crabb Family's career. Unlike many of their contemporaries, the award-winning group has managed to cross multiple genres through the years, keeping their loyalty fi rmly rooted in Southern Gospel but also showcasing their versatility.
"This record will take you from forgiveness, to grace, to His promise, to redemption, to His amazing love for us. It's wonderfully balanced with styles ranging from up-tempo songs to the sweet, soothing sound of 'Amazing Grace,'" shares Jason Crabb. "Every song is a constant reminder of His love and His promise that He will take care of His children."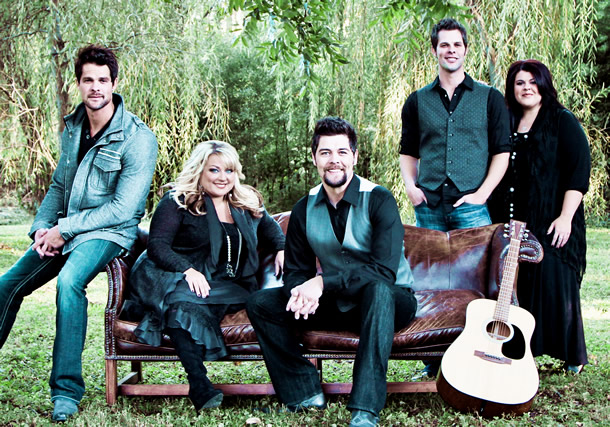 For Jason and his siblings, the
Icon
project is an opportunity to reflect on the ways they've seen God work through their ministry. Songs like "Through the Fire," "Please Forgive Me" and "I'd Rather Have Jesus" are more than simply chart-topping hits. Together, these songs are a carefully constructed mosaic, giving listeners a glimpse into the lives of the family itself.
In particular, Jason says "The Cross" is a song that continues to stick with him, long after the last note is sung. "This song touches me in a special way every time I sing it and reminds me that Jesus chose the cross," he offers. "He could have called ten thousand angels to come down at any moment, yet He chose to remain, even until death, for me and for you. I'm so glad He chose the cross. I'm humbled every time I get to sing it."
Although the Crabb Family is no longer touring together on a regular basis, the siblings reunite for occasional concerts, making regular appearances at Gaither Homecoming events. They are now all pursuing divergent paths, but they are incredibly supportive of one another. Jason has achieved further credibility as a revered solo artist. Adam was recently added as a new member of the Gaither Vocal Band. Aaron and Amanda have found success as a duo and are currently in the process of moving back to Nashville to plant a church. Meanwhile, Kelly and her husband, Mike Bowling, continue to tour together and have recently added their daughter Hope to the stage. Youngest sister Terah is taking time off the road to focus on her son as a stay-at-home-mom. "I am such a proud big brother to this group of individuals … My family is my life," Jason affirms. "When we get together, God is in the midst. My prayer with this record is that listeners will hear God through us."
At the end of the day, Jason's greatest desire is for this iconic collection to resonate with listeners in a fresh way. "These songs are certainly some of the most requested ones we get when we're out on the road," he says. "I hope this becomes one of our listeners' favorite CDs."
For more info, visit thecrabbfamily.com.