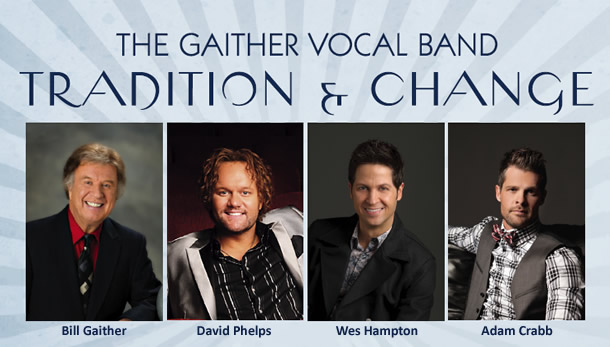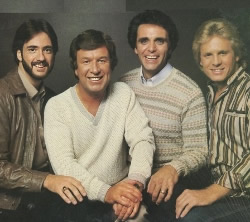 In the early 1980s, four guys were hanging around a piano backstage, harmonizing and having fun before a Bill Gaither Trio concert. Bill was so taken with the sound that he put them in front of the live audience that night, and the crowd went wild. That marked the beginning of the Gaither Vocal Band, which is still thrilling fans and still having fun making beautiful harmony. The faces and voices have changed from time to time, but Bill's goal is always the same — to create meaningful music that encourages a hurting world.
The ebullient Mark Lowry and soulful Michael English have recently departed from the group to pursue other endeavors, and a brand new artist has been added to the mix — Adam Crabb. Bill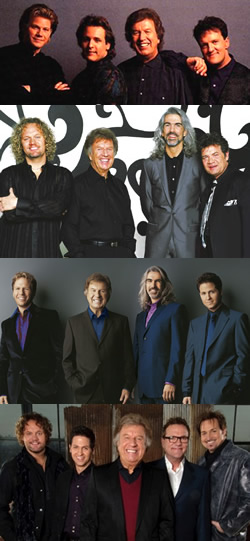 welcomes the new arrival, saying, "Adam is a very exciting addition to this 30-year legacy of excellence."
At press time (Jan. 2014), a fifth GVB member had not yet been announced. Bill had this to say: "We are trying out some very gifted guest artists on the tour with us as we seek the perfect fit. Trust me, you do not want to miss the chance to see what is about to happen as we enter this new season."
Bill Gaither knows a little something about creative combinations. He has spent his entire career putting together concerts, videos and singers that consistently delight his audience by somehow managing to seamlessly blend the old and the new, the fresh and the familiar. The latest project by the GVB is no exception —
Hymns
features time-honored songs of faith with uniquely original musical arrangements, performed by some of the best singers in gospel music.
We talked to Bill about the meaning and the message behind his decision to record
Hymns
.
TORI TAFF:
What is it about these grand old songs of the church that made you want to do a complete collection of them?
BILL GAITHER:
Sooner or later, every group wants to do their take, their special treatment on these classics. I've said so many times that some songs are still around because of their beautiful harmonics and melodies, but most of them survive down through the ages because of the text — the words express a thought, an idea that still relates to the next generation. During the Depression, there were a lot of gospel songs written that were saying, "Things are not great now, but it'll get better" and "Keep looking up." That's a message that's never out of date, because even though the Great Depression is over, people are still going through stuff … hard, important stuff. So, I think these songs have survived for a good reason.
TORI:
So how did the Vocal Band choose to put their own stamp on these very familiar songs?
BILL:
Once we got in the studio, David Phelps' creative mind went to work, and he said, "You know, we need to approach this thing a little differently than we've ever done before." Like on the song, "Pass Me Not O Gentle Savior," rather than just sing it straight, David came up with this hook that sounds like an old African- American spiritual and, all of a sudden, it's a different song! "Love Lifted Me" is just fantastic, as is "Amazing Grace," which you've heard a thousand times, but I think our take on it is very, very special. Every song has a little different twist on it, as well as four incredible singers — and me — adding their own vocal interpretation. We don't usually do this, but we've already programmed three of them into our concert, because they're just so strong. I don't think there's a single thing on here that will cause people to say, "Oh, yeah, I've heard it done that way before."
TORI:
Tell me about some of the other songs.
BILL:
We stretched it a little bit, because I think Mosie Lister's "'Til The Storm Passes By" deserves to have entered the hymn category by now. It's just a wonderful lyric and such an honest prayer. We all know that our troubles will be over once we get to heaven, but in the meantime a lot of bad things can happen — not just to you, but to people you love. How many times, as a parent, have you prayed, "God, please keep them safe until this storm passes"?
Then, Gloria and I stretched it a little farther and put in an old Gaither Trio tune called "My Faith Still Holds." It's a song of security, simply saying I'm anchored to the mountain that is immoveable.
TORI:
Do you have a favorite hymn on the album?
BILL:
Well, my theology is basically based on the idea that I'm in good hands, God is going to get me through whatever comes, and He'll get me through it with joy. So I really love the lyric to "God Leads Us Along"—"Some through the waters, some through the flood, some through the fire, but all through the blood. Some through great sorrow, but God gives a song, in the night season and all the day long." If there's a better promise than that, I'd like to hear it!
TORI:
Are Mark Lowry and Michael English singing on this project?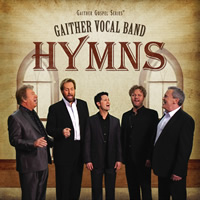 BILL:
Yes, it was finished before the changes were made. We thought there might be some people who would love to have one more project with that all-star lineup, so that's the reason we're putting it out now.
TORI:
Any final thoughts?
BILL:
You know, I started out 50 years ago doing what I'm doing because I believed in the message and I loved the art form. Nothing has changed, really. I tell my grandkids that if they want to get to be 70 and avoid the kind of hell that exists here on earth and enjoy as much heaven as they possibly can on this earth, there's a way to do that. It starts with good decision making, and filling their minds with the mind of God. The timeless messages in these hymns all point to that truth, and I still believe in it wholeheartedly.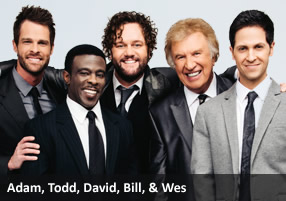 Note: Since this article was written, the fifth Gather Vocal Band member has been selected. Welcome Todd Suttles! Click here to find out more.

Click here to read more about Adam Crabb.