If they can overcome Michael English's aversion to air travel ("I do NOT like to fly," he says candidly) and Mark Lowry's not-so-sunny attitude toward 18-plus hours inside a plane ("I wish they could fax me over to South Africa or attach me to an e-mail and send me," he deadpans), the Gaither Vocal Band just might have a terrific time sharing the gospel in song on its 12 upcoming international tour dates.
Minor obstacles notwithstanding, the five members of the GVB say they are looking forward to taking the stage overseas beginning February 18 in Cape Town, South Africa, and culminating April 3 in Maringa, Brazil. In between, their globetrotting journey will take them to Johannesburg, South Africa; Belfast, Northern Ireland; Glasgow, Scotland; Apeldoorn, Netherlands; Bucharest, Romania; Siegen, Germany; Oslo, Norway; and three other cities in Brazil: Campo Grande, Cachoeira-Bahia and Sao Paulo.
Campo Grande, Cachoeira-Bahia and Sao Paulo. "Anything cross-cultural like this is very rewarding to an artist," Bill Gaither says of the tour. "It's always incredible to connect with the body of Christ internationally and realize we have a whole lot more in common than anything that would divide us."
The band has performed in South Africa and Europe before, but this will be its first venture into South America. "For years," Gaither says, "we have had people from South America come to see us in major cities here in the United States and ask, 'When are you going to come to Brazil?' So we're quite excited about it."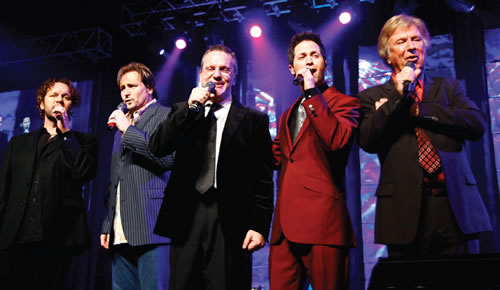 Once the GVB arrives in its concert cities, the biggest challenge will likely be the language barrier. (By the way, the group will sing in English only, with translators assisting along the way.) But that dilemma also presents opportunities for chillbumps moments such as the night on the band's last European tour when a Norwegian audience starting singing along to "Because He Lives" in their native tongue. "That reminded us of how close we really are in Christ," Gaither says.

Europeans, especially, are already familiar with a number of Homecoming and GVB songs. "Our videos are very big in Europe and other places internationally," Gaither notes. Take Scandinavia, where "Video Church" nights in homes have drawn Christians together to watch Homecoming performances and join in worship and praise. "Even though they can't understand everything, we have heard that they enjoy the music and the interaction between the people in the videos."

In Eastern Europe, the band's audiences will probably skew younger on average than when the GVB sings in the United States. On a stop in Hungary during last year's European tour, close to half of the 7,000-plus concertgoers were 30 years old or younger. The youthful presence brought a level of energy to the performance that Gaither called a "change of pace that was very rewarding for us." What's more, many in the audience that night had traveled long distances to the show from neighboring Romania. For that reason, the band has included a Bucharest stop on its upcoming itinerary.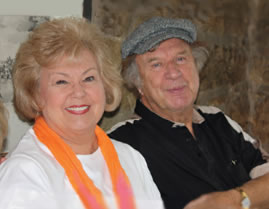 Why is there such passion for gospel music internationally, especially among younger folks? Gaither has a theory that gets at part of the answer: "I don't know, except that maybe in the U.S. we are pretty spoiled. We have the best of everything about as quickly as we want it. In foreign countries, I don't think young people are quite as distracted. There is so much vying for our attention in this culture."

Interest in gospel music and awareness of the GVB also continue to build in Germany, the site of one of the Vocal Band's upcoming concerts. Gaither discovered a fascinating connection recently while reading a biography of Dietrich Bonhoeffer, the German pastor known for his resistance to the Nazi regime, his death in a concentration camp and his powerful books such as The Cost of Discipleship. "It's interesting that when Bonhoeffer was in America in the late 1920s and early '30s, he was really struck by black-gospel music," Gaither says. "And he took some spirituals with him back to seminaries in Germany. There is quite a bit of interest in the gospel style there."

The response to the upcoming tour has been strong, with ticket sales brisk. For example, at press time, two concerts in a 6,000-seat South American venue had sold out, spurring the GVB to add a matinee performance there.

Despite Lowry's dread of long flights, the man born with an extra funny bone affirms that he's "very excited about going overseas. But . . ." (You had to know something like this was coming) ". . . we'll be on a busy schedule. It's a long way to go for only a few days. I'll have to bring my camera and take lots of pictures. The last time I went we did something like nine countries in 14 days. It was a blur. I have to look back at the photos to remember where we were and what actually happened."

Bandmate David Phelps is at least as excited as Lowry. "I am looking forward to all of the locations we'll visit," he says. "Whether I've gone overseas with the Vocal Band or as a soloist, I've always been so warmly welcomed. But I must say I can't wait to go to South Africa. My wife, Lori, and I have journeyed to Malawi before, but I've never been to South Africa. We've heard so many great things about it."

Michael English is also eager to touch down in South Africa (but then, the touching down part is his favorite aspect of all air travel). "It's always very cool to experience different parts of the world, doing what I love to do," he says. "I have never been to South Africa either and have heard good things, so that's the one that I am most looking forward to."

English and his GVB cohorts are intrigued about how audiences outside America continue to respond to the band's music. Enthusiasm is never lacking, but because of the language and cultural differences, "it's sometimes hard to know how they are receiving it," English says. "Every culture is different, and the way they respond to us can change from night to night. For the most part, though, there are still those special moments in each show, just as in the states."

"I Bowed On My Knees and Cried Holy" is English's song that tends to draw the largest reaction when he performs it stateside these days. "We didn't sing that one on our last trip, so I will be anxious to see how it goes over," he says.

Wes Hampton, for his part, is particularly thrilled about the opportunity to sing for audiences in Brazil. "I loved going to Europe last year, and it will be fun to go back there this time," he notes. "But I'm really excited about South America, since that's a new place for us. I can't wait to interact with the people there."

In addition to performing, the band will carve out time to play tourist.

"The historical places are always interesting," Gaither says. "When we were in Cape Town the last time, we went to Robin Island, where Nelson Mandela was imprisoned for 27 years for political opposition. I became intrigued with him and his life, and bought Long Road to Freedom, the 800-page autobiography of his life. It made the 18-hour plane ride home a little easier."

Walking into the tiny cell where Mandela lived for the bulk of his incarceration was incredible, Gaither notes — as was the opportunity to encounter some of the scars of war during the band's swing through Europe. "To arrive in Hungary at the airport and see bunkers on the side of the runways, and then find out they were built when the Russians occupied Hungary . . . it's eye-opening and sobering."

Along the way, the band members will cherish the camaraderie that they get to share with each other. English shares his perspective on the GVB's time spent in transit:

"I have been on the road with Bill and Mark in the past. Mark has always been great to travel with; he is a great conversationalist, and he and I are really close. Joining the group this time around [in 2009] was my first chance to spend extended time with Wes and David. Wes and I have developed an amazingly close friendship. David and I knew each other from before, and my wife and his wife have been friends for a while. It's fun to see the 'other side' of David; he's an incredibly funny man. I would say the dynamic between the five of us is perfect. We all know when to leave each other alone, when to play jokes and when not to. It's pretty great."

Here's hoping that depth of brotherhood is enough to relax Michael on the flight to South Africa and beyond. Meanwhile, does anyone have a friend in Cape Town to whom Mark could e-mail himself as a file attachment?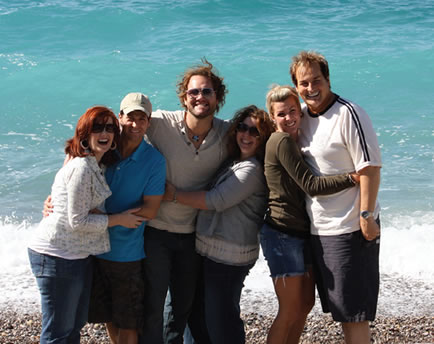 (Andrea & Wes Hampton, David & Lori Phelps, Marcie & Michael English)

SOLO FLIGHTS
When the guys in the GVB aren't busy crisscrossing the globe together, rehearsing or recording in the studio, they carve out time to pursue solo projects. We talked with Wes, Michael, David and Mark to get the scoop on their recent individual musical endeavors—and to catch up on some of their other life adventures. (Hint: Dirty diapers play a key role for at least one of the band members.)


WES HAMPTON
A MAN LIKE ME

On a Wednesday afternoon in Birmingham, Wes sits down to talk about his recent solo release, A Man Like Me. But first, he needs to finish counseling one of his four sons about a big life decision. "Hudson," he says, "do you want to watch The Pink Panther, Olivia or Phineas and Ferb? Oh, Elmo? OK, there it is. Daddy will be right in here."

Sure, Hudson is only 4 and maybe his cartoon choice is not a life-or-death matter, but it's the kind of urgent question a man like Wes is called to answer several times a day in the Hampton household where four boys ages first grade and younger — Barrett, Hudson, Carden and Sutton — keep Wes and his wife, Andrea, hopping.

On this typically active day off the road, between scraping ketchup off plastic lunch plates, changing diapers and wiping runny noses, Wes takes a deep breath and pauses. With the video playing in the other room and naptime occupying other family members, now is as good a time as any for him to chat.

Make that two deep breaths. After all, the past five years have been a whirlwind. Since Wes joined the GVB in 2005, his days have been filled with touring, recording, parenting four boys, trying to find a little date time with Andrea. (You might spot them dining at the Melting Pot, a fondue restaurant, or shopping for household essentials at Wal-Mart.)

As fans of Wes know, he burst out of the gate, receiving the 2006 Singing News Horizon Individual Fan Award for best new artist. The band received a Grammy nomination in 2007 for the album Give It Away and brought home a Grammy in 2009 for Lovin' Life. Wes has also released a cookbook, 2009's A Place at the Table: Hampton Favorite Family Recipes.

Add to the mix the release of A Man Like Me last fall, and it becomes clear why a few minutes with Wes are a precious commodity. And it's no surprise that most of the new album's songs deal with real-life challenges.

"I'm only 32, but I feel like I've lived enough to experience plenty of pain and disappointment like everybody has," Wes says. "I realize how broken a person I am and how much I need Jesus every single day. It's like we're all in recovery in a way, even though we might not have a 'textbook' addiction like alcohol, drugs or whatever. I struggle daily with flesh — reacting out of my flesh, wanting to feed my flesh. Sometimes I have to pray, over and over again: 'God, you are going to have to get me through this. Please give me the strength to persevere. Forgive me, I've messed up again.' I am so thankful He's there to give me a new day. I fi nd some way to disappoint myself, to displease Him, yet He's still here and sees me through."

Wes looked for songs that carried a strong message of hope, such as "New Day," "Sweet Surrender" and "Jesus Saves."

"I think there are a lot of songs out there that don't say very much. They might have a great melody, a great hook, but the message doesn't run deep. I wanted to look for songs that would really meet people where they are."

The title tune, "Man Like Me," gets at the struggle of day-to-day trials, temptations and disappointments. Wes believes it's important for listeners to know that life is not easy for those who might appear to have things together.

"Whether or not people realize it, they sometimes elevate artists like us to be above certain things, and that's just not true," he observes. "When we get off the road, we go back to life just like everybody else does. We have families, relationships, work challenges, all these other stressors: sick kids, sick spouses to take care of. We need Jesus as much as everyone else.

"That's what I want people to take away from listening. I feel like all the songs point to that one, central theme: We really need Jesus!"

Among the many stirring tracks on the record, one in particular stands out for Wes: a duet of "It Is Well" that felt like a pinch-me-I'm-dreaming experience.

"First of all, 'It Is Well' is just an amazing lyric and an amazing song that I've grown up listening to and singing," he says. "And I got to sing it with probably my biggest vocal infl uence, Steve Green. That was something really special. I grew up going to his concerts and listening to his music. He has had a huge impact on me, my life and my music."

Speaking of music, the Elmo theme song is playing now and the show is just about over, so it's time for Wes to re-engage with the boys: wipe a nose, change a diaper and help Andrea think about gourmet-dinner plans. (Most likely to appear on the menu: chicken nuggets.)

Ah, it's just another grand adventure for a dad like Wes.


MICHAEL ENGLISH
GOSPEL SEQUEL DREAMS

"I have one in the 'dream' stage," Michael English says when asked about solo projects outside of his work with the Vocal Band. "I am really looking forward to doing a sequel to my Gospel record. I had such a good time recording it the first time with my good friend Jay Demarcus from Rascal Flatts."

The timing of that project and the songs that will be included have yet to be determined, but plans for the recording clearly are high on Michael's priority list. "It's the kind of music I love to do, so that will defi nitely be my next project," he says.

The original Gospel, which Michael released in 1998 as his fifth album, tapped into his musical and family roots. It was dedicated to his granny, who had recently passed away, with the songs assembled as a tribute — especially a soaring rendition of Vince Gill's "Go Rest High On That Mountain." Other tunes on the record include favorites such as "John the Revelator," "Gospel Ship," "Blessed Assurance," "Midnight Cry," "Up Above My Head," "Had It Not Been," "Dig A Little Deeper," "I Bowed On My Knees and Cried Holy" (still a favorite of Michael's and his audiences) and the classic "I Surrender All."

The sequel might still be something of a dream, but what isn't a dream for Michael these days is the family life he is enjoying. "I am incredibly blessed to be at the place I am right now in my life," he refl ects. "I am a husband to a wife of almost nine years with whom I am madly in love. I am a father to a 26-year-old, intelligent, beautiful young lady named Megan, who is married. I have an amazing 6-year old girl named Bella, who has given me a second chance at this daddy thing. I'm also a new grandfather to my beautiful grandbaby girl, Stella."

On the professional front, Michael still pinches himself about his return to the GVB in 2009. "I am doing what I love to do, able to sing with some of the greatest singers in the business and travel to all kinds of amazingly beautiful places. I honestly look over my life and see where I have been and what I have gone through, and I constantly find myself in awe of how good our God is."

And no . . . he's not dreaming.


DAVID PHELPS
FAMILY BAND AND A BEST OF . . . IN THE WORKS

Vocal-band member David has been especially busy in recent days on the music front, releasing an album titled Family Band and preparing for a Best of David Phelps recording. "For years, Bill and I both have gotten requests for this [Best of] project," David says. "I'm so happy to say that the time is finally right."

The prospect of compiling a collection of favorite songs, culled in large part from his 14 years in the GVB, puts David in a thankful and reflective state of mind.

"As I watch the Homecoming program on the road now, it really hits me just how long I've been out here doing this," he says. "In a blink of an eye, 14 years have passed. I've made friends and lost friends and had some victories and some failures. My 2-year-old girl is now 16 and driving! Aaaahhh! But the overwhelming feeling as I watch and remember is gratefulness. I'm so honored to have been able to sing with these amazing brothers and sisters. And I'm anticipating the new friends the next 14 years will bring."

More details about the Best of . . . project are yet to come. Meanwhile David is celebrating the release of Family Band, which features his entire band and the "accidental trio" of David; his sister, Sherri Proctor; and David's music director, Jack Daniels (who is also David's wife Lori's cousin).

Why accidental? For those who aren't familiar with the tale, "Jack has been traveling with me for 11 years," David says. "One night during a concert, I asked them to sing along and grab a part. It went over so well that we started doing it every night and eventually decided to record a project. We'd been working on the David Phelps Family Band recording for over three years, so you can imagine how fulfi lling it is to fi nally have it done."

The album flows from hymns to modern gospel to country. "I love songs that express real emotion. I'm not sure a song does that better than Hank Williams' 'I'm So Lonesome I Could Cry'—so much so that it needs very little production. Everyone just needs to stay out of the way and let the song speak for itself. That one means a lot to me because, as an artist and a believer, I think it's extremely important to acknowledge both joy and pain, victory and failure, winning and losing. It's not accurate to promote our faith as spiritual Prozac. I believe real victory comes in accepting that life can be hard but that faith in Jesus stands up to the scrutiny of any adversity."

David penned six new songs for Family Band, which features such tunes as "Forever and Ever Amen," "He Hideth My Soul," "Glory Train" and "Tennessee." "These were probably the most relaxed recording sessions I've been a part of," David notes. "I am so proud of the incredible amount of talent possessed by Jack, Sherri and my band members, so I was anxious to show that talent off."

Speaking of talent, David and Lori need all of it they can muster some days, just to keep things running on the home front. "Having four kids in school makes our mornings very hectic," David laughs. "We're usually up before the sun. I'm the breakfast chef and Lori gets lunches together."

Phrases overheard on a typical Phelps family morning include, "Did you brush your teeth?" "Where is your backpack?" "What do you mean your project is due today?!" and—an all-time favorite—"You wore that underwear yesterday!"

"Of course, Lori and I say these things to the kids and not to each other," David quips.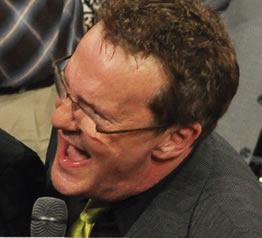 MARK LOWRY
UNPLUGGED & UNPLANNED

For his most recent solo recording project, Mark gave up something he has become especially fond of and familiar with over the years: an audience. He went into the studio to record a live DVD as part of a Daywind Records series.

The DVD features Mark with some of his dear friends and longtime touring cohorts: Valerie Ruppe, Kim Lord and Heather Day, with able assistance from a number of musician friends and a very special guest appearance by Mark's mother, Beverly.

He calls the project "organic," and with good reason. It didn't have a name until Mark and his friends came up with "unplugged and unplanned" as the cameras were rolling. The name fits.

"We didn't know what songs we would do in what order," he says. "We got in there and winged it. If I wrote a program down, I'd probably forget where I put it anyway. When you have ADD (Attention Deficit Disorder), you can't follow a program very well. I've watched Bill do that. Wherever the Spirit led him, that song would be next. It turned into a special time where the sisters and I talked about the things we went through on the bus on the road, and how we really became a family.

"They lost their father, and I was there with them, believing the best I could. I'm Baptist; we don't get a lot of healing. I talked about my dad going to prison for three years because of financial problems, and they were with me for that time. It's about how you get through those times, how you minister to people. It's not a comedy DVD, per se, but it has good storytelling and a lot of singing of some really great songs."

Recorded at Oak Tree Studios in Hendersonville, Tenn., the collection includes some back-and-forth banter but mostly lots of playing and singing around the piano. "It's different from anything I've ever done," Mark adds. "With no live audience, we were talking to each other. You get to hear from those artists and their stories."

He quickly adds, "I still do a lot of the talking, though!"

Singing with Beverly was particularly poignant. "Mama is in the early stages of dementia," Mark says. "She can still sing well; she just can't remember very well. I've sung with her all my life. When I'm home, we still sing together." For this project, they performed Dottie Rambo's "Promises," whose lyrics include, "Promises, promises, and all of them true. He's done exactly what He said He would do."

More good news: Mark recorded a second DVD during the same sessions, with help from the Perrys; that one will be released later.

What else is new with Mark? Not too much, he concedes. "I'm still doing solo shows here and there, not as much of course because my priority is the Vocal Band. When I'm home in Houston I read a lot, play with my dogs, go to the cleaners. It's a very boring life. I'm becoming a hermit."

He's joking. At least we hope so!
For other articles featuring the Gaither Vocal Band, click here.