Lucy Hayes, the gracious, soft-spoken matriarch of the gospel-singing Hayes Family, met the love of her life when she was just 19 years old. It was in Boone, N.C., well over 50 years ago, but you'd never know it from the shining way she talks about the night she rst laid eyes on the handsome bass singer who was to become her husband and musical partner. Maybe that's because Howard Hayes always seemed a little larger than life in her eyes — which makes his recent loss all the more difficult for Lucy.
"We met at his church," Lucy tells me, her voice smiling through the phone lines. "They were having a revival meeting, and the gospel quartet I was playing piano for was invited to sing. I was introduced to this very kind and polite man, who I noticed was also very tall and handsome! Howard was already singing part-time with the Goodwill Quartet then, but one night he talked his way into tagging along with my group for a concert in Tennessee. He even got up that night and sang bass with them, and everybody just loved him to death. We started dating after that and got married a year and a half later."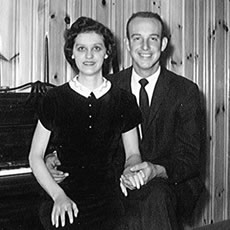 Both Lucy and Howard came from music-loving families, so it wasn't surprising that the idea of traveling and performing together seemed like a natural fit. "Howard always said if we ever had a family, he sure would like them to sing," Lucy remembers. "And that suited me fine because we both dearly loved gospel music. Luckily for all concerned, the three Hayes children, Janet, Sharon and Mylon — born barely a year apart — showed early musical promise, including perfect pitch. Lucy started giving them each piano and singing lessons by the time they were 4. Their first performance occurred when the child of a family member passed away, and Howard was asked if his children would sing at the memorial service. He and Lucy sat down with the kids and taught them their parts, and the next day the Hayes children stood up together and sang "Jesus Loves Me" in three-part harmony — and so it began.
Howard was a natural on stage and Janet and Mylon quickly followed suit, but it took a little more prompting for Lucy and Sharon. Lucy fondly remembers Howard's pep talks. "He was always a great encourager in that respect, because he was such a people person. That's a gift. He'd walk up to someone, shake their hand and give them a smile and they felt like they'd known him forever. He thought I was too timid, and tried to get me to be more outgoing. He'd say, 'You've got to be friendly to make friends.' Sharon was shy too, so when we got up to sing, Howard would stand behind her and nudge her toward the microphone because she kept backing up — and now she's the most talkative of us all! We both grew into it, I guess."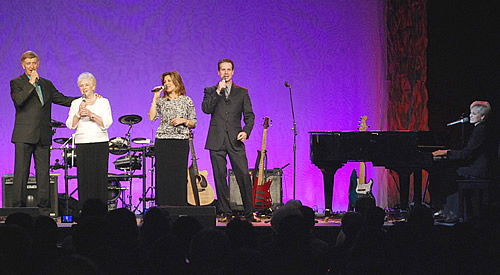 [The Hayes Family on stage]
By the time the kids were teenagers, the Hayes Family's singing had evolved into a full-time career. Lucy speaks at length about the joys of living, traveling and working together as a family. "It wouldn't work for everybody, but we all got along so well, and it was such a blessing to be together. We'd be riding down the road in our coach and Howard and I would look at each other and say, 'We're making memories!' And since the kids are grown now and have families of their own, we take the grandchildren with us, too. They'll get up and sing a couple of songs and quote scripture — we just light up when they're with us."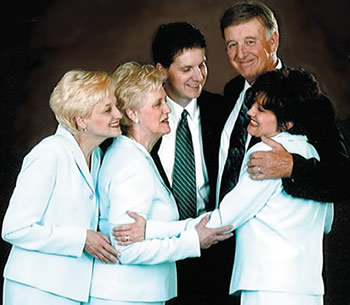 (Pictured right: The Hayes Family — Janet Hayes Haas, Lucy, Mylon Hayes, Howard and Sharon Hayes Hodges)
It was Eva Mae LeFevre who first brought the Hayes Family to the attention of Bill Gaither. Characteristically, she marched up to Bill and said, "I want you to meet this family," and then instructed Howard to send a CD to Bill so he could hear them sing. Evidently he liked what he heard; he extended the invitation to come into the studio, and eventually to join in a Homecoming video taping. The Hayes Family has currently appeared in nine videos, and Lucy tells me that was one of the thrills of Howard's life. "That meant so much to him; he just thought Bill and Gloria were the greatest. It was an honor."
About 12 years ago, Howard was diagnosed with neuropathy, a nerve disorder that affected his ability to easily move around. In late 2010, when his weakness became more pronounced, they first assumed it was a long-term result of the neuropathy. But he then developed a sharp pain between his shoulder blades, and x-rays revealed a fracture which led to more testing, which eventually pointed to the devastating diagnosis of multiple myeloma. Howard bravely endured multiple treatments and appeared to be responding well, but last summer his health took a nosedive. "It got so that he couldn't remember things at all," Lucy reveals, sadly. "He couldn't talk and get across what he wanted to say. He did not have a lot of pain, which was a blessing. It helped that he didn't realize what was happening." Howard Hayes passed away on September 6, 2011, at the age of 75.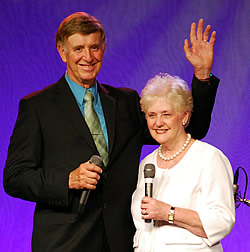 The loss is still fresh and the grief still evident as Lucy talks to me. The theme of this issue is all about overcoming, living and flourishing, which I almost hesitate to mention in light of the current circumstances. But Lucy's gentle spirit is matched by the strength of her faith, and she willingly offers her thoughts on the subject. "Well, this is the roughest road I've ever been on, but I am overcoming by the grace of God. In the last few months I have been reading all the promises I can find in Scripture about heaven. I know that Howard is in a beautiful place, with a new body that's not weakened by cancer. I know there's music in heaven, so I'm sure he's part of that! I also know that we will be together again, which is my greatest consolation. It's hard to explain, but I kind of feel like I have a foot in both worlds now. I tell people my better half is in heaven: I'm living here, and he's living there. And finally, I believe the Hayes Family will flourish by continuing to travel and sing, which is what Howard wanted. It's so hard without him, but I can just hear him saying, "Now, you go on and give out the message that we have been called to bring." I tell Lucy it sounds like Howard's still nudging them all toward the microphone and she laughs. "Well," she says, "I guess in a way he is."