As the Hoppers began their second half-century of music ministry, they realized something remarkable: "While we've always put a hymn here or there on our projects, we've never done a complete hymns recording." Dean Hopper speaks as the second generation of the famed family group, which now includes three generations regularly performing together onstage. His dad, group founder Claude, along with wife Connie, carry within them echoes of American history from a patch of earth near Madison, N.C., where Claude's great-grandfather William Archer Hopper settled after fighting for both Confederate and Union armies during the Civil War. (Don't ask, it's complicated.) And so it should come as no surprise that the first sound you'll hear on their first-ever hymns CD is a lone voice reverberating the familiar spiritual first sung in tobacco fields during the days of slavery:
Gonna lay down my burden,
Down by the riverside…

It is a sad sound. Connie opens
Hymns: A Classic Collection
carrying a heavy refrain borne by slaves prior to the Civil War. Those souls were echoing Isaiah's hopeful vision that one day "nation shall not lift up sword against nation, neither shall they learn war anymore." But presently Cornelia Elizabeth Shelton Hopper is joined by voices higher and lower, male and female, older and younger — but only by voices; the first three minutes and nine seconds of this time-travel experience are presented in a lush, plaintive a capella:
…ain't gonna study war no more.

The immediate comparison is to Alison Krauss' rendition of "Down to the River to Pray." But a revisit to Krauss' decade-old performance confirms that Connie, raised in the 1940s along Pretty Creek near Little Egypt, N.C., conveys more…living. More knowing. And more disappointment. This singer watched her family's farm deliberately flooded by the electric company to create Belews Lake — drowning her childhood memories in one cruel year. She was stricken with breast cancer a quarter-century ago. And yet she leads her family's voices to accelerate, to elevate, and finally to celebrate:
Gonna lay down my sword and shield,
Down by the riverside…
Gonna put on my long white robe,
Down by the riverside…
Gonna try on my starry crown,
Down by the riverside…

"This is a collection of songs we've recorded and performed for the last 20 years." Dean Hopper talks about 1991 as if it's a long time ago. And indeed it is a dangerously long time for the survival of a polymer tape. If not stored properly, those old studio tapes can turn to peanut butter. And nobody knows better than Dean how vulnerable recording studios can be — having lost his first one to a freak tornado in 1998 and his second to fire in 2002. So the survival of vintage Hopper recordings isn't something Dean takes for granted. "Talk about overcoming. In 50-plus years, we are learning not to limit God!"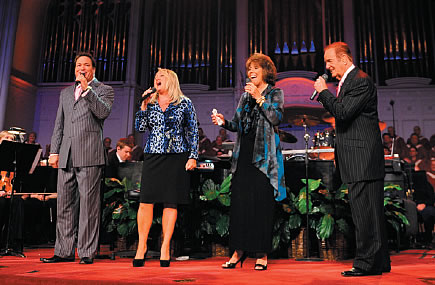 [The Hoppers - Dean, Kim, Connie and Claude]
But before there was such a thing as audio recording, or even pianos for that matter — around the time Carolina was dividing into North and South — a 22-year-old Englishman named Robert Robinson wrote a hymn that is still sung today. And even here Dean says the Hoppers' theme of family is front and center: "The reason we did 'Come Thou Fount of Every Blessing' is that it was my uncle's favorite song. My mom's oldest brother was born mentally handicapped…they said he wouldn't live past his 40s, but he lived to be 83." In the latter years of Charles' life, Connie had many opportunities to live out a line she sings from this hymn — "Here I'll raise my Ebenezer." The reference is from First Samuel where God saved Israel at a vulnerable moment… and so the seventh-born Shelton child became a "stone of help" for the firstborn Shelton son in his time of need.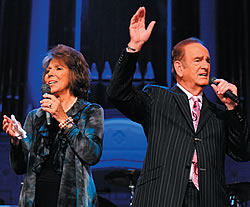 The CD has one older song ("I Sing the Mighty Power of God," Isaac Watts, 1715) as well as a relatively new one ("Going Home," Bill and Gloria Gaither, 1967), but this collection of hymns is so much more about the future than the past. No less than 12 of the 14 songs look forward to heaven, to praising God at His throne or to coming home…none more memorably than "Oh Come Angel Band." The very year William Archer Hopper returned from the Union Army to Rockingham County (1866), this now-famous song was published in the first edition of The Christian Harmony Songbook. The Hoppers' recording is paced by a simple guitar and flavored with a period-sounding fiddle, but it is driven by Kim's vocal performance. The song unfolds with no surprises—until the third verse, when the instruments modulate down and pause hesitantly, waiting to see where the singer wants to go. The answer: she wants to go up, drawn by "the noise of wings." Anybody not getting goosebumps listening to this performance has already been borne away to their immortal home!
The most arresting sound here has to be "Zion's Hill," a bit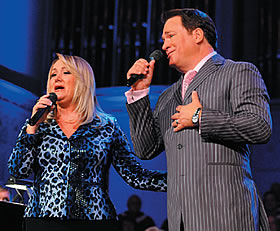 of an oddity in the gospel canon. Seeming more bluegrass or Appalachian folk song, the Hoppers gently usher the venerable tune into a new century with nary a banjo or fiddle in sight. The first half of the recording is all-family a capella, signifying its original setting…but the remainder of the song is accompanied by a rhythm section and full orchestra, placing this piece into a contemporary setting. To the modern ear, talk of pearly gates and mortal life standing still seems either quaint or morbid. So making these lyrics come across as hopeful, as beneficial — even desirable — is no mean feat. If you listen to only one recording of "Zion's Hill" this year…
Claude and Connie both grew up beside Carolina streams, so their hymnological reminiscence wouldn't be complete without Mosie Lister's classic 1950s revival tune, "Land Where Living Waters Flow." Only here they're not so much flowing as galloping— the vocals rise, the vocals fall; first we're longing, then we're flying, now we're praising heaven's King. The most traditionally sung melody in this collection is by far its most joyful…and it is destined to wear out the "repeat" button on many CD players.
The man who started all this singing is proud to showcase his better half, his boys and their girls. One of Claude's rare solos on this project is on the Stuart Hamblen standard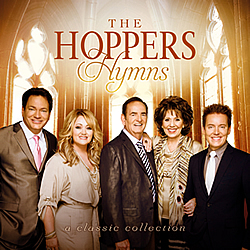 "Until Then," where he reaches up the scale to sing "along the trail that's winding always upward." And with that eye ever scanning the horizon, he chose his granddaughter to write a dedication in the CD liner notes. An excerpt: "Often we are tested and tried, stirred from our path. Those are the times we need the truths of our roots. These songs are a reminder of where everything began for us—with comfort and simplicity, the beautiful nature in which our faith was established." Karlye Hopper was 16 when she wrote those words, not many years younger than Claude was when he started singing with his four brothers in 1957. And so, whether echoing songs of childhood or hymns that make them strong, the Hoppers' circle remains unbroken.
For more articles featuring the Hoppers, click here.