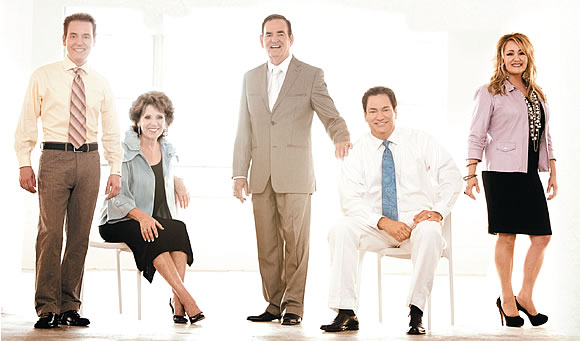 After recording music for 55 years, many groups might be hesitant to take risks, sticking to the "tried-and-true" methods that have brought previous success. Not so with the Hoppers! For their latest release,
Count Me In
, they took a new approach. First, they didn't have most of the songs chosen ahead of time. The family sat down on the studio couch and listened to several songs at a time, picked one and arranged it on the spot. Then, straying from the familiar path of recording instruments first, they started with the vocals, accompanied only by a bare-bones keyboard and rhythm track. Producer Michael Sykes was a little hesitant at first, saying "I don't know if I can get my mind and my arms around that," but he was willing to give it a go. Dean loved it. "The way we did this CD is opposite of the way it's done most of the time. I found it very unique, and it helped us, vocally, to do our job better. If one of us was hearing a little vocal move or inflection that changed the chord, all we had to do was go back and change the keyboard part."
When the time came for instrumentation, the musicians were surprised, to say the least, according to Dean. "Steve Brewster, the drummer, said "Oh, man — we have to play to you guys this time," and I said, "That's right — you've got to play to what we do." So they were laughing about that, but they loved it."
The family enjoyed choosing songs together, and Kim was especially touched by the lyrics of "He Didn't Just Carry the Cross," on which she sings lead. "I'm such a visual person — if I can see it, I don't forget it. This song really has a great description of Christ [at the crucifixion]. The world really thought that He was a disturbed individual, but God Himself looked down and didn't see what the world saw. He saw His beloved Son, carrying not only the weight of the cross, but also the weight of the sin of the world. So when I heard that description from the writer — that it wasn't just the cross on His back, but He was literally carrying me as well—I loved the visual picture that I got from that. That really touched my heart."
Connie performs what may seem like an unusual choice —"I Wish We'd All Been Ready," made famous by Larry Norman, a pioneer of Christian rock music in the '60s. After the song popped into her mind during the album-planning phase, "I just started singing it, and I felt it was so relevant for today." She did opt to alter the lyrics just a bit, choosing the encouraging words "don't be left behind" at the end of the song, instead of the original, darker "you've been left behind." Proud granddaughter Karlye, an aspiring writer and excellent singer herself, also counts this choice as a favorite, saying "You can't have more of a heartfelt, true voice than Connie Hopper, and the arrangement's beautiful. We've done a concept video of it, which was mostly recorded on our farm. Some of it was also shot at an old mill in our town, where my grandfather's mother worked, and some at the church where my grandmother grew up — that place is 300 years old! I'm a sucker for songs that could be movie scores, and that's definitely a quality on that song."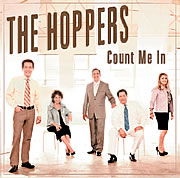 The album features three Gaither tunes, including the upbeat "I Just Feel Like Something Good is About to Happen," the earnest "I Will Serve Thee" and the ballad "I'll Worship Only at the Feet of Jesus," which resonates with Connie. "When Dean sings the part about the gods of the earth failing us, I remember the Old Testament where God said, 'You're worshiping gods that have eyes but can't see, ears but can't hear.' We serve a God who can see and hear and reach out with His hands to do whatever He wants to do."
Kim loves the melody of "That's What I Love About Him," penned by prolific songwriter and lead singer for the Perrys, Joseph Habedank, saying "it's one of those that feeds me—it has a great message." Dean enjoys the title song, Ronny Hinson's "Count Me In," as well as Jean Canter's "I'll Take You Home," which he calls "a good ol' Southern Gospel drivin' tune."
And the group's patriarch, Claude, sings lead on a tune that has ministry." Claude describes being a graduate of "the university of hard knocks," and he had a desire to help kids who wanted to attend college to pursue Christian music or ministry. The Hoppers struck up a partnership with Oakland City University in Indiana, and the school matches every dollar raised by the family. "From that college alone, we've graduated 31 students since the Heritage Foundation was started," says Dean. The foundation also donates to Oak Ridge Military Academy, a college preparatory school in North Carolina.
The family raises funds in many different ways, accepting tax-deductible donations and selling designated items, including books written by family members. They found a humorous way to capitalize on Claude's name, as Dean describes. "His name is Claude Hopper, like 'clodhopper,' and he's been made fun of his whole life. Years ago, people started sending us candy called 'Clodhoppers,' made in Canada. We finally tried it one day and found out how good it was. So for several years, Dad bought it directly from the factory and sold it — he probably raised about $80,000 selling that, which all went to the foundation. He's not one to gloat about it, but we've been blessed to be able to help these kids."
But the most successful fundraiser thus far has been the annual Hopper Heritage Foundation Golf Classic, featuring raffled items from Callaway Golf and a two-million dollar hole. "If anybody hits a hole-in-one on that hole," says Dean, "that person gets a million dollars and our foundation gets a million dollars. We haven't had anybody hit it yet, but we've had someone shoot for it every time."
As the Hoppers continue to explore new avenues in music, ministry and giving back to their community, one thing is for sure — they are making a difference in the world.
For information about the Hoppers Heritage Foundation or the golf tournament, visit hopperheritagefoundation.org, and enjoy the video preview below of
Count Me In
!
Click to see more articles featuring The Hoppers.