Dick and Rick Hoyt, better known as
Team Hoyt,
were looking forward to running in their 31st Boston Marathon together on Monday, April 15. Just days before, the amazing father-son duo was immortalized through a life-size bronze statue unveiled in their honor near the beginning of the marathon course in Hopkinton, Massachusetts.
During Monday's race, they were making great time, Dick Hoyt says. "We were having a good marathon run, an hour and a half faster than last year." They were about a mile from the finish line when the horrific bomb attacks occurred and they were told to stop. Like so many other families, they were shocked, but this tragic event will not stop them from continuing their momentum forward. This is not the team's first setback.
Dick, now 73, and his son Rick, 51, have completed more than 1,000 endurance events, including marathons, duathlons and triathlons.
This would be an amazing accomplishment for any athlete, but it's especially incredible with this team. Rick Hoyt was born with cerebral palsy in 1962; he cannot speak or walk. Doctors told his parents to institutionalize him, but they refused and raised him like their other children. If the family went swimming, Rick went swimming. If the kids played street hockey, Rick participated, with someone holding the stick for him. Rick grew up with a passion for sports and an independent streak, despite his limitations.
Rick's parents could tell that their son was intelligent and wanted to provide him with a way to communicate, so they raised money to have an interactive computer built when he was 12. The Boston Bruins were in the Stanley Cup finals that season, and Rick's first "spoken" words were "Go, Bruins!" Rick later went on to graduate from high school and then college, earning a degree in special education from Boston University.
Back in 1977, Rick learned of a 5-mile run to benefit a paralyzed lacrosse player, and he told his father he'd like to participate. Dick, then 37, was not an athlete and had never run farther than a mile, but there wa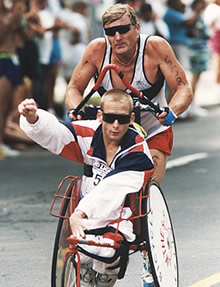 s no way he was going to refuse his son's request. After completing the race, Rick told his dad that when they ran, he felt like his disability vanished. That was all it took, and
Team Hoyt
was born.
They have competed an incredible six times in the Ironman triathlon. Dick tows his son along in a boat during the ocean swim, they ride a special two-seater bicycle for the 112-mile bike ride, and Dick pushes Rick in his custom-made running chair for the 26.2-mile marathon. Adding to their list of accomplishments, the two biked and ran across the U.S. in 1992, completing 3,735 miles in just 45 days. And for more than two decades, they have been the faces of the Hoyt Foundation, which endeavors to help disabled people live full and productive lives.
Dick jokes about the team's unexpected legacy. "When Rick was born, the doctors told us to put him in an institution, that he would be a vegetable. Today he is 51 and we haven't worked out what kind of vegetable he is, but now he is a bronze statue."