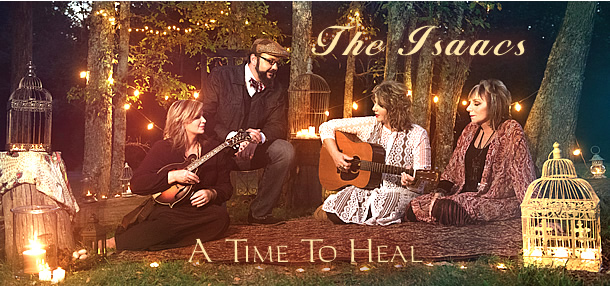 There's nothing like a challenging season in life to cause a shift in perspective, a renewed appreciation for God's faithfulness, and often inspire a renewed burst of creativity. That's readily apparent in the Isaacs' new album Nature's Symphony in 432: A Journey From Pain to Praise, an innovative project that finds the family taking an entirely different approach to recording. Music is generally recorded at 440 Hz, but on their new album, the Isaacs employed 432 Hz tuning. Mother Lily and her children Sonya, Ben and Becky have long been known for their beautiful family harmonies and powerful songs, but on their newest recording, they decided to shake things up.
The idea first surfaced when someone sent Becky's husband John a YouTube video of songwriter/praise and worship leader Don Potter. "He was talking about the healing frequency of 432 Hz," Sonya recalls. "Now 440 is the International Standard concert tuning. When musicians get together they have to have a certain way to gauge how to tune their instruments so they can play in the same pitch and 440 is a frequency that everybody tunes to. When you get a tuner that clips onto your guitar, you set it on 440 and that will tell you when everybody is in tune. If everybody doesn't set their tuners in the same frequency, then they don't sound like they are in tune together.
"440 became the International Standard concert tuning all over the world after WWII. Prior to WWII, there were different frequencies used, but the main one was 432. We started investigating and we were really intrigued by it. In our spirit we were really drawn to it. We found out the human voice naturally sings in 432. Birds sing in 432 and dolphins' natural frequency is 432. The Gregorian chants were in 432 and 432 is very repetitive in history, science and nature."
Known by some audiophiles as the healing frequency, 432 Hz was really intriguing to the Isaacs, particularly in light of the challenges they'd faced in the past few years. Lily's mother passed away in September of 2014 and weeks later, Sonya and Jimmy's baby daughter was stillborn. Becky had spent years battling an autoimmune disease and Ben had been trying to help someone close to him in a battle with alcohol addiction.
As they began writing songs, Sonya says they felt God's direction. "We had a prophecy when we were writing songs for this record. The Lord said, 'I am giving you sound and songs of healing,'" Sonya shares. "We knew that God wanted us to do this record. We could not get away from it. We didn't know how we were going to convince Ben to do it because he's the producer guy and there could be possible complications with doing a record in a different tuning, but God began to show Ben that He wanted us to do this too, so we all were on the same page."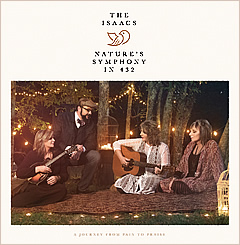 Ben produced the record with input from his mother and siblings. Sonya and Becky co-wrote nearly all of the songs on the album and
Nature's Symphony in 432
marks the first time the Isaacs recorded with a symphony. "It was a dream come true for us to be able to do it," says Sonya. "We're very thrilled about that and it was an amazing experience."
A special guest also joins them for an
a cappella
rendition of "Great Is Thy Faithfulness." "Terry Bradshaw came in and he is singing that with us," Lily says of the football legend who has become a family friend. "He wanted to be a part of the album so much, he flew in and he sang the song with us. We are just so excited that he's on it. He actually wanted to help produce it, so he is also Executive Producer. He is such a great person and has a beautiful heart for the Lord. He loves the Lord and loves the Gaither Homecoming videos. He knows every song on all those videos."
The album is being released on the Isaacs' own record label, House of Isaacs Music, and they are especially excited about the first single, "This Is the Year," which kicks off with the sound of a shofar, an ancient musical horn used in Jewish religious ceremonies. "We actually recorded 'This Is the Year' on the sundown of Yom Kippur, which is the day of atonement, the most holy Jewish holiday that brings in the Jubilee," says Becky of the Jubilee, which only happens every 50 years. "We were in the studio and we were like, 'Oh my gosh! This song needs a shofar.' We were at Ricky Skaggs' studio and his engineer, Lee, had one. Lee blew the shofar as the sun went down and we captured it on the record!"
Utilizing different sounds on the record was important to the Isaacs, and the album opens with the sounds of birds singing before the family launches into singing the opening track, "Nature's Symphony." "This record is a lot about nature and how God speaks through nature," Becky says. "This is the kind of CD that you want to listen to when you are sitting out on your deck in the morning with a cup of coffee and thinking about the goodness of the Lord or just need that time to regenerate and rejuvenate."
The album is subtitled
A Journey from Pain to Praise
, and many of the songs definitely share pain the family has endured and the praise that is always part of their lives. "Keep Breathing" is a poignant song Sonya wrote after losing her little girl Ayva. "I was six months pregnant and I started hemorrhaging and I went to the hospital and she didn't have a heartbeat, so I went through labor and delivered her and it was a devastating experience. My heart was completely broken," Sonya recalls. "I really needed to keep living and keep trying to start healing and move on with my life, so I went in to write with these girls who are friends of mine. I started telling them about my experience and how I felt. I said, 'I got this chorus that I can't get out of my head,' and I sang it for them. We tweaked out the chorus and it became 'Keep Breathing,' and the concept is when there is nothing else you can do but take a breath, then just take a breath. It's a very healing song."
Sonya, her husband Jimmy Yeary and their friend, songwriter Kenna West, co-wrote another song on the album about Sonya's experience titled "I Love You More." "It's a song I wrote once my healing started," she says. "It talks about how God brought me through losing my daughter. That is my anthem, my song now to God."
God has also brought Becky through some difficult trials and she has experienced healing. "I don't know if any one particular song deals with my healing on this record, but I can identify with the pain to praise in all of these songs," she says. "I've been in that dark, sick place where I didn't think I'd live to see 40. I had an autoimmune disorder and the doctors said I'd probably go blind in both eyes. I was on 15 to 20 medications at a time. I was just completely eaten up with the disorder and the doctors said there was no cure for what I was going through. But in 2011, I began a whole other approach and took the biggest step of faith I've ever taken in my Christian walk. I went into a holistic clinic in Nashville. In time, I just began to slowly heal and it's been five years now that I have been in 100 percent remission, free of every medication, and God has spared my vision. I am 100 percent healthy."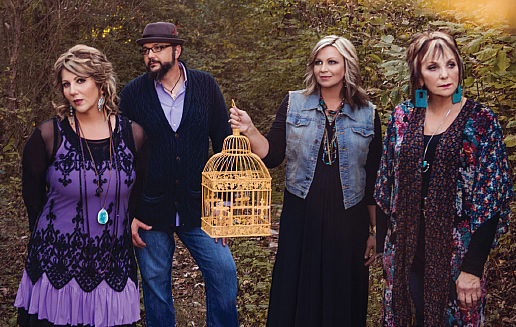 The album is filled with songs of hope and encouragement. One that is a favorite of both Becky and Lily is "Lord of My Heart." "There's a line in there that says: 'You found an orphan and gave me your name'—it's that kind of lyric that stops me in my tracks," Lily says with a smile. "I hope this album is encouraging when people listen to it."
"My goal for this record is that people would slow down," Becky adds. "Everybody is in a fast-food, drive-through mentality. They feed their body four or five times a day, but they feed their spirit about 10 minutes a week. My prayer is that people will set their phone down, open their Bible and listen to this music, go out and get in touch with nature and God, get some sunshine and get back in peace. A lot of people have anxiety and are stressed because they are overworked. They are tired. They aren't taking time for themselves to get in touch with God, so my goal is that people will get in touch with their inner peace, peace that they've not known in a long time. We are getting comments that people say they feel so much peace when they listen to it. It's very soothing."
Like his mom and sisters, Ben feels it's an album that will resonate with people and remind them of God's faithfulness. "Everyone faces difficult things in their life," he says. "If I've learned anything in the last few years, it's that life is about perspective. I know that God can do anything in His own time, but there's a reason we go through things."