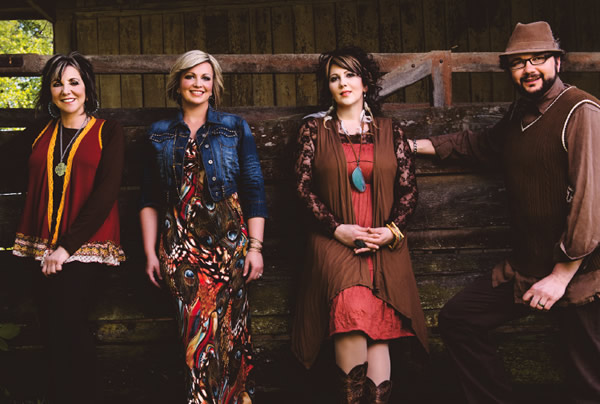 The founder, matriarch and heartbeat of beloved family group the Isaacs, Lily has at long last made the move to Nashville, now living just minutes from her three famous musical children. The Ohio-based group she and husband/banjoist Joe launched in the early '70s was called the Calvary Mountain Boys, later Sacred Bluegrass, and ultimately, in 1988 when their kids had all joined in, simply the Isaacs. Lily, her daughters Sonya and Rebecca, along with son Ben, have appeared in Gaither Homecoming videos, concerts and cruises since 1996.
Lily Isaacs is on time — almost a full minute early. For most people, meeting someone at a restaurant at 1 p.m. would be a "late lunch." But most people don't routinely drive through the night on a bus and crawl into bed just before sunrise. Lily swings into action with the hostess to make sure everything is in place for her soon-to-arrive children — and a couple of grandkids. She is pleasant, solicitous even, but concise and direct with the staff. Her plan is set in motion and we're promised to be seated in just a few minutes.
"Isaacs, party of eight!" Even as the hostess is calling us, Rebecca Isaacs Bowman arrives with her teen son, Levi. During a hasty discussion about Sonya and Ben's whereabouts, we are led to the back room. En route Levi quietly confides: "One thing you have to know about our family: we are always late." Ah yes, to a hungry teenage boy, lunch can never come soon enough. But the Isaacs weren't late to sing at the Grand Ole Opry, or for the Cincinnati Bengals, or the Nashville Predators, or at Carnegie Hall. Maybe Levi's musical kin just know what's a rush and what can wait.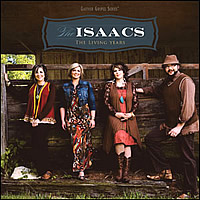 "We're not taking pictures today, are we?" Taking her seat at the long table, Rebecca is made up to perfection and wearing a stylish black track suit with matching ball cap. "Because I haven't even touched my hair today." No photos; we'll just eat and talk about the Isaacs' upcoming CD,
The Living Years
and DVD,
Up Close and Personal
. Everyone is relieved. Now, Becky's sister Sonya enters wearing a backpack and a huge purse/diaper-bag — and hoisting a child's car seat/carrier. The padded kid-container holds (barely) a strapping baby boy, legs dangling out the bottom and wispy blond locks spilling over the top.
"You will not be-
lieve
what just happened!" Sonya is flustered, so grandma Lily attends to little Ayden, enlisting her much bigger grandson Levi to assist. Into the midst of this kerfuffle walks Mindy, wife of Ben Isaacs — but she's alone. Ben has driven to three different audio manufacturers this morning and is still driving around in a nearby county.
"So a lady and I are walking to the front door at the same time …" Sonya is seated and telling us about her memorable entrance into the restaurant: a rare breakdown of Nashville's famed southern hospitality. Of course, this cannot stand. No way will Sonya be permitted to claim the best rude-person story uncontested. Thus ensues a high-stakes game of can-you-top-this, which ends up with Sonya winning anyway — her pregnancy tale while aboard a Homecoming Cruise is the acknowledged granddaddy of all jaw-dropping nonviolent incivility. Case closed.
"Mindy, can we call Ben and ask him what he wants to eat?" Lily takes charge again, realizing the better part of an hour has passed with no discussion yet about the new CD or DVD. The food orders are placed and some departing diners stop by the table — including the family's new drummer Zak Shumate, as well as Terah Crabb Penhollow and husband Jonathan. As if on cue, Sonya's husband Jimmy Yeary shows up just as the food arrives. When Ben follows moments later, it's a
bonafide
mini-Homecoming right here by the mall — the original party of eight has doubled.
All hands at last on deck, discussion turns to the upcoming music and video projects. While Ben has, in recent years, become an in-demand gospel record producer, the family's two new releases will be guided with help from a fairly prominent coproducer: one William J. Gaither.
"He
did
say we're too serious." All conversation stops. Sonya blinks and does a double-take: "He did?" Lily is confused: "Too serious all the time, or —?" She's perplexed to hear that the man whose name is on the label thinks her family is too serious. Becky is processing what this might mean when Ben at last finishes chewing the big bite of rib-eye he'd taken after dropping his Bill-Bomb. "No, no — it's just the
songs
." Ben didn't mean to worry his family — but a man's gotta eat what's on his plate. "The
songs
are all so … deep."
Turns out the task of choosing which songs to put on the family's first DVD in six years has become harder than anybody expected. The Isaacs have performed on so many Homecoming videos, there are too many songs to fit onto a disc. Plus they're shooting
new
footage, including live-in-the-studio versions of several songs from the CD.
No doubt the Isaacs stand out at Southern Gospel gatherings for playing their own stringed instruments (mandolin, guitar and upright bass). And a significant portion of their itinerary is dedicated to bluegrass festivals. But for all that pickin', it is the blend of four plain, unaffected mountain voices that captures hearts and memories. Lily's three progeny are capable of vocal gymnastics, but instead they have focused on the accessible and the direct, the straightest path to the musical truth. Everybody knows gospel music is about the words. But it takes musical courage to lay those words out in the purest, clearest, unadorned settings.
The Living Years
is a return to the approach taken on the Isaacs' 2009 recording, the "almost a cappella" release titled
Naturally
. That album was a quiet storm— shattering no glass, blowing no woofers, shaking no rafters. But with simplicity, reverence, sadness and joy, it has settled deeply into the souls of listeners like a mountain fog … becoming a perennial bestseller for the family.
It is the rare Southern Gospel CD that is titled after a 1988 pop hit by Mike & the Mechanics. And this one also includes a vintage Johnny Mercer song ("Mr. In Between") along with an Isaacs original homage to their ancestral homeland ("Shalom My Home"). "But …" Ben hastens to add, "… there's also 'If That Isn't Love' by the Dottie Rambo." And "Daniel Prayed" and "For Those Tears I Died" and "Grandpa Tell Me 'Bout the Good Ole Days." And yet, improbably, these 14 varied tracks all come together seamlessly. It's a big mixed-up, heartfelt offering from the world's only bluegrass-bred, Southern Gospel-fueled, upright bass and guitar and mandolin playing Jewish Christian family of recording artists.
As the music and video discussions are winding down, and the two or three shared desserts are finished off, Lily Isaacs affectionately surveys her well-fed brood. Relocating to Middle Tennessee has put her smack in the middle of her children's — and their children's — daily lives. She beams with obvious satisfaction: "We are all together now." And then she sings out one of the sweetest lyrics that's e'er been heard: "Check please!"