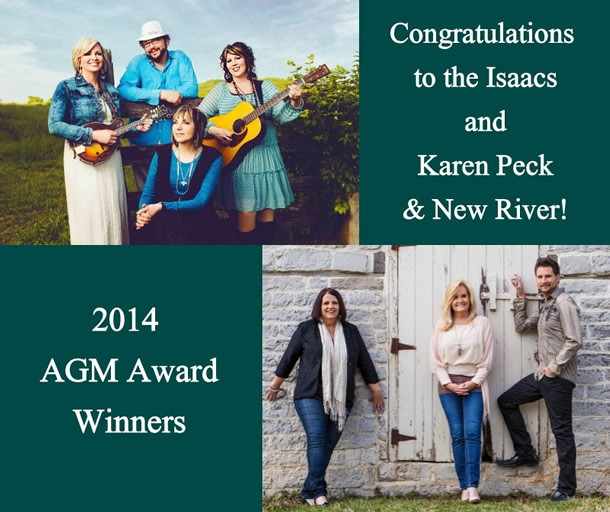 Gaither Homecoming Friends the
Isaacs
and
Karen Peck & New River
took home multiple awards at the
2014 Absolutely Gospel Music (AGM) Awards
, held recently in Smyrna, Tennessee.
Picking up five awards for the evening, the Isaacs were the most awarded group of the event. As a group, they took home
Mixed Group of the Year
for the second consecutive time and
Best Live Performer
for the first time.
Becky Isaacs Bowman
walked away with the coveted
Musician of the Year Award
, while
Ben Isaacs
was named
Producer of the Year
, as he has been several times before. Becky and her sister,
Sonya Isaacs Yeary
, were honored together to win
Songwriter of the Year
.
Lily Isaacs
expressed her gratitude, saying "We want to thank Absolutely Gospel for honoring us last night. We are truly honored by all the fan-voted awards we won. Thanks for all the hard work you do to continue to promote gospel music. We also want to say a big THANK YOU to all our fans who vote and come to our concerts. We love and appreciate you all."
During the ceremony, the Isaacs performed "Walk Together Children" along with Gene McDonald.
Karen Peck & New River
had an exciting evening as well, taking home three Absolutely Gospel Music Ovation Awards. Throughout the 13-year history of this awards program, Karen has an astounding 85 nominations, the most for any artist.
KPNR's #1 hit
"Revival,"
penned by
Karen Peck Gooch
,
Don Poythress
and
Kenna West
, took both the
Song of the Year
and
Progressive Song of the Year
titles. And, KPNR's album of the same name,
Revival
, produced by
Wayne Haun
, garnered the award for
Album of the Year
.
Karen,
Susan Peck Jackson
and
Jeff Hawes
brought the audience to its feet as they performed their winning showstopper, "Revival," during the awards. In the midst of the celebration, Karen took a more solemn turn to dedicate an award to her friend, the late
Norman Holland
, who worked tirelessly to promote Southern Gospel music and nurtured the careers of many artists. Karen said, "We are honored to be blessed with these awards, but one song on the
Revival
album expresses our hearts at this time. 'Finish Well' tells us that our better days are ahead of us, not only in Heaven, but also here on earth. So, finish well."
Songwriter
Kenna West
enjoyed a wonderful evening as well, garnering three awards. She took home two for having co-written "Revival," plus she was a co-writer of "Voice in the Desert" by the
Freemans
, which was named
Country Song of the Year
.
The Nelons
brought some fun to the stage as AGM's
Deon Unthank
announced a special award for their dachshund, Sam. Sam (voiced by Amber Nelon Thompson) travels with the Nelons and has become a mini celebrity of his own as the star of multiple homemade videos, a phenomenon known as "SamCam." Sam's sassy attitude has made him so popular with fans that he has even launched his own line of "SamCam" T-shirts. Sam drew laughs from the crowd as he recognized fans in the audience, shared secrets about his love life, and expressed frustration that Deon had actually forgotten to bring his award.
Watch Sam's appearance here:
AGM SAM VIDEO from Absolutely Gospel on Vimeo.



2014 Absolutely Gospel Music Award Winners


Song of the Year: "Revival" - Karen Peck & New River (written by Karen Peck Gooch, Don Poythress and Kenna West)

Album of the Year: Revival - Karen Peck & New River (produced by Wayne Haun)

Pacesetter: Write About Jesus Conference

Breakthrough Artist of the Year: Sneed Family

Male Vocalist of the Year: Mike Bowling (Bowling Family)

Female Vocalist of the Year: Amber Nelon Thompson (The Nelons)

Male Group of the Year: Booth Brothers

Female Group of the Year: Sisters

Mixed Group of the Year: The Isaacs

Songwriter of the Year (Artist): Becky & Sonya Isaacs (The Isaacs)

Songwriter of the Year (Professional): Dianne Wilkinson

Producer of the Year (Artist): Ben Isaacs (The Isaacs)

Producer of the Year (Professional): Michael Sykes

Engineer of the Year: Kevin Ward

Musician of the Year: Becky Isaacs Bowman (The Isaacs)

Traditional Song of the Year: "Good News From Jerusalem" - Tribute Quartet (written by Jerry Salley and Dianne Wilkinson)

Traditional Album of the Year: The Greatest Story - Triumphant Quartet (produced by Wayne Haun and Jeff Stice)

Progressive Song of the Year: "Revival" - Karen Peck & New River (written by Karen Peck Gooch, Don Poythress and Kenna West)

Progressive Album of the Year: Classics Collection - Sisters (produced by Tim Parton)

Country Song of the Year: "Voice In the Desert" - The Freemans (written by Lee Black, Jason Cox and Kenna West)

Country Album of the Year: Safe...After the Storm - Bowling Family (produced by Mike Bowling and Troy Peach)

Special Event Project of the Year: Like Father, Like Son - James & Jeff Easter (produced by James Easter, Jeff Easter and Tim Surrett)

Best Live Performer: The Isaacs

Fan Favorite Artist of the Year: Jeff & Sheri Easter

Susan Unthank Memorial Award: Kathy Crabb Hannah