Way to go, Isaacs!
Showcasing the amazing harmonies that Gaither Homecoming audiences have come to love,
the Isaacs
gave a spectacular performance at Nashville's
Grand Ole Opry
on July 5th. This group is so talented that it is hard to find a category to place them in, but they are right at home on the Opry and the fans loved them. The Isaacs performed on two shows during this star-studded night that included artists
Carrie Underwood
and
The Band Perry
as well as the great Opry regulars.
Lily Isaacs stated "The people at the Opry always make us feel so comfortable. General Manager of the Opry, Pete Fisher, never fails to make this a pleasant experience, and the performers are the greatest musicians in the world."
The Isaacs are known for their close family harmony, and their extraordinary abilities to play all those instruments delight listeners everywhere they go. The Opry was no different, as the group set the crowd on fire, singing songs from their soon-to-be released album
The Living Years.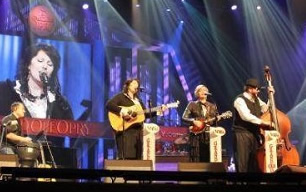 The audience loved their rendition of the Dottie Rambo classic "If That Isn't Love," and there was plenty of hand-clapping when they started singing "Walk On," penned by Sonya Isaacs Yeary, Becky Isaacs Bowman, and Ronnie Bowman (coincidentally not related to Becky).
Ben Isaacs really enjoyed the experience, saying "Being at the Opry is always a fun-filled night, but this time we had Becky's husband John Bowman and my Gaither Homecoming buddy Kevin Williams playing with us. It was a great night. All of the kids were excited when they got their pictures taken with Carrie Underwood and The Band Perry."
You can find out more about the Isaacs at
theisaacs.com
or
facebook.com/TheIsaacs
. And click
here
for more great
Homecoming Magazine
articles about this talented group!