The Isaacs are not only a remarkably talented and innovative music group, but their heritage is remarkable as well. Lily, the mother of Sonya, Becky and Ben, was born to Holocaust survivors Oscar and Faye. Lily's mother Faye is still going strong at 93 years of age, and has even appeared on a Gaither Homecoming telecast, when Bill honored her from the stage.

On this Holocaust Remembrance Day, Lily writes, "I'm proud of my parents — proud of my family's heritage." Becky Isaacs Bowman shares her thoughts and some photos of her amazing grandma Faye,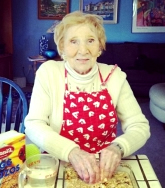 saying "Holocaust Remembrance Day — WE MUST NEVER FORGET! Today, I honor my Grandpa Oscar and my Grandma Faye for their strong zeal, their overcoming spirits, their fight to survive, their love and all they lost to keep our Jewish history alive. They are my heroes and I love them with all my heart!"