New on DVD is
The Last Ride
,
a haunting portrayal of the last few days in the life of country music legend Hank Williams Sr. The mostly factual film follows the journey of the iconic and troubled performer, played by Henry Thomas, and a young auto mechanic (Jesse James), as they make the fateful drive from Montgomery, Ala., toward Charleston, W. Va. for Hank's scheduled New Year's Eve concert in 1952. A gravely ill Hank does not reach his destination, slipping into eternity in the back seat of his powder-blue Cadillac, with a guitar and a notebook of unfinished songs. He was only 29 at the time of his death.
Bill and Gloria's son Benjy Gaither both produced the film and the movie's soundtrack, which features some of the best-known Hank Williams songs as well as a few original tunes, and plays an integral role in the feel of the film. Gaither gathered a soulful array of country and gospel voices for the project, including Russ Taff, Wes Hampton, Michael English, Doug Anderson, the Isaacs and the Blackwood Brothers. Though he used mostly contemporary artists for the decades-old songs, Benjy employed the use of vintage instruments and arrangements to provide an authentic backdrop for the timeless music.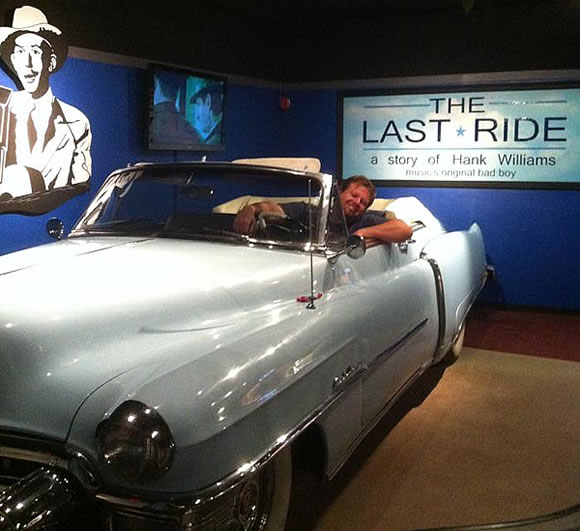 [Benjy Gaither in the powder-blue Cadillac seen in The Last Ride]
The DVD is available at Walmart, Amazon and other outlets, and it comes to Redbox on July 2.
Enjoy this trailer of
The Last Ride
: