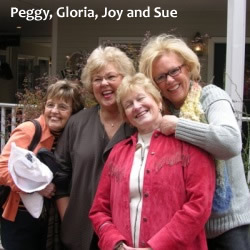 "Peggy, to me, is peace." -
Gloria Gaither
,
when asked to describe long-time friend Peggy Benson in one word. (Homecoming Magazine, May/June 2010)
While it is never easy to lose a friend, it is especially difficult to say goodbye to a friend whom one has known and loved for decades.
Gloria Gaither
,
Sue Buchanan
and
Joy MacKenzie
join many others in grieving the loss of
Peggy Benson,
who passed away on August 28, following a long time of illness. The four women formed a bond of friendship more than 40 years ago, when their husbands became acquainted through the John T. Benson Publishing Company.
Here is a portion of Peggy's obituary, as shared from springhillfh.com:

Peggy Jean Siler Benson passed away on Thursday, 28th August in Nashville, Tennessee, after a long illness. Her passing was announced by her family.

"Miss Peggy," as she was known by so many who loved her, was born March 8, 1934, in Guilford County, North Carolina. She spent the early part of her life in Carolina, Virginia and Tennessee, the daughter of a businessman and church musician who moved from place to place throughout the South.

Some of Miss Peggy's earliest memories included sitting in the control room listening to her parents perform as part of a quartet on Saturday night radio in Carolina and the sounds of Bach and Beethoven and Mozart being played on the baby grand piano in the front parlor of her childhood home.

She was a member of First Church of the Nazarene in Nashville for more than 60 years.

In 1951, she married Bob Benson, the son of a prominent Nashville family instrumental in bringing the Church of the Nazarene to Nashville and the larger Mid-South in addition to playing key roles in the early history of Trevecca Nazarene College.

He was a pastor in the Nazarene Church and together they served congregations in Florida, Missouri and California — he as the pastor, she often as the pianist — occasionally living in rooms in the back of the church. In 1961, they moved home to Nashville and she began her life as the wife of a prominent music executive and chief cheerleader and hostess to the growing Christian music industry. Their life together was rich and wide.

Throughout her years of service of hospitality in the church, she was a creative hostess, arranging countless teas, receptions and luncheons for hundreds of brides, young families whose children were baptized into the church and college students who passed through the large congregation at First Church. She taught Sunday school classes, ran nurseries and vacation Bible schools, and was chief decorator during one of the renovations of the church.

In 1986, her life changed dramatically when her husband lost a long battle with cancer. Responding to requests from those who had known her and her husband over the years, she began to travel and speak at retreats and conferences across the country. She published her first book, Listening for a God Who Whispers, in 1991. She was part of two more book projects and speaking tours with some of her best friends from her music business years. In her later years, she worked as a florist ( she was a lifelong gardener ), and as part of the admissions staff at Trevecca Nazarene University in Nashville.

She raised five children, very different people — a writer, a preacher, a landscaper, a painter and a print specialist — something in which she took a great deal of pride. She raised them in a house filled with flowers and guests, at tables with proper china and gracious meals, on frequent trips to the beach, always with a sense of style and grace and warmth and humor for which she was loved by all who her knew her. One of her children often has said about her, "There are two kinds of people in the world : Those who love Miss Peggy, and those who have not met her yet."

In some ways, her life was also filled with loss — the loss of a dear sister when she was young, the loss of the love of her life at an early age, the loss of one of her sons in the prime of his life — loss she lived into deeply and turned into hope and encouragement for others. Moving Miss Peggy, a book about her life and losses was published in 2013.

She was a much loved mother-in-law whose welcome and warmth and wit will be much missed. And 'Gran' — as she was known to her grandchildren — was adored by them for the marathon sleepovers at her house and her great sense of fun and her regular peach jam-making parties.

Miss Peggy was predeceased by her sister Joan; husband Bob; son Tom; and parents Wallace Siler and Jean (Saul) Siler. She is survived by her sister Bo Siler of Hendersonville, Tennessee; her daughter Leigh Benson Greer of Asheville, North Carolina; and her sons Robert Benson (Sara Fortenberry) of Nashville, Michael Benson (Gwen Baillett) of Bourbonnais, Illinois, and Patrick Benson (Cheryl Jones) of Murfreesboro, Tennessee, as well as 16 grandchildren and three great-grandchildren.