It might be a stretch to use a timeworn expression and say the Martins were
a cappella
"when
a cappella
wasn't cool." After all, the legendary trio—like many of us—has never considered multi-part, instrument-free vocals uncool.
But to coin a new phrase and say the Martins are still
a cappella
"when
a cappella
is sizzling hot"—well, that would be no stretch at all.
The signs are everywhere: From breakout groups like Pentatonix, the Texas quintet that wowed audiences in winning "The Sing-Off Season 3" and has taken YouTube and music-download services by storm; to barbershop quartets performing on "The Tonight Show Starring Jimmy Fallon"; to scores of other harmonious groups popping up online, the vocal genre the Martins have long known and loved seems as popular today as ever before.
Perhaps it's especially fitting, then, that these veteran siblings — Joyce Martin Sanders, Judy Martin Hess and Jonathan Martin— are releasing a new album titled, simply,
A Cappella
. The release comes 18 years after the group's only previous voices-only recording,
An A Cappella Hymns Collection
.
"I have noticed a lot more
a cappella
lately," Joyce says. "I love 'The Sing-Off.' It's ridiculous how well those groups do on that show. It's cool that more people out there seem to be hearing and enjoying this style."
"I've thought about this a lot because we all have teenaged children," Judy adds. "My kids love all kinds of music. My oldest son, Jake, has been bringing me Pentatonix songs and saying, 'Mommy, you've
got
to hear this.'"
Jonathan says, "I hope it's positive, that if a lot more people are listening to
a cappella
, it helps to get our music and message out as far as possible."
The album's message is as rich and multilayered as its vocals. Featuring updated arrangements of hymns and standards such as "The Lord's Prayer," "Come Thou Fount" and "Fairest Lord Jesus," the album also includes a reggae vibe with Bob Marley's tune "Three Little Birds" (sung as part of a medley with the soulful spiritual "Shut De Door").
Also among the record's 11 tracks are a rare trio arrangement of "The Prayer" (which is typically performed as a duet) and a sentimental favorite in "He's Everything to Me," which Judy especially loved to sing as a child in the family's Arkansas home.
The Martins are quick to gush about the team that brought the album together, led by producer Michael English (who, despite a lengthy list of production credits, helmed his first-ever
a cappella
project here) and arranger Lari Goss (who produced the Martins' first
a cappella
album), along with production and arrangement contributions from David Phelps (especially on "Fairest Lord Jesus") and Matthew Holt.
With such an all-star cast, and with a trio that has performed
a cappella
consistently for some 20 years — lest we forget, they were "discovered" when they sang "He Leadeth Me"
a cappella
to Gloria Gaither in a women's restroom in Anderson, Ind.—one might think recording an entire album in the style would be effortless.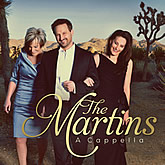 The trio probably strolled into the studio mid-morning, laid down a few tracks, polished a few final notes, and headed for an early lunch, right? Not hardly. For the Martins,
A Cappella
put the
labor
in "labor of love."
"When we decided to do a new
a cappella
project, we honestly felt like, 'We've got this,'" Joyce says. "We've been doing this so long, and we have the amazing Lari and Michael and Matthew and David. But honestly, this is the hardest thing I've ever done in my
life
. And I was surprised by that. It has made me realize I still have so much to learn. Now that it's finished, I am so proud of it because it was not easy, and we grew so much in the process."
A cappella
is "the purest form of vocal music," Jonathan says, "so you have to be on your 'A' game to perform it. That's why everyone doesn't do it. To attempt it is humbling, and to accomplish it is rewarding."
As the trio worked through the challenges of learning complex new arrangements, fine tuning each part, and tightening every bar of harmony, eventually they began to see a deeper purpose to the arduous process.
"There's always something beautiful about letting go and learning to trust," Judy says. "We felt more ownership in this recording, but we also had to put it into the production team's hands and trust them, that they know what they're doing and they believe in us enough to steer us in the right direction. It's not easy, but once it's over you can go, 'Oh my gosh, God
does
work it all together for good.'"
By the same token, the group also played a larger-than-usual role on arrangements and other production aspects. "It feels a lot more personal to us, because I know we were able to be a part of the process," Joyce says.
Making it even more personal, Judy reflects on the siblings' childhood, when their mother taught them to sing, often
a cappella
, while their father instilled in them a strong work ethic and the pursuit of excellence.
"They started what you hear on this project," Judy says of the Martins' late parents. "I know Mom is sitting there, she's still critiquing, and Dad is sitting in a corner with a big grin on his face, watching Mom to make sure her face says 'they're doing it right.' I can see them being proud of this, and that's the cherry on top."
Even while enjoying such sweet satisfaction, the group also realizes that an
a cappella
album might seem unorthodox to some listeners.
"We've done so many styles of music, and we want to keep that variety," Joyce says. "We believe in our hearts that God expects us never to stop growing, to be the very best that we can be, to put out music that represents Him, which is what we want to do every time we go into the studio or hit the stage. This project, like no other we've done, feels like we've accomplished that."
Whether or not
a cappella
remains "cool" in the culture, will the Martins complete a trilogy of vocals-only records at some point?
After chewing on the hard work involved in making this newest album, Joyce laughs. "Mark it down: This is the
last a cappella
record ever from the Martins!" she says, before adding, "Well … OK, maybe someday."
Knowing them, that might not be such a stretch, either.