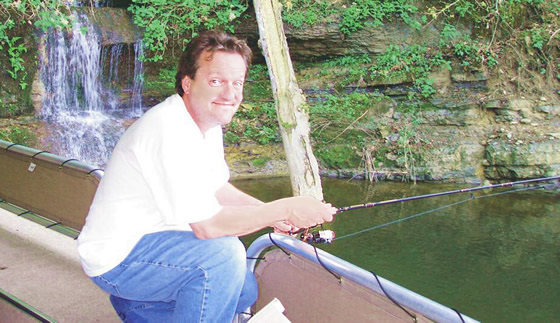 The Life of a Fisherman
Class clown Mark Lowry braves challenges put to him by Homecoming readers. But this challenge is self-imposed. To uncover a secret, Mark goes fishing!
I woke up at 5:30 this morning. I didn't need an alarm. I have looked forward to this day for a long time. Aunt Bea and Clara (my friends from the Mayberry Marina) had promised to take me fishing — and today was the day. You see, they're known around these parts. Their parents and grandparents come from here, and they have fished this lake for as long as anyone can remember.
Many fishermen have tried to find out where these two, sweet, little, elderly grandmothers do their casting. When seasoned fishermen come back from a day on the lake with only a couple of fish, these ladies will always bring home a full mess. They know where the fish are bedding!
I'm the new kid on the lake. I've only known of this beautiful place for a couple of years, and I personally never cared much about fishing. I never even knew they had beds.
Our family wasn't a fishing family. We were a "Red Lobster" family. But, once I found out that Aunt Bea and Clara were legendary on this lake ... AND their fishing spots were a big secret ... AND that secret was something EVERYBODY had been trying to find out for years, I decided I wanted to go fishing.
So, I sent them a bunch of Gaither videos. Then, I took them with me to the Friday night Homecoming concert in Nashville and, finally (the crowning touch in my humble opinion), I sat them right beside Jake Hess for the entire evening.
Guess what? I now know where the fish are bedding.
Clara picked me up in her pontoon around 7 this morning. We rode around to the front of the dock where Aunt Bea joined us. We each had a bucket of crickets that had the misfortune of being a little lower on the food chain than what I intended to eat for lunch.
Clara let me use her fishing pole, a well-worn rod and reel she's had since the crash of '29. She packed pound cake and Coca-Colas. Aunt Bea brought cheese and peanut butter crackers — just to hold us over.
We fished for four hours. You should've heard their rods whip through the air, that little cricket holding on for dear life as it plopped into the water right next to an old tree stump. They let the line sink to the bottom and, at the slightest nibble, they'd set the hook and reel it in.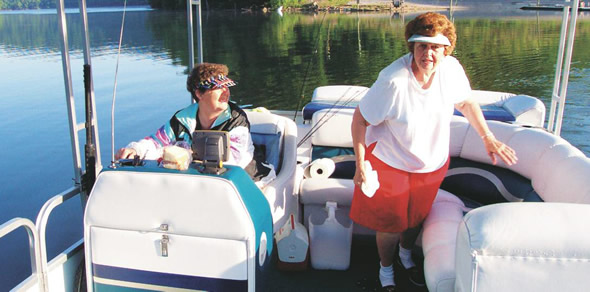 Then, as quick as blink, they'd unhook the fish, reach into the cricket bucket, grab one, slap it on the hook and whip it back into the water while the fish they'd just caught was in a bucket of ice, flopping and gasping for air.
They caught six fish by the time I caught one cricket.
But after four hours we'd pulled in FIFTY-ONE FISH! And I say, "we," collectively, but I caught at least 10. We took 'em back to the dock, cleaned 'em, fried 'em, and ate 'em for lunch.
Read the other "Misadventures of Mark" articles:
Mark Goes to First Grade!
Mark's Day at Krispy Kreme!
Mark Helps With Vestal's Legendary Coconut Cake
Mark Gives Janet Paschal a Whole New Look!
Mark Survives A Storm!
Mark Tries to Expound on the Topic of Art
Mark Shares About His Cool Grandparents!
Click here to see more articles featuring Homecoming artist Mark Lowry.