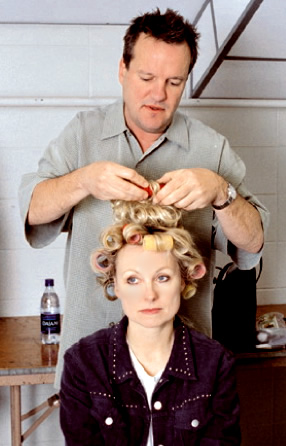 Mark Gives Janet Paschal a Whole New Look!
Class clown Mark Lowry braves challenges put to him by Homecoming readers. This challenge: Style a Homecoming artist's hair!
Roberta (my slaphappy editor) pitched me two suggestions for "misadventures," sent in by readers of
Homecoming Magazine
.
Suggestion #1:
Skydive, blindfolded, listening to The McKameys sing "God on the Mountain" and drinking a chocolate malt.
Suggestion #2:
Style one of the Homecoming artist's hair.
Well, since I've never styled hair, that was the obvious choice.
But who? Bill and Jake would be too easy because I could take theirs home and work on them. Guy needs a new look, but that's just too much hair! And David? David has a new look every time you see him. Right now he's got a Shirley-Temple-with-a-goatee thing going.
So, who really deserves a Mark Lowry makeover? Who needs an overhaul? Who won't sue?
Janet Paschal, of course!
When Janet and I met for her consultation, she said she wanted her new hairstyle to reflect a "quiet elegance" that would enhance her ministry through song. I totally agreed. In fact, I said we should go for a look that would cause the audience to close their eyes and focus entirely on the message of her music.
So "a quiet elegance" it would be. But styling hair is a lot harder than it looks. There are so many of them.
At first, I thought I would give Janet a Vestal-Goodman-meets-Ivan- Parker look. So, I rolled Janet's hair up in curlers, which she provided (since I don't really own any). Her curlers are very cool. They have Velcro on them that grabs each overly-processed strand of hair and holds it in place without pins, clips or tacks.
After I got her hair all curled up, it was time to take it down and get to the fun part — teasing the life out of every piece of hair on Janet's head. I'd seen my mom tease her own hair when I was a kid. She'd tease it tall and then shellac it with Aqua Net in the large pink can. Once her hair had that perfect "Hallelujah-helmet" look, she was ready for church.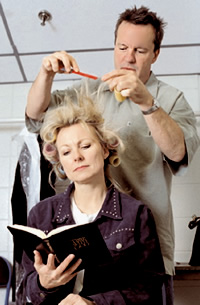 Janet felt the need to read Ecclesiastes as I began to tease her hair ... ... and tease it ... ... and tease it ... Janet was actually getting chills, so I teased it some more.
IMPORTANT NOTE: You must remember to remove ALL curlers BEFORE you start teasing the hair. The bigger the hair gets, the harder it is to find lost curlers in the bouffant, which you will embarrassingly discover at a later, more inappropriate, time.
Once the hair was properly teased, I began to work my magic. The Vestal-meets-Ivan look wasn't really working, so, instead, I thought I'd give Janet a "George Younce combover." You don't see many women sporting combovers these days. That might be the "quiet, elegant" look Janet needs.
A "combover" would help her songs communicate to her audience more effectively. Let's face it. There are times when Janet's look distracts from her songs. The audience is too busy thinking, "Doesn't she look beautiful?" or "Doesn't that dress look spectacular?" or "Doesn't she floss?"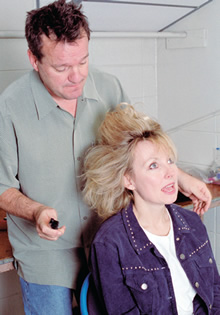 The problem with the combover is that Janet has too much hair. Much like Guy's hair, but graying at the roots. So, I decided to go a different direction and give Janet an "up-do." Something to complement her religious tradition. A style that would give her a "holier" look, in contrast to the "worldly" one with which she seems to be so comfortable.
When I told Gloria I was going to style Janet's hair, she pulled a rat-like-clip-on thingy off her own head, handed it to me and said, "Here. Use this. It will give you the height you're looking for."
After hours of curling, teasing and styling, I believe I came up with the perfect new look for Janet — one that is sure to make people shut their eyes from coast to coast.
Just look at the difference!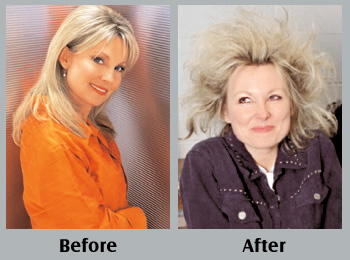 Read the other "Misadventures of Mark" articles:
Mark Goes to First Grade!
Mark's Day at Krispy Kreme!
Mark Helps With Vestal's Legendary Coconut Cake
Mark Goes Fishing to Uncover a Secret!
Mark Survives A Storm!
Mark Tries to Expound on the Topic of Art
Mark Shares About His Cool Grandparents!
Click here to see more articles featuring Homecoming artist Mark Lowry.