My Day at Krispy Kreme
Class clown Mark Lowry braves challenges put to him by Homecoming readers. This challenge: Work at a Krispy Kreme doughnut shop for a day!
Have you ever been minding your own business when, out of nowhere, a hunger pang bends you over like Grandma when she had "The Colic"?
The next time that happens, do what I do — head to Krispy Kreme. If you live in an unfortunate part of the world that doesn't have a Krispy Kreme and have no idea what I'm talking about, Krispy Kreme is a doughnut shop. But not just any doughnut shop: They make the famous, hot "Krispy Kreme doughnut" — once you let one pass your lips, you're hooked.
Someone sent in the suggestion that an appropriate misadventure for me would be to go to my local Krispy Kreme and make doughnuts for a day. I thought that was a splendid idea! What could be so hard about that? And when business is slow, you get to eat the inventory.
Here's how my day went:
8 a.m.
— I jumped out of bed much earlier than my usual afternoon awakening, jumped into the shower, dressed and sped out to "work."
8:30
— I arrived.
8:31
— I ordered a dozen doughnuts (different varieties) and began to eat. I needed to be familiar with what I would be selling. The best way to know a doughnut is to just send it on down! Eat it. Then chase it with a cold glass of milk.
9:04
— I belched and met the manager. She pretended not to hear and handed me a Krispy Kreme baseball cap and shirt. I went to the restroom to put on my "uniform." Before I walked out, I happened to glance in the mirror. I realized once again that baseball caps are not for everybody, especially people like me — big-headed people; they don't make those straps long enough to go around my head. If I do manage to get the straps around the girth of my cranium, I have to streeeeetch them until they connect. They're on the very last hole and straining. It feels like my head is in a vice — a pimple about to pop. So, usually, I just let the straps dangle. Or I cock the cap back on my forehead.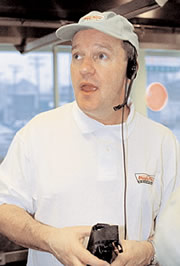 9:12
— I was ready for work. I found out that making and selling doughnuts is no easy task, especially when working the two-way radio system. The headset, which allows you to communicate with the folks ordering outside, is also too tight. (They just don't make things in He-Man sizes.) And, you can't really make out what folks are saying. You'd think with the technology we have today they could come up with a walkie-talkie that allows you to actually understand what people are saying. I've always known it sounds horrible on the customer's end but it is even worse through the little headset.
9:16
— I started taking orders. This particular store in Nashville is very busy. Did you know that Krispy Kreme stores across North America produce more than five million doughnuts per day — more than two billion per year? Since this particular store does nearly half of all that, they asked me to do another job.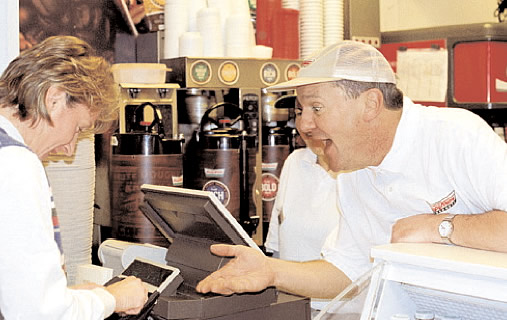 9:18
— I began to dip some of the doughnuts in chocolate. The manager made me wear plastic gloves to keep my fingers out of the chocolate. (But I could still lick the gloved-tips of my fingers when the manager wasn't looking.) With the gloves on you only taste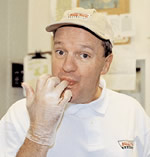 the chocolate, not whatever else is on your fingers.
Dipping the doughnuts in the chocolate is really more my style. I'm not good at taking and filling orders. And dipping the doughnuts in the chocolate is a cushy job. You stand over a vat of chocolate with a doughnut in each hand, refrain from eating them and dip them in the chocolate. You just repeat that, over and over. And when the manager is doing other things, you can choke one down real fast. Some of them go from the chocolate to be dipped in little pieces of colored candy.
9:45
— I got bored with dipping doughnuts and moved to the conveyor belt. It was time for some "hot" Krispy Kreme doughnuts. Someone turned on the "Hot Now" sign, letting the world of hungry passersby know that Krispy Kreme was experiencing its finest moment. When the glazed doughnuts are hot, they literally melt in your mouth. An hour later, when they're cold, they're a different doughnut altogether. (At this point, they get thrown away, and you need to go back and buy another hot dozen.) When they're hot, there is nothing — I repeat, nothing — like 'em.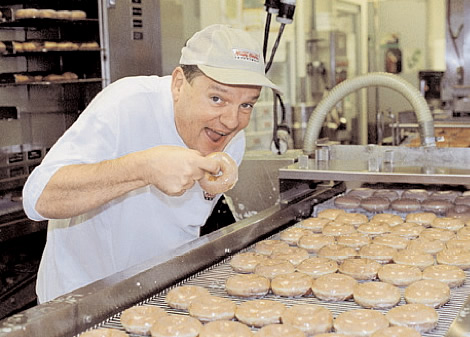 The doughnut machine squeezes batter into a pool of hot grease. After one side is done, the machine flips them over to fry the other side. Then something pushes them up on the conveyor belt, and they proceed, like a lock-step army, through a curtain of glaze. I stood in rapturous amazement as rows and rows of doughnuts passed through a shower of sugar until, finally, I had to stick my finger through a hole in one and try it. Those babies are HOT! When they say "HOT NOW," they mean it. After getting third-degree burns on four fingers, I found out that they use a plastic stick to pick them up off the conveyor belt. Evidently, I'm not the first person to burn his fingers. These sticks are a great idea! You can drop doughnuts from the stick directly into your gaping mouth.
By
10:15
, I was stuffed and ready to go home to take a nap.
So, I did.
Read the other "Misadventures of Mark" articles:
Mark Goes to First Grade!
Mark Give Janet Paschal A Whole New Look!
Mark Helps With Vestal's Legendary Coconut Cake
Mark Goes Fishing to Uncover a Secret!
Mark Survives A Storm!
Mark Tries to Expound on the Topic of Art
Mark Shares About His Cool Grandparents!
Click here to see more articles featuring Homecoming artist Mark Lowry.