Vestal's Coconut Cake
Class clown Mark Lowry braves challenges for Homecoming readers...this time, it's helping (hindering) Vestal Goodman as she makes her legendary coconut cake!
I was 11 years old the first time I heard the Goodmans sing. They blended, and yet, not really. You could distinctly hear every part. It was a wall of sound. On my mp3 player I have two of their old live albums. (I used to have these same recordings on 8-Track.) They were known for their voracious appetite for life, gospel music and country cookin'. I proudly stand with them on all fronts. Poor, anemic, Bill Gaither just doesn't have the stamina for the fat grams that the Goodmans and I have. That's why, after every Gaither concert, I always made a beeline for their bus. They always had a pot of green beans or homemade chicken salad or pizza. Sometimes they had hot dogs (Howard loved to dip them in mayonnaise). There was always something good to eat on the Goodman bus (unlike the Gaither bus, with its baked potato chips, fat-free pretzels and bland yogurts).
The Happy Goodman Family could sing an old convention song like no other group, each of them singing a different melody line and then all of them landing on the final chord together. It was like throwing pieces of a puzzle into the air and watching them all land in place. Howard was the patriarch of the family — the glue that held them all together. Sam, the middle brother, sang tenor and proved that humor works in a gospel concert. Rusty, the youngest brother, was the poet. He was also a great bass singer.
But the sparkle of the group, the one everyone waited to hear — the one who caused goosebumps to have goosebumps — was Howard's bride, Vestal. She was an electrical storm in a full-length beaded gown. Her hair was always piled high on her head (like Marge Simpson's, but a much prettier shade of blue). Her hair is more subdued these days, but she still lights up every room she enters and every audience she sings to.
I was listening to the Goodmans'
Wanted Live!
project while I was thinking about what I would do for my next misadventure. I thought it should be something easy. Something I would enjoy. Something involving food. And I remembered Vestal's coconut cake ...
While driving over to Vestal's house I passed a lot of mansions. Huge, palatial, ostentatious dwelling places. I thought, "Well, she has been singing a long time — maybe she saved her money." Then, I took a turn and continued down a road lined with normal, nice, reasonable houses. Yeah, this felt more like Vestal.
I turned right a couple of more times, and there it was — Vestal's house, all on one floor, no steps. I love that. There's a circular drive out front. And there were 12 cars in the driveway. The Goodman house is always full of people. Vestal, her son Ricky and his wife, Diane, are the only ones who live there. But with grandchildren, cousins, friends and even a sheriff hanging out (in case Ricky gets out of hand) there's always plenty of activity at the Goodman home.
A swimming pool is in the backyard (which is where Vestal gets her tan). Ricky told me she's in that pool every day. I asked him if we could do the article in the pool; he said there was no way Vestal would let anybody take her picture in a bathing suit.
While Ricky and I were talking, I heard a voice I've heard all my life piercing the air. But this time it wasn't singing; it was hollerin', "Who's in my house?" I turned around and there she was, wearing that bright Vestal smile. A smile so big all you could see of her eyes were tiny slits tightly gripping huge eyelashes. The kind of eyelashes Vestal wears can build up your eyelid muscles if you're not careful. And muscular eyelids are not something any woman actually needs. I asked her if she wanted to go swimming. She said, "Not on your life."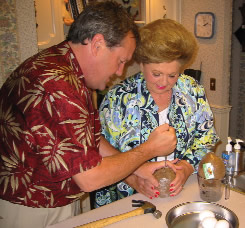 So we passed on the pool.
Her living room flows into a very white kitchen with light blue and pink wallpaper. The sink and preparation area are in the middle of the kitchen; the stove, refrigerator, cabinets, microwave and record table line the walls. (I'm just kidding about the record table; it's in the living room right next to the front door — that way it's more convenient for her Jehovah's Witnesses fans.)
Now if you're not aware of it, Vestal's coconut cake is legendary. She made me one years ago for my birthday. She says it's easy. But it's not. It takes a lot of time. You gotta stand in one place for seven minutes while you cook the icing on the stove. And that's not counting the time it takes to put the Betty Crocker moist white cake mix together. Then it's another 20 minutes while it bakes. Then you gotta figure out something to do for 30 minutes while it cools. Once the layers are sufficiently cooled, you gotta cut each layer in half with a fishing line; that way you end up with four layers.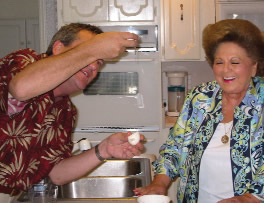 Once the icing is ready you take a butter knife and plaster on the icing like make-up on an alto at an all-night singing. Then, each iced layer is patted down with coconut. And every bit of this takes time. You could eat six cakes in the amount of time it takes to make just this one. But it's worth it.
After the cake is cooked, cooled, stacked, iced and packed, it looks ready to cut and eat. But, hold on, fellow calorie-lover, there's more to do!
Now comes the fresh coconut milk. Vestal said for me to make sure I told you, and I quote, "You must shake your coconuts at the grocery store to make sure they have a lot of milk in them." I assured Vestal that I always shake my coconuts at the grocery store. (Kroger's security has more video on me than Bill Gaither.) She then handed me a hammer and a screwdriver. I thought she wanted me to hang some pictures. But she set that coconut on its end, told me to aim the tip of that screwdriver against the upright end of the coconut and pound the hammer against it until the screwdriver broke through.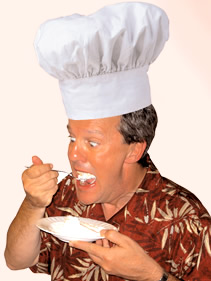 She poured the coconut juice through a strainer into a cup. She took a knife, plunged it down into the cake, poured in some of the coconut juice and then she smoothed the frosting back over the hole she just made. She repeated the process all over that cake until it was full of coconut milk.
Finally we could cut the cake. Folks, this takes too much time. A man could starve waiting this long. Pile all the minutes of all these steps on top of each other, and you got an hour or two before you get a slice. But, like I said, it's worth it. So if you have to have the best coconut cake known to man, take a Saturday and bake you one. Remember what Vestal said, though, and be sure to shake your coconuts before you buy them. And when you do, be sure to wave at the security cameras.
To try this recipe for yourself, go to
Vestal Goodman's Famous Coconut Cake
article.
Read the other "Misadventures of Mark" articles:
Mark Goes to First Grade!
Mark Goes Fishing to Uncover a Secret!
Mark's Day at Krispy Kreme!
Mark Gives Janet Paschal a Whole New Look!
Mark Survives A Storm!
Mark Tries to Expound on the Topic of Art
Mark Shares About His Cool Grandparents!
Click here to see more articles featuring Homecoming artist Mark Lowry.