It's no wonder that Williams has become known in many circles as "Mr. Christmas," or that his voice was declared "a national treasure" by President Ronald Reagan in the early 1980s.
Appropriately enough, Williams was born in December — on the third day of the month in 1927 — in the Midwestern haven of Wall Lake, Iowa. After getting a strong start by performing in the children's choir at the town's Presbyterian church, he and his elder brothers (Bob, Don and Dick) formed a quartet, the Williams Brothers, in the late 1930s. The siblings performed on numerous radio programs, appeared with Bing Crosby on his hit record "Swinging on a Star" in 1944, and landed a nightclub act with entertainer Kay Thompson that kept them hopping from 1947 to 1951. A year later, Williams struck out on his own, beginning a solo career that would span five-plus decades. Among so many career highlights, he has earned 18 gold records, received multiple awards, starred in Las Vegas variety shows and TV specials, and continued to dazzle live audiences throughout the world.
In 1991, Williams opened the Moon River Theater in the still-sleepy town of Branson, Missouri. The theater's name comes from the song written by Henry Mancini and Johnny Mercer, which Williams was asked to sing during the 1962 Academy Awards. The song won an Oscar and quickly became Williams' theme song. The theater has become a beloved and popular destination for hundreds of thousands of visitors over the years.
Even with all of Williams' well-deserved renown and success, it is fitting that this legendary singer who has poured so much of his talents into Christmas is so closely linked with the Advent season that truly is "the most wonderful time of the year."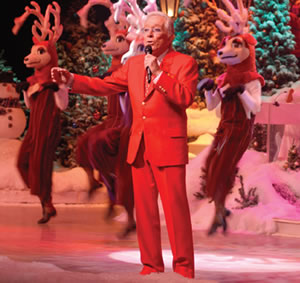 BILL GAITHER:
You know there is something about rural America and harmony. I've been a crusader for harmony all my life.
ANDY WILLIAMS:
I know you have. And that's why we're so nutty about watching your show. You know, I grew up in that harmony kind of atmosphere and all I wanted to be was a group singer. I didn't want to be a soloist. I was 7 years old when I first started singing, and we were singing harmony — four part harmony — barbershop. And we were kids, and we got on the radio. And that's the way we started.
BILL:
You started with your brothers. How long did you do the brothers thing?
ANDY:
Well, until I was 24. And then the Williams Brothers broke up, which all groups do, I guess.
BILL:
You always wanted to be a harmony singer, but somewhere along the way the solo voice happened.
ANDY:
Yeah, we had been together like a lot of groups for so long. Then at one point we decided to go different ways. My older brother went into business with my father who was, by that time, in real estate and insurance. Don became a studio contract player at Columbia Pictures, then a short time later decided he would rather be an agent. My brother Dick went with Harry James' band and he was there for a couple years, and did some things with Tennessee Ernie Ford's radio show. And I was doing "The Tonight Show" in New York by that time.
BILL:
Who are some of your early influences as far as voice is concerned? Obviously Perry Como was good but you took it — because of your tenor range and your head tone was so beautiful — to just another level. But who did you listen to?
ANDY:
Well, I really didn't listen to anybody until I started singing alone. I was listening to groups. That was all I really wanted to do. And then the only reason I signed as a soloist was I didn't know anything else except singing. At first I was trying to be a song and dance man. It took me forever to figure out that what I really should be doing is being a pop singer, like Perry Como or Frank Sinatra. And once I changed my act, I was lucky enough to be at the Blue Angel when a guy came in, heard me and put me on "The Tonight Show." Then when I went to Columbia Records, the first record I made for them was "Moon River." It is important that you get the right song.
BILL:
Boy, there's something about a marriage of a good voice...
ANDY:
...and a good song.
BILL:
And a great song! Do you think there's something about being from the Midwest that helps communication? When you sang and looked into the camera, I believed you. You know? When you sang those love songs you did it with conviction.
ANDY:
Yeah, I tried to.
BILL:
You think there's something about the Midwest — about rural America?
ANDY:
Well, Johnny Carson certainly had it. You wanted to see him because you liked him. And there's nothing unusual about successful people on television except people like them! And if you don't like them, they're not going to last very long. And I had that on television, and I knew that. So did Perry Como. You just loved him.
BILL:
Why is it that the world feels like they can't have Christmas unless they've got Andy Williams?
ANDY:
Well, probably because I've made more Christmas albums than I think anybody else!
BILL:
You know, I think you will live forever through Christmas, right?
ANDY:
Well, I think so. I usually go out on a Christmas tour or do my Christmas show at the theater.
BILL:
Now, when you do the Christmas show, do you still sing "Moon River?"
ANDY:
Oh, yeah. I do it at the very end. (Laughter) It's my favorite Christmas song! Audiences really actually want to hear that, too.
BILL:
You know if I were part of another world religion, I would be very jealous of Christians from the music and art perspective. There's been so much—when you think of Mozart and Handel and all the great classical composers and so much musical literature expressed in all different kinds of ways — country style, pop style. But Christmas — I guess the Lord came into the world and the angels started singing. And I think they've been singing ever since.
ANDY:
And they were singing in harmony.
BILL:
And they were singing in harmony! (Laughter) Hey, Andy, I think we could take this particular subject on the road, and start a new movement.
ANDY:
I think it would be wonderful for that to be taught in schools because it enriches your life so much more when you hear harmony. What good is it to listen to any classical piece and not be able to hear all the parts? And I hear every single part that's in the whole thing. And it just makes it so much more fun, so much more rewarding to hear all of that wonderful harmonic stuff.
BILL:
You know, when Elvis grew up in Tupelo and then moved to Memphis, he tried out — before he got big — for the Blackwood Brothers. But they didn't hire him because he couldn't sing harmony! (Laughter)
ANDY:
Is that right?
BILL:
Now they joke about that and say, "We sure missed a big one there, didn't we?!"
ANDY:
Elvis came to see me at Caesar's Palace. And after the show he came backstage and invited me to his suite at the Hilton. He had 200 kids in there all dancing and singing and stuff. And we walked right through them, paid no attention to them and walked into another room, and he said, "I want you to hear some of this music." And he put on gospel music, and he sang with it. And he said, "Don't you love that?" And I said, "Yeah, I've always loved gospel music. That's my stuff. That's what I really like." But he couldn't sing harmony! (Laughs)
BILL:
But he couldn't sing harmony.
ANDY:
Too bad. He would have gone further. He was limited. Lack of harmonic skills.
BILL:
(Laughing) Andy, you're something else!
ANDY:
He could have been big!
BILL:
You know, Jake Hess was Elvis' favorite singer, and Jake was the old lead singer of the Statesmen. And he wanted Jake to come out to Vegas to do the group. Jake said, "Nah, I can't do that. But I'll get you some guys together." And he got him the Stamps Quartet and some of the other guys. But Elvis did love the music. He loved the combination of the gospel and then black gospel music. And of course, we all have influences that shape us, and I suppose that's an important part.
ANDY:
Well, in my book, I recall the great compliment Elvis once gave me. He said, "Andy is the best white singer in the world, but too bad he wasn't black." (Laughs)
BILL:
You know the other interesting thing about voices? You hear a trumpet, and pretty much a trumpet is a trumpet although you can do different stylings. You hear a keyboard player, and of course, you can do different styles with the keyboard, but the sound is the same. But the human voice — I don't think there are any duplicates of great human voices — I mean, they all have a particular thing. Ray Charles had something nobody else had. You have something that nobody else had. Perry Como had something that nobody else had. Isn't it interesting that musical instruments can be duplicated, but the human voice cannot be totally duplicated? Do you agree with that?
ANDY:
I do, yeah. Kenny Rogers comes to mind. You know, he just has a different sound. He was a good musician, but he just didn't sound like anybody else.
BILL:
Totally unique.
ANDY:
And Mel Torme sounded different than anybody. He sounded more like an instrument — like a clarinet or something.
BILL:
Yeah. And Glen Campbell…
ANDY:
Glen sounds completely different than any country singer. Nat King Cole had a completely different sound.
BILL:
It's interesting when the Lord made us there were some things you could duplicate, but you could not — I have never heard a total duplication of a human vocal musical voice.
ANDY:
The closest it comes to is family singing because they have the same timber, they sound alike. My brothers and I all sounded pretty much alike. The Osmond Brothers sounded alike.
BILL:
Yes, and thanks to you the world found out about them. I remember watching them on your show and then of course to have you and your brothers and the Osmond boys together on your Christmas specials. Are those Christmas traditions still an important part of your life?
ANDY:
Oh, yeah, they really are. For the last years of my life I have been doing Christmas shows either on television or on tour when it comes around that season. And I have to tell you, 2012 is going to be an exciting year. I'll be celebrating my 75th anniversary in show business! Starting next fall, we'll be doing seven weeks of shows with a different guest star each week. We already have confirmed Dick Van Dyke, Pat and Debby Boone, Ray Stevens, the Lennon Sisters and Jack Jones! And then, of course, the annual Christmas Show will begin November 1st.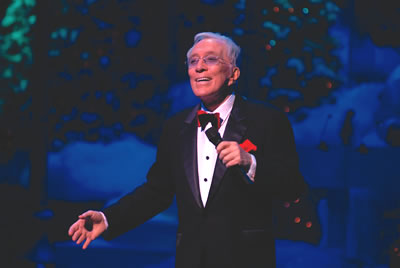 BILL:
What are some of the high points of your Christmas Show that you still enjoy singing?
ANDY:
Well, I still enjoy doing "The Christmas Song," "Have Yourself a Merry Little Christmas" — I love that song. Of course, "White Christmas." We do that every year. I close with "Ave Maria" and open with "The Most Wonderful Time of the Year." And I love "Mary, Did You Know?"
BILL:
Now, do you know who wrote that?
ANDY:
I did. Who was it?
BILL:
His name is Mark Lowry. He's the crazy comedian singer in the Vocal Band.
ANDY:
Well, he wrote a great tune and a great message.
BILL:
He wrote the lyric and my other good friend Buddy Greene wrote the music. I will tell him what you just said. It will make his day. Do you still do "Silent Night?"
ANDY:
I do.
BILL:
You know, that simple little song is amazing. But when you sing it — and in our case we have the crowd sing it with the harmonica. And when you get 10,000 people singing "Silent Night" it's like...
ANDY:
Oh, it's wonderful.
BILL:
It just doesn't get any better than that. You know, I always remember what G.K. Chesterton said — "We need priests to remind us that one day we will die, but we need the poets to remind us that we need to live until we die."
ANDY:
That's a beautiful phrase.
BILL:
Yeah, that's a good quote. Good words for artists to live by. Andy, you are a sweetheart to take this time to talk with me. It's like just talking to an old friend.
ANDY:
Well, I feel the same way. And I wish you all a Merry Christmas.