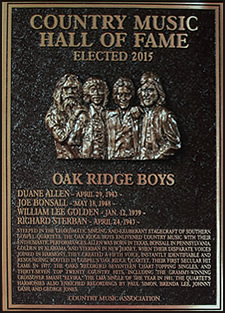 On October 25, two groundbreaking vocal groups and a renowned studio musician were inducted into the Country Music Hall of Fame during its prestigious Medallion Ceremony. Family, friends, industry leaders and a host of musical performers celebrated the enormous influence of the
Oak Ridge Boys, Jim Ed Brown
and
the Browns
, and session guitarist
Grady Martin
.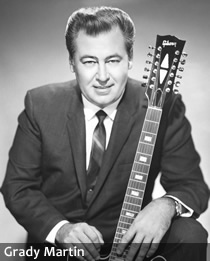 "These men and women distinguished themselves through virtuosity, harmony and heart," said Jody Williams, BMI executive and trustee on the Country Music Hall of Fame and Museum's Board of Officers and Trustees. "They have made music that endures through decades. Tonight, we honor them — respectfully, formally, and enthusiastically — as country music masters."
The festivities included musical tributes to the inductees, heartfelt testimonials and videos underscoring the talents, personalities and unique stories of each new Hall of Fame member. Many other Hall of Famers showed up to support their friends, including Bobby Bare, Harold Bradley, Garth Brooks, Roy Clark, Ralph Emery, Vince Gill, Emmylou Harris, Ray Walker of the Jordanaires, Brenda Lee, Charlie McCoy, Randy Owen of Alabama, Kenny Rogers, Connie Smith, and E.W. "Bud" Wendell.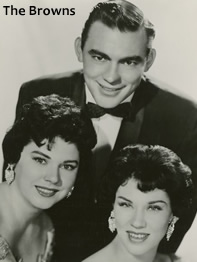 The Isaacs were on hand to honor the Browns by performing their hit, "The Three Bells." They had also performed it at Jim Ed Brown's memorial service earlier this year, after the Grand Ole Opry star passed away following a battle with cancer.
Becky Brown, Jim Ed's wife of 54 years, said her husband didn't define success by wealth or fame, but by happiness. Speaking at the ceremony, she said, "He was happy. He spent his whole life doing what he wanted to do, with people he loved, and for people he loved. He felt so blessed every day."
Fellow Hall of Famer Kenny Rogers inducted the Oak Ridge Boys, whom he often toured with during the 1970s. "There's nowhere I'd rather be than right here tonight," said Rogers. Jeff Hanna, of the Nitty Gritty Dirt Band, performed "Leaving Louisiana in the Broad Daylight," a Rodney Crowell tune that was a huge hit for the Oaks. Next, Garth Brooks and Trisha Yearwood sang a tender version of the Oaks' first hit, "I'll Be True to You."
And making a surprise appearance, the Martin Family Circus bounded onstage to lead the crowd in a rowdy, whimsical version of "Elvira." Duane Allen's daughter Jamie led the vocals, supported by her husband, Paul Martin, and their four children.
Continuing tradition, the evening ended with a singalong of "Will the Circle Be Unbroken," led by the Oak Ridge Boys and guitarist Ben Hall.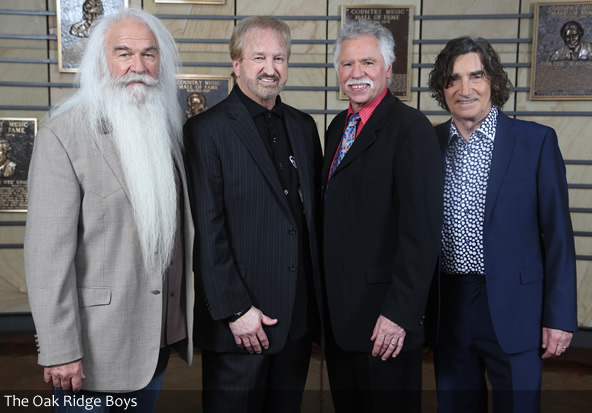 For more about all of this year's Hall of Fame inductees, visit
countrymusichalloffame.org
.